South Korea begins military drills around disputed island amid feud with Japan
FILE PHOTO: An aerial view shows a part of the group of islets known in South Korea as Dokdo and in Japan as Takeshima in the Sea of Japan, October 20, 2007. REUTERS/Yuri Maltsev/File Photo
SEOUL (Reuters) – South Korea's military will conduct two days of drills around a tiny island also claimed by Japan, Yonhap news agency reported on Sunday, just days after Seoul decided to scrap an intelligence-sharing pact with Tokyo amid worsening relations.
Tokyo and Seoul have long been at loggerheads over the sovereignty of the group of islets called Takeshima in Japanese and Dokdo in Korean, which lie about halfway between the East Asian neighbors in the Sea of Japan, which Seoul refers to as the East Sea.
The military drills were scheduled to begin on Sunday, Yonhap reported, and could exacerbate tensions between the two neighbors.
South Koreas on Thursday had announced the scrapping of the intelligence-sharing pact with Japan, drawing a swift protest from Tokyo and deepening a decades-old dispute over history that has hit trade and undercut security cooperation over North Korea.
Relations between South Korea and Japan began to deteriorate late last year following a diplomatic row over compensation for wartime forced laborers during Japan's occupation of Korea.
They soured further when Japan tightened its curbs on exports of high-tech materials needed by South Korea's chip industry, and again this month when Tokyo said it would remove South Korea's fast-track export status.
The disputed islands have long been one of the most sensitive areas of contention for South Korea and Japan. Recently, South Korea and Japan traded words over the way the islands were described on a website for the 2020 Tokyo Summer Olympics.
The islands were at the center of a more serious clash in July, when both South Korea and Japan responded to what they saw as a violation of their air space near the islands by a Russian military plane.
Reporting by Josh Smith; Editing by Leslie Adler
Cardiff woman wins £400k in DWP race discrimination row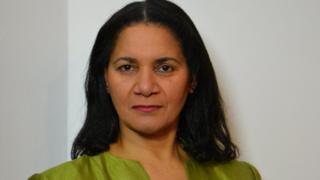 The Department for Work and Pensions has been ordered to pay out nearly £400,000 after a Cardiff woman won her claim for race and age discrimination.
Anne Giwa-Amu told the BBC the department was "promoting a culture of racism".
The judge in her tribunal case said she had been a victim of deliberate and intended harassment by DWP staff.
The department said racism is unacceptable and it takes the judgment "very seriously".
Warning: This report includes racist and offensive language
Anne Giwa-Amu, 59, who is mixed Nigerian and Welsh, joined the DWP branch in Caerphilly as a full-time administrative officer in 2017, after trying without success to start a small business.
She was the only non-white recruit and only trainee over the age of 50 in her cohort, according to documents from Cardiff Magistrates' Court seen by BBC News.
Judge Howden-Evans said DWP staff had deliberately created a "hostile environment" for Ms Giwa-Amu and has ordered the department to pay out more than £386,000 in compensation.
This includes £42,800 for injury to feelings, which is awarded in the "most serious" cases where there has been a lengthy campaign of harassment.
"It comes as a relief after what has been a harrowing experience for three years," Ms Giwa-Amu told the BBC.
"I've had to experience real financial hardship and the perpetrators were promoted despite how they had treated me."
A DWP official had violated her dignity by using racist language such as "Paki-lover" in her presence, the court found.
Another had further humiliated and discriminated against Ms Giwa-Amu by loudly laughing and telling her cohort he had "touched her bum".
Officials had also repeatedly accused Ms Giwa-Amu of stealing ice-cream, sprayed body-spray on themselves while next to her, and breached her confidence after she reported feeling "bullied".
Ms Giwa-Amu went on sick leave in March 2017 and was unlawfully dismissed in October that year for being unable to return to work, the court found.
She had been living off £55 a week and later had no money for food after her final pay cheque was withheld.
'Appalling'
Ms Giwa-Amu told the BBC she has since been living with "immense stress and anxiety".
"Management at the DWP are paying lip service to the equality legislation," she said. "By protecting offenders, they are promoting a culture of racism."
The DWP has been ordered to contact the Equality and Human Rights Commission for diversity awareness training and its permanent secretary, Peter Schofield, must directly review her case.
Ms Giwa-Amu's solicitor, Lawrence Davies from Equal Justice, said DWP staff had "set out to destroy the confidence and wellbeing of a black employee with their appalling conduct".
"None of the white DWP staff have been disciplined and some have been promoted," he said.
"Given that the DWP serves a high level of ethnic minority claimants, the presence of prejudice in the state benefits system is of grave concern."
In a statement, the DWP said: "Racism is totally unacceptable and action will be taken against any staff found to be expressing such views.
"We take the judgment and the circumstances of this case very seriously."