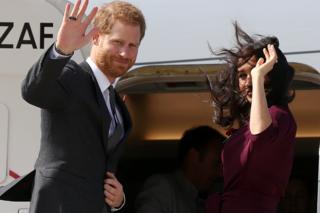 The image of the Duke and Duchess of Cambridge stepping onto a budget flight contrasted somewhat with the Duke and Duchess of Sussex's travel this summer.
Prince William and Kate's cheap hop on Flybe from Norwich to Aberdeen was compared unfavourably by critics to Prince Harry and Meghan's trips by private jet.
But who decides how the Royal Family travels? And how much do they spend getting about?
Official v unofficial
While the costs of official royal trips are published online in annual reports, the amount the royals spend on unofficial travel is not.
Spending on official travel, which is paid for by taxpayers, was £2.7m overall last year. Of trips costing more than £15,000, Prince Charles spent the most.
Tradition dictates that what the royals spend in their own time is up to them and so we only know what gets reported, often by chance.
Kensington Palace would not comment on the cost of the Cambridges' personal travel after they were snapped boarding their budget flight this week. Reports said tickets cost as little as £73.
Meanwhile, Sir Elton John said he lent his private jet to Prince Harry and Meghan to ensure their privacy on a recent visit to his French estate.
Phil Dampier, who has written several books about the royals, said he expects that gifts of flights – which can total tens of thousands of pounds – may need to be disclosed in future.
"I think what will have to happen in future is that any flights given to them by the likes of Elton John or any benefactors they'll have to declare," he said.
Helicopters are preferred
When travelling in an official capacity, the royals make use of chartered helicopters far more than private jets.
Figures published by the royal household showed that 207 trips by helicopter were made last year, compared with 56 flights on specially-chartered planes.
The vast majority of the helicopter trips were short hops and cost less than £15,000 each, the accounts showed.
But the royals almost exclusively use chartered planes when travelling abroad.
Among the more expensive trips taken was the Prince of Wales and Duchess of Cornwall's official visit to the Caribbean Islands and Cuba aboard RAF Voyager which cost £416,576.
Costs have plummeted
Despite the seemingly high costs, royal travel still costs a lot less than it did a few decades ago.
According to the National Audit Office (NAO), official royal travel costs declined by 76% in real terms between 1991-2 and 2011-12.
The NAO said that was because the household switched from using RAF helicopters to a civilian service and by taking fewer flights on more expensive planes.
Official royal travel is paid for by the Sovereign Grant, funded by the taxpayer.
This year, the grant – which also pays the Queen's household staff and upkeep of palaces – is expected to be £82.4m in total.
Last year, the money spent on official royal travel (£2.7m) was roughly the same as the previous two years. In 1997-98, the equivalent figure was £17.3m.
It's not all about money
The decision to charter a special plane or fly on a commercial flight is often taken by senior royal staff in conjunction with government, according to a former head of royal protection.
Dai Davies, who led palace police in the 1990s, told the BBC: "Convenience in terms of the routes, the number of the visits, the timings, and in some parts of the world the need for security [are all considered]".
But the suggestion, made by celebrities who came to the defence of Prince Harry and Meghan, that the couple are not safe flying on a normal airliner was untrue, Mr Davies added.
"It's absolute nonsense in terms of security," he said.
'More Travelodge than palace'
For trips closer to home, the royal train is still used by senior members of the Royal Family, despite the current stock dating back to the 1970s and it costing more per mile than a plane.
The train was most recently used by the Queen in March 2019, when the monarch slept on it overnight before an early visit to Somerset. Her combined train and helicopter for that trip cost £21,230.
Yet the train costs much more per mile than chartered flights.
A September 2018 trip by the Prince of Wales from Aberdeen to Euston cost £22,086, around £40 a mile, but a similar journey by the Queen on a chartered flight in October 2018 cost £17,689, or £32 a mile.
Courtiers have argued that using the train reduces the need for costly and disruptive hotel stays.
The train has begun to show its age. Sir Alan Reid, the former keeper of the palace purse, told MPs in 2013 the interior of the train "is very G-Plan, which is either '60's or '70's".
"It is not luxurious by any stretch of the imagination, but it does offer a very safe, secure and effective way – particularly as the Queen has got older – of having her go up the country in order to do engagements first thing the next morning."
A reporter for The Daily Telegraph once said the décor was "closer to a Travelodge than a palace".
Mr Davies added: "In truth it is an antiquated system that costs a huge amount in terms of security and protection… I think there's a question mark as to whether it is justified."
Carbon controversy
Prince Harry and Meghan's recent flights to Nice generated an estimated 37.6 tonnes of carbon, which Sir Elton John said he paid to offset.
The couple had previously told their followers on social media that "every choice… every action makes a difference" to climate change.
Royal historian Caroline Aston told the BBC that the younger royals should practice what they preach.
"If you're going to create your own 'woke up' brand of greenness and ethical behaviour, then you do need to dot the 'i's' and cross the 't's' a little bit," she said.
Yet claims of hypocrisy when it comes to how senior royals travel are nothing new.
Ms Aston said history was "packed with examples of royalty who have been attracted to the glitzy lifestyle" of private jets only to find "the friend who extended the hand might just have been doing it for their own reasons".
"Now because we finance the Royal Family… they have to be seen to earn our respect. We don't give it anymore purely because of an accident of birth, it has to be earned."
Prince Charles faced claims of hypocrisy in 1991 after making a speech on "monstrous" motorcars only to have his favourite Bentley driven 800 miles to then-Czechoslovakia ahead of a visit.
In 2015, he was accused of "double standards" by making an 80-mile journey by helicopter just days after urging people to save energy by turning off their lights.
Prince Charles, who takes on the lion's share of royal travel as heir to the throne, now lists measures his household takes to reduce his carbon footprint online, including the use of waste from the production of wine and cheese to fuel his prized Aston Martin.
Despite the measures, the royals' latest accounts revealed that the family's carbon footprint from official travel nearly doubled last year, to 3,344 tonnes of CO2.
It is unclear which members of the Royal Family engage in so-called carbon offsetting. The Foreign Office, which organises the royals' official trips abroad, spent £43,635 on offsetting the carbon created by international flights in 2017-18.
A Buckingham Palace spokeswoman told the BBC: "Travel arrangements for members of the Royal Family are made taking into consideration security, efficiency, cost, effective use of time and disruption to others.
"Official overseas travel undertaken by members of the Royal Family is done so at the request of government."
Cloud and IoT cybersecurity threats demand an army of security experts
By 2022, 1.5 billion devices with cellular connections are expected to be scattered around the world
These devices which form the Internet of Things (IoT) coupled with the adoption of cloud services has the potential to create an even more complex cybersecurity landscape and businesses ought to be prepared.
Even today, as the Internet of Things grows, the attack vectors we face in 2019 are far more different than those we saw even five years ago.
What's more is that according to specialist security sales executive at T-Systems, Lukas van der Merwe the threats a business faces are more sophisticated and more persistent.
"The development of IoT has seen the advent of a multitude of smart devices that are connected to the Internet, which traditionally ran on closed and secure Operational Technology (OT) networks. This can impact an organisation's risk profile, as these devices are open to a number of new vulnerabilities," explains van der Merwe.
"Ultimately, the implications of a cyberattack could range from shutting down a small manufacturing plant to affecting power distribution across half of the country," he warns.
Despite the rise of these threats, the solution remains somewhat the same – a good IT and security team.
That having been said, the rapid adoption of new technologies coupled with the growing cyber threats means that IT and security teams are struggling to keep up with new developments.
"There is a multitude of platforms, developed by third parties, that are constantly changing and growing, based on consumer demand. These are deployed and adopted by the organisation at a pace that the internal security team cannot keep up with. So, your subject matter expert is no longer a subject matter expert in your environment, because your environment has become so much more complex," explains deal solutions manager at T-Systems South Africa, Andre Schwan.
The manager says that businesses can no longer rely on one person or a small team to handle cyber threats.
Due to the nature of the landscape a team made up of individuals that are experts in specific fields that can address a multi-cloud, multi-device and IoT environment.
In lieu of this a firm can tap up a security service provider that can assist in this regard. Especially in respect of South Africa, cybersecurity skills may be in short supply so drawing on a provider's services may be the best option.
"The right partner can provide R&D, broad experience and development across a client's environments, bringing much deeper capability and security experience at a much lower cost than if the client did it themselves," Schwan explains.
While a firm may be hesitant to look outside of its walls for help, the rising threats mean that any firm can become a target. Perhaps then it's time to consider employing the service of a firm made up of cybersecurity experts rather than going at it alone.
[Image – CC 0 Pixabay]
Facebook lists countries backing the stability of its Libra cryptocurrency
When Facebook first debuted its new cryptocurrency, Libra, a few months ago, the general reaction was mixed. Most people were hesitant to use "Zuck bucks" if the divisive social media company was behind it, whereas governments raised concerns over stability of the currency and what the endgame was for Facebook.
While we cannot speak for consumers, governments have been poking around under the hood of Libra, with those in the European Union in particular wanting to know more about the cryptocurrency.
To that end Facebook sent a letter to German politician, Fabio De Masi, in a bid to explain how the cryptocurrency is backed and that it will not suffer from the same volatility and instability that Bitcoin and others suffer from.
Having read the letter, published by Der Spiegel, it goes on to list the countries and currencies that will be backing Libra. Perhaps unsurprisingly the United States is the largest backer, with the dollar accounting for 50 percent of its backing. The US is followed by the EU at 18 percent, Japan at 14 percent, Britain at 11 percent and Singapore with seven percent.
As Reuters points out, it is rather telling that the Chinese Yuan has not been listed, with tensions between the US and China potentially scuppering any plans that Facebook has for Libra in Southeast Asian markets.
It's also interesting to see that no African, South and Central American countries or currencies are backing Libra at this stage.
With Facebook noting that it is a solution designed specifically with the previously unbanked in mind, many of which live in those aforementioned regions, not having backing in those areas may mean a launch in less developed nations is still some ways off for Libra.
Added to this is continued uncertainty in the EU, with French and German officials having already raised issues regarding how a cryptocurrency like Libra could prove destabilising for their economies, not to mention others.
With the cryptocurrency facing heavy scrutiny before it has even been launched, which is still unknown at this stage, it's clear that Facebook has an uphill battle on its hands with Libra, not to mention whether its intended target audience are even interested in the platform.
Paypal brings back policy to take percentage of refunds from sellers
If your business or site routinely uses PayPal to facilitate online payments, you may want to think twice about using the platform.
There hasn't been a data breach or any kind of security threat of late, but rather a change in policy that will leave many sellers scratching their heads, with the firm noting that it will once again take a percentage of any refunds handled on the platform.
The controversial policy was removed for obvious reasons, but will once again be reinstated, seeing PayPal netting a cool 2.9 percent commission fee from sellers. This fee will be applied across the board as of 11th October this year, even if you're refunded a customer in full, which essentially means your business will be taking a small loss.
PSA: Paypal will no longer return processing fees (2.9% + $0.30) when you refund a customer starting October 11, 2019.

After walking back the decision in May due to outrage, Paypal is now moving forward anyway and hoping you don't notice.

Nail in the coffin. Goodbye, @PayPal. pic.twitter.com/sAweMHxtLn

— Sean McCabe (@seanwes) September 19, 2019
As The Verge reports, PayPal had rolled out this new policy in April, but sellers were none too pleased and voiced their anger over the fees. Now the firm says it has updated its policy, and cites costing structures as the reason for the latest change, as well as it being in line with industry practices.
"Earlier this year, PayPal updated its User Agreement to change our refund policy. In line with industry practice, and according to our updated policy, we do not charge fees to process refunds, but when a seller refunds a transaction to a buyer, the fees originally paid will not be returned to the seller. The policy change is going into effect beginning on October 11, 2019," an unnamed PayPal spokesperson told The Verge.
It's unclear if both reasons given are indeed correct, but sellers using PayPal are naturally irritated by the policy change.
"We believe that this policy change is in line with industry practice. We know businesses depend on us and the decision to update our policy was not made lightly. The policy change allows us to align more closely to our cost structure, to the policies of our payments partners and to industry practice," the spokesperson added.
"We only adjust our policies when we are confident the changes are fair and aligned with the value that our services provide to businesses," they concluded.
With PayPal arguably being the largest online payment platform globally, this latest policy could well see the company net quite a bit in fees while earning and seemingly ignoring the ire of its seller community.
If it persists with this refund policy, it will be interesting to see if sellers opt to move to a different platform with the festive season around the corner. Either way we should have a better idea of the impact this will have among sellers after 11th October.