Police And Demonstrators Clash, Ending Stretch Of Calm : NPR
After a stretch of relative peace in Hong Kong, a standoff between protesters and riot police became violent again on Saturday.
Police fired tear gas after pro-democracy demonstrators blocked roads with barricades made of bamboo sticks and hurled bricks, in the district of Kwun Tong.
In a statement, police said protesters paralyzed traffic and affected emergency services in the area near a police station.
Protesters tore down and dismantled "smart lamp posts" out of a fear that they contain high-tech cameras and facial recognition software used for surveillance by authorities in China.
Some used an electric saw, attempting to slice through the bottom of the lamppost, while others tied a rope around it to successfully bring it crashing to the ground, the Associated Press reported.
The government in Hong Kong insists that the lampposts only collect data on weather, air quality and traffic, according to the AP.
There are plans to install about 400 of these smart lampposts over a three-year period, according to a government report.
The latest skirmish marked the 12th straight weekend of demonstrations in Hong Kong and ended nearly two weeks of relative calm, according to the AP.
Just a day before, thousands of Hong Kongers held hands and formed human chains, in a peaceful bid to gain support from the international community, NPR's Anthony Kuhn reported.
On Saturday, Hong Kong's chief executive Carrie Lam expressed a desire to open a dialogue on Facebook.
"I don't expect that dialogue will be able to easily untangle this knot, stop the demonstrations or provide a solution to the problem," Lam wrote. "But continuing to fight is not a way out."
"After more than two months, everyone is tired. Can we sit down and talk about it?" she wrote.
Just a few hours later, protests in Kwun Tong turned violent, according to the New York Times.
The protests in Hong Kong originally began in June over a bill that would have allowed some extraditions of Hong Kong residents to mainland China. The bill sparked a backlash among those who saw it as a violation of the "one country, two systems" agreement that was formed in 1997 when Hong Kong was returned to China from the British.
The bill has since been shelved but it's not formally dead. Hong Kong's government indefinitely suspended the legislation in June but hasn't withdrawn it entirely from the legislative process.
The demands from the movement have since expanded and now include calls to investigate excessive police violence during the demonstrations and a more transparent and open government.
Also on Saturday, Simon Cheng, a worker from the British Consulate in Hong Kong, was released after being detained in mainland China.
Cheng disappeared on a business trip in mainland China two weeks ago amid the rising tensions between Beijing and London.
It wasn't immediately clear whether Cheng's detention had anything to do with Britain's support of the pro-democracy protests, NPR's Scott Neuman reported.
Cardiff woman wins £400k in DWP race discrimination row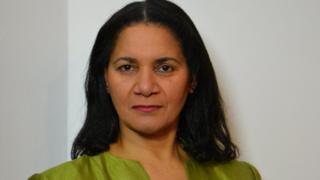 The Department for Work and Pensions has been ordered to pay out nearly £400,000 after a Cardiff woman won her claim for race and age discrimination.
Anne Giwa-Amu told the BBC the department was "promoting a culture of racism".
The judge in her tribunal case said she had been a victim of deliberate and intended harassment by DWP staff.
The department said racism is unacceptable and it takes the judgment "very seriously".
Warning: This report includes racist and offensive language
Anne Giwa-Amu, 59, who is mixed Nigerian and Welsh, joined the DWP branch in Caerphilly as a full-time administrative officer in 2017, after trying without success to start a small business.
She was the only non-white recruit and only trainee over the age of 50 in her cohort, according to documents from Cardiff Magistrates' Court seen by BBC News.
Judge Howden-Evans said DWP staff had deliberately created a "hostile environment" for Ms Giwa-Amu and has ordered the department to pay out more than £386,000 in compensation.
This includes £42,800 for injury to feelings, which is awarded in the "most serious" cases where there has been a lengthy campaign of harassment.
"It comes as a relief after what has been a harrowing experience for three years," Ms Giwa-Amu told the BBC.
"I've had to experience real financial hardship and the perpetrators were promoted despite how they had treated me."
A DWP official had violated her dignity by using racist language such as "Paki-lover" in her presence, the court found.
Another had further humiliated and discriminated against Ms Giwa-Amu by loudly laughing and telling her cohort he had "touched her bum".
Officials had also repeatedly accused Ms Giwa-Amu of stealing ice-cream, sprayed body-spray on themselves while next to her, and breached her confidence after she reported feeling "bullied".
Ms Giwa-Amu went on sick leave in March 2017 and was unlawfully dismissed in October that year for being unable to return to work, the court found.
She had been living off £55 a week and later had no money for food after her final pay cheque was withheld.
'Appalling'
Ms Giwa-Amu told the BBC she has since been living with "immense stress and anxiety".
"Management at the DWP are paying lip service to the equality legislation," she said. "By protecting offenders, they are promoting a culture of racism."
The DWP has been ordered to contact the Equality and Human Rights Commission for diversity awareness training and its permanent secretary, Peter Schofield, must directly review her case.
Ms Giwa-Amu's solicitor, Lawrence Davies from Equal Justice, said DWP staff had "set out to destroy the confidence and wellbeing of a black employee with their appalling conduct".
"None of the white DWP staff have been disciplined and some have been promoted," he said.
"Given that the DWP serves a high level of ethnic minority claimants, the presence of prejudice in the state benefits system is of grave concern."
In a statement, the DWP said: "Racism is totally unacceptable and action will be taken against any staff found to be expressing such views.
"We take the judgment and the circumstances of this case very seriously."