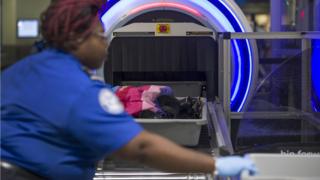 All major UK airports must introduce 3D baggage screening equipment before the end of 2022, the government says.
Ministers say the technology will boost security, speed up pre-boarding checks, and could end the restrictions on travelling with liquids and laptops.
The equipment, similar to CT scanners used in hospitals, is already being installed at London's Heathrow Airport.
It provides a clearer picture of a bag's contents, which staff can zoom in to and rotate for inspection.
Currently, passengers taking liquid in their cabin baggage are restricted to containers holding no more than 100ml, which must be shown to security staff in a single, transparent, resealable plastic bag of about 20cm (8in) x 20cm.
The limits have been in place since November 2006. Their introduction ended a ban on liquids in the cabin imposed three months earlier, when British police said they had foiled a plot to blow up as many as 10 planes using explosives hidden in drinks bottles.
Announcing the new plans, Prime Minister Boris Johnson said the new technology would cut down on "hassle" for travellers and improve security.
"By making journeys through UK airports easier than ever, this new equipment will help boost the vital role our airports play in securing the UK's position as a global hub for trade, tourism and investment," he added.
Heathrow has revealed it is spending £50m in order to roll out the technology over the next few years.
It is the first UK airport to install the equipment, which it has been trialling since 2017.
The airport's chief executive, John Holland-Kaye, said it would make travel "less disruptive", adding that the scanners were able to see what liquid was contained in luggage.
The scanners are set to be rolled out to other UK airports over the next few years.
Transport secretary Grant Shapps said the new equipment means "no more pulling out your socks and your underwear, and having to separate your liquids and and take your laptops out".
He added that aviation companies would be paying for the changes, rather than the taxpayer.
The technology is already being used by US airports, including Atlanta's Hartsfield-Jackson and Chicago's O'Hare.
Facebook suspends apps as Cambridge Analytica investigation marches on
At the weekend Facebook provided an update for those following its ongoing investigation into the apps on its platform.
This investigation was of course brought about by the Cambridge Analytica scandal that breached the surface in March 2018. In lieu of that incident Facebook has been scrutinising the applications developed for its platform.
"We initially identified apps for investigation based on how many users they had and how much data they could access. Now, we also identify apps based on signals associated with an app's potential to abuse our policies," explained vice president of product partnerships at Facebook, Ime Archibong.
"Depending on the results, a range of actions could be taken from requiring developers to submit to in-depth questioning, to conducting inspections or banning an app from the platform," Archibong said.
To date Facebook has looked at millions of applications on its platform and suspended "tens of thousands" as it investigates them.
There have been a few cases where Facebook has had to ban an app from its platform completely. The reasons for a ban range from inappropriate data sharing to violating Facebook's terms and conditions. With that having been said, Facebook says it has found no evidence of data misuse other than what it has already notified authorities about.
Of course, it's worth remembering that Facebook is not doing this of its own volition. You may recall the social network was ordered to pay a $5 billion fine by the Federal Trade Commission for its woeful privacy practices.
In addition to the fine Facebook has to have greater oversight over app developers and you may see fewer "What Game of Thrones prop are you" type quizzes on Facebook in the future.
"We have also developed new rules to more strictly control a developer's access to user data. Apps that provide minimal utility for users, like personality quizzes, may not be allowed on Facebook. Apps may not request a person's data unless the developer uses it to meaningfully improve the quality of a person's experience. They must also clearly demonstrate to people how their data would be used to provide them that experience," explained Archibong.
The social network says that it is constantly learning from last year's incident and working to ensure it doesn't happen again.
Cloud and IoT cybersecurity threats demand an army of security experts
By 2022, 1.5 billion devices with cellular connections are expected to be scattered around the world
These devices which form the Internet of Things (IoT) coupled with the adoption of cloud services has the potential to create an even more complex cybersecurity landscape and businesses ought to be prepared.
Even today, as the Internet of Things grows, the attack vectors we face in 2019 are far more different than those we saw even five years ago.
What's more is that according to specialist security sales executive at T-Systems, Lukas van der Merwe the threats a business faces are more sophisticated and more persistent.
"The development of IoT has seen the advent of a multitude of smart devices that are connected to the Internet, which traditionally ran on closed and secure Operational Technology (OT) networks. This can impact an organisation's risk profile, as these devices are open to a number of new vulnerabilities," explains van der Merwe.
"Ultimately, the implications of a cyberattack could range from shutting down a small manufacturing plant to affecting power distribution across half of the country," he warns.
Despite the rise of these threats, the solution remains somewhat the same – a good IT and security team.
That having been said, the rapid adoption of new technologies coupled with the growing cyber threats means that IT and security teams are struggling to keep up with new developments.
"There is a multitude of platforms, developed by third parties, that are constantly changing and growing, based on consumer demand. These are deployed and adopted by the organisation at a pace that the internal security team cannot keep up with. So, your subject matter expert is no longer a subject matter expert in your environment, because your environment has become so much more complex," explains deal solutions manager at T-Systems South Africa, Andre Schwan.
The manager says that businesses can no longer rely on one person or a small team to handle cyber threats.
Due to the nature of the landscape a team made up of individuals that are experts in specific fields that can address a multi-cloud, multi-device and IoT environment.
In lieu of this a firm can tap up a security service provider that can assist in this regard. Especially in respect of South Africa, cybersecurity skills may be in short supply so drawing on a provider's services may be the best option.
"The right partner can provide R&D, broad experience and development across a client's environments, bringing much deeper capability and security experience at a much lower cost than if the client did it themselves," Schwan explains.
While a firm may be hesitant to look outside of its walls for help, the rising threats mean that any firm can become a target. Perhaps then it's time to consider employing the service of a firm made up of cybersecurity experts rather than going at it alone.
[Image – CC 0 Pixabay]
Facebook lists countries backing the stability of its Libra cryptocurrency
When Facebook first debuted its new cryptocurrency, Libra, a few months ago, the general reaction was mixed. Most people were hesitant to use "Zuck bucks" if the divisive social media company was behind it, whereas governments raised concerns over stability of the currency and what the endgame was for Facebook.
While we cannot speak for consumers, governments have been poking around under the hood of Libra, with those in the European Union in particular wanting to know more about the cryptocurrency.
To that end Facebook sent a letter to German politician, Fabio De Masi, in a bid to explain how the cryptocurrency is backed and that it will not suffer from the same volatility and instability that Bitcoin and others suffer from.
Having read the letter, published by Der Spiegel, it goes on to list the countries and currencies that will be backing Libra. Perhaps unsurprisingly the United States is the largest backer, with the dollar accounting for 50 percent of its backing. The US is followed by the EU at 18 percent, Japan at 14 percent, Britain at 11 percent and Singapore with seven percent.
As Reuters points out, it is rather telling that the Chinese Yuan has not been listed, with tensions between the US and China potentially scuppering any plans that Facebook has for Libra in Southeast Asian markets.
It's also interesting to see that no African, South and Central American countries or currencies are backing Libra at this stage.
With Facebook noting that it is a solution designed specifically with the previously unbanked in mind, many of which live in those aforementioned regions, not having backing in those areas may mean a launch in less developed nations is still some ways off for Libra.
Added to this is continued uncertainty in the EU, with French and German officials having already raised issues regarding how a cryptocurrency like Libra could prove destabilising for their economies, not to mention others.
With the cryptocurrency facing heavy scrutiny before it has even been launched, which is still unknown at this stage, it's clear that Facebook has an uphill battle on its hands with Libra, not to mention whether its intended target audience are even interested in the platform.