Chance the Rapper Reveals Debut Album 'The Big Day' Release Date
Chance the Rapper's debut album is coming soon, and it's going to be a big day.
Literally. The Chicago rapper revealed on The Tonight Show with Jimmy Fallon that his first official album to be sold is titled The Big Day and will be available July 26. Chance the Rapper has been dropping hints on social media since the beginning of this year about creating his first "owbum," after only releasing free mixtapes up until this point in his career. His last project "Coloring Book" pushed him into the mainstream spotlight in 2016, and earned the 26-year-old a Grammy Award for Best Rap Album. The project became the first-ever streaming-only album to do so.
Chance said this forthcoming project would be sold, solidifying the difference between his last three mixtapes, and this next official album.
"People at home, a lot of people know I haven't sold my projects before. All of my mixtapes were free. This is my debut album, so there's like a pre-order," Chance told the Jimmy Fallon audience Tuesday night. He then explained that he and Fallon made a deal: if the late night talk show host pre-ordered Chance's new album, he would give us the scoop on the title and release date.
The deal was done.
"My name is Chance the Rapper and I will be releasing my debut album on July 26 entitled The Big Day," he said.
Chance led off the album in May with a single titled "Groceries" featuring TisaKorean that was accompanied by a viral dance challenge. Hypebeast reported that The Big Day will comprise of 20 songs.
Chano wasn't the only celeb to do a big reveal on Fallon Tuesday night. Jennifer Lopez also gave viewers an exclusive with the first look at the trailer for her new movie Hustlers featuring Cardi B and Lizzo.
Tahiry Jose Responds To Backlash From Love & Hip Hop NY Fans
Tahiry Jose has stepped forward to addressed backlash she's been getting from Love and Hip Hop New York fans.
One of the major storylines on this season of Love and Hip Hop New York is the "love triangle" between Cyn Santana, Joe Budden, and Tahiry Jose. Tahiry is an OG cast member and former long term girlfriend who famously turned down Joe's marriage proposal in Times Square. Cyn and Joe Budden were engaged for about a year before calling it off due to alleged infidelity. The two also share a two-year-old son together.
Tahiry and Cyn have been butting heads on this season of LHHNY over their respective relationships with Joe, and they both seem to be in some sort of competition to be "THE ex." In a recent episode, the two had yet another sit-down conversation about the issues between them, which seem to be centered around Joe. Keep in mind that neither woman is currently having a romantic relationship with him, so they say.
Cyn Santana shared that she was uncomfortable with the way Tahiry comes at her "Spicy", and says that she should have more respect for their situation because she is the mother of his child and ex-fiance. However, Tahiry openly questioned if Joe was being honest with Cyn about how often she and Joe talk. She said, "I'm sure he is trying to protect your feelings because I don't think he's being honest with you about certain things."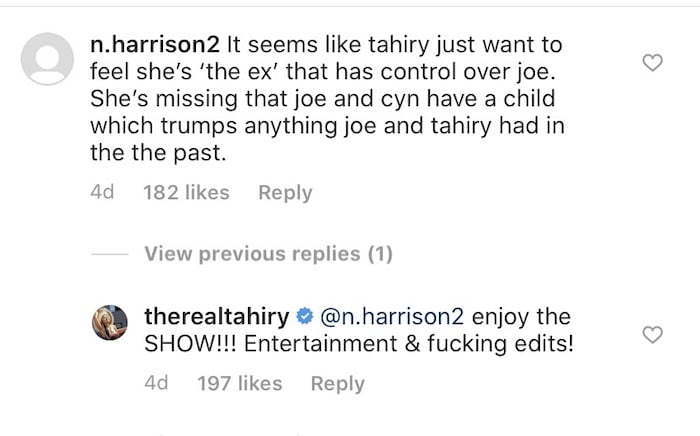 After the episode aired fans on Twitter were not feeling some of the things that Tahiry had to say and felt that she was being messy for the TV cameras. One fan said, "It seems like tahiry just want to feel she's 'the ex' that has control over Joe. She's missing that Joe and cyn have a child which trumps anything Joe and tahiry had in the the past."