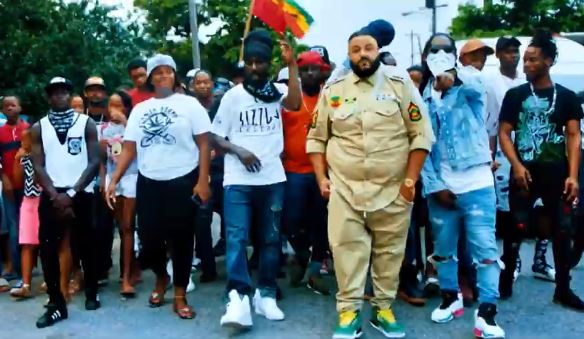 Listen to a new sensational collaborative single featuring veterans Jamaican artists like Buju Banton, Sizzla, Mavado, 070 Shake & Dj Khaled.
Their collaborative song titled "Holy Mountain" is a spiritual tune the boasts incredible lyrics and calls to Jah to guide and protect. it has been a hectic time for DJ Khaled, who since putting his album >Father Of Asahdout, has now released already 5 music videos.
Dj Khaled has been spending some time in Jamaica on the past months, following Buju Banton's release,  the Jamaican Grammy winner, who has been DJ Khaled's long time friend.
"Holy Mountain" is a a dope protection gospel that calls for more spirituality in a time of materialism and uncertainty as this one this is a coral song that calls up to God for protection.
Check some of the lyrics and play the song paired with the music video below:
"dem wah nail mi up pan di cross.. dem a plan against mi… but god nuh lef us..
please protect my life please protect mah son Jah… one splif a day keep the evil away…
run through the gates of hell with powers over darkness and light Gimme the cue
(One spliff a day ah keep the evil away) Lord
(Lord, one spliff a day ah keep the evil away, ah)
It's a holy mountain It's a holy mountain
Dem ones hang me up on di cross Like Jesus
Dem ah plan gainst mi life But God nuh leff us Bolt of lightning and thunder
Just send me protection from His holy mountain
Lightning and thunder Protect my life, please protect my soldiers
Lightning and thunder Dem waan mi fall
Lord, mi blood dem ah come for Lightning and thunder
Jah Jah, yuh take mi so far Dem curse and mi blunder
We reach the holy mountain"
All the artists involved did a great job in their lyrics and delivery. "Holy Mountain" is one of the biggest song featured on Dj Khaled new album "Father Of Ashad" available on all major music platforms, you can get it clicking on the iTunes banner on this page.
DJ Khaled "Holy Mountain" (Audio) ft. Buju Banton, Sizzla, Mavado, 070 Shake
real deal