Future is on the verge of dropping off his new album, Save Me.
The project, which is slated for arrival on Friday, June 7, is Future's second album to be released since the start of the year. The Atlanta rapper dropped his The WIZARD album back in January. Releasing several projects in one year is nothing new for the Freebandz MC. He previously released three albums in three weeks. On Wednesday, he surprised fans by uploading the cover art for his new album on Instagram. "Oh F***, I Have Made A Huge Mistake," he wrote.
It turns out that it was not a mistake after all because his new album is titled Save Me and its coming as soon as Thursday night.
We knew that Future was up to something when he suddenly deleted all the photos from his Instagram page. Artists tend to do this when they want to promote something new without any distractions from their older posts.
Future already teased two songs from the upcoming project, "Government Official" and "Xanax Damage." Future Hndrxx Presents: The WIZRD is the rapper's 6th No. 1 album on the Billboard 200 chart. Save Me could very well be his seventh. Urban Islandz will keep you up to date on this pending project.
Dancehall Sensation Koffee Featured On President Obama 2019 Summer Playlist
"Gratitude is a must!!!" Koffee scored another W.
Former United States President Barack Obama posted a his Summer Playlist on his Twitter page today. The highly anticipated playlist consists of songs he and his wife Michelle Obama have been listening to throughout the summer, and reggae/dancehall sensation, Koffee, made the cut. The playlist consists of songs new and old, all the way from Hip Hop/RnB to reggae and perhaps the biggest highlight is Koffee's breakout hit "Toast" being a presidential favorite. Reggae legend Toots & The Maytals classic single "54-46 Was My Number" is also featured on the list.
The singer reposted the tweet by Barack with the caption, "WOW!!! Gratitude really is a must."
Making Obama's Summer Playlist is a major achievement for the Jamaican artiste who has been blowing up internationally and shows no signs of slowing down. She has been touring in Europe, Canada, and the United States and was recently selected as Apple Music's latest Up Next artist.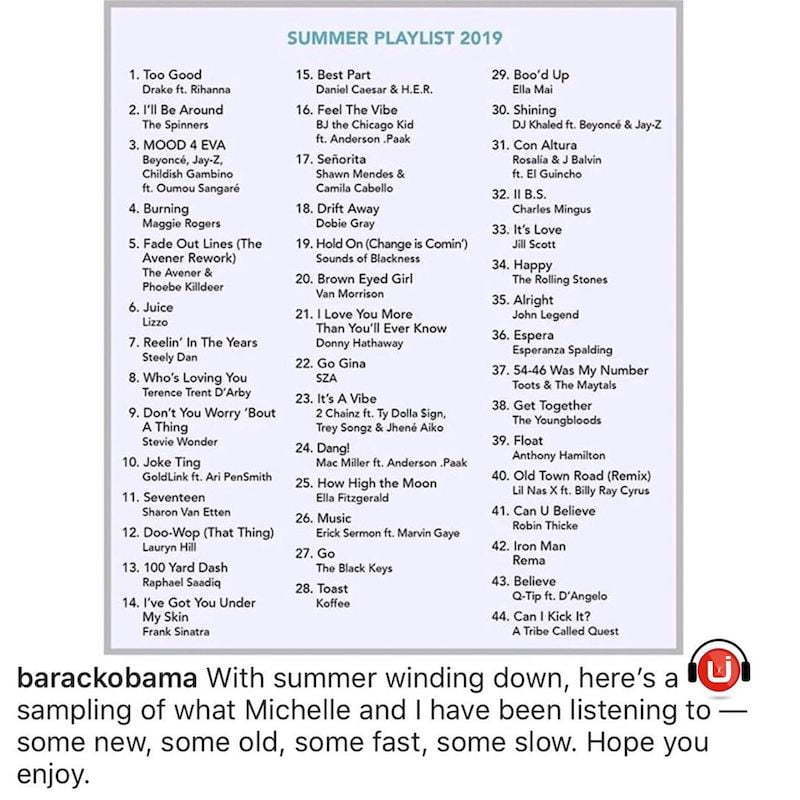 The 19-year-old artiste, whose real name is Mikayla Simpson, has been a breath of fresh air for Reggae culture. She is extremely humble and very down to earth. She is the true embodiment of talent and perseverance.
The hard work has definitely paid off for the young artiste whose song "Toast" now boasts an incredible 64 million views on YouTube. Something many artistes worldwide can only dream to achieve in their lifetime. Her Sumfest Performance was one of the best for the stage show, and many artistes were glad for the opportunity to meet such a blossoming star. She performed with such ease and grace, her fashion style and comfort being on stage praised by her adoring fans.
She also has a new song out that is currently making waves. The song titled "I don't care," which also features Chronixx, is a remix of Ed Sheeran and Justin Bieber's song of the same name. One listen, and you will be filled with good vibes, as Koffee slays her verse on the track.
Congratulations to Koffee, who has undoubtedly captured all of us with her music.
Sean Paul & Squash Lives The Hype Life In "Life We Living" Video
Sean Paul and Squash live the hype life in "Life We Living" video.
International Dancehall artiste Sean Paul and 6ix artiste Squash just released their new music video for new track "Life We Living." The collab which is fast approaching 100,000 views on YouTube in under 24 hours was produced by Dutty Rock Productions, Money Matters Entertainment, and East Link Records.
"Life We Living" is the first music video Sean Paul released since it was announced that the dancehall superstar is now a dad of two. The deejay expanded his family to include a baby girl Remi who is now younger sister to his son, Levi.
Squash, on the other hand, has been dropping song after song. 'Slow Poison' off of the Top Braff riddim was released on Friday, and now Squash has premiered the 'Life We Living' official music video on his Vevo page as well. The four minutes and seven seconds track features Dutty Paul in his cool cat vibes as expected and Squash in his usual boss-type demeanor.
The drama depicted in the music video is equally as entertaining as the track itself, and it leaves us with a cliff hanger as well. Could this be the first installment of a sequel for the collaborators?
See the music video for yourself below.
Popcaan Blast New Wave Dancehall Artistes, Put Some Respect On My Name
Popcaan wants the new wave of dancehall artistes to put some respect on his name.
Popular dancehall artiste Popcaan posted a video to his Instagram page during which he expressed his anger with new artistes being disrespectful and not having any principles. He went on to say that no artiste should be speaking on his name as he is above their level. The OVO deejay made it quite clear that he has put in years of work to get to where he is, and he should be respected as such. He stated that he is the first artiste to receive a verified Facebook and a blue tick on Instagram.
Popcaan claims he is the first artist from Jamaica to trend in the US. He further elaborated that these artistes who state that no-one has inspired them are incredibly disrespectful as many came before them. He ended the video saying that the artistes need to leave his name out of their mouths and that they need to go and put in the work.
Popcaan has been serving up hits in the music industry for years. With songs such as "Only Man She Want," "Clarks," "Family," and "Party Shot" to name a few. Popcaan, whose real name is Andrae Hugh Sutherland came onto the scene in 2008 when he joined Vybz Kartel's Gaza Portmore Empire. While with the group he was able to learn from Dancehall's legendary lyricist Vybz Kartel and from there he gained his own following and fans.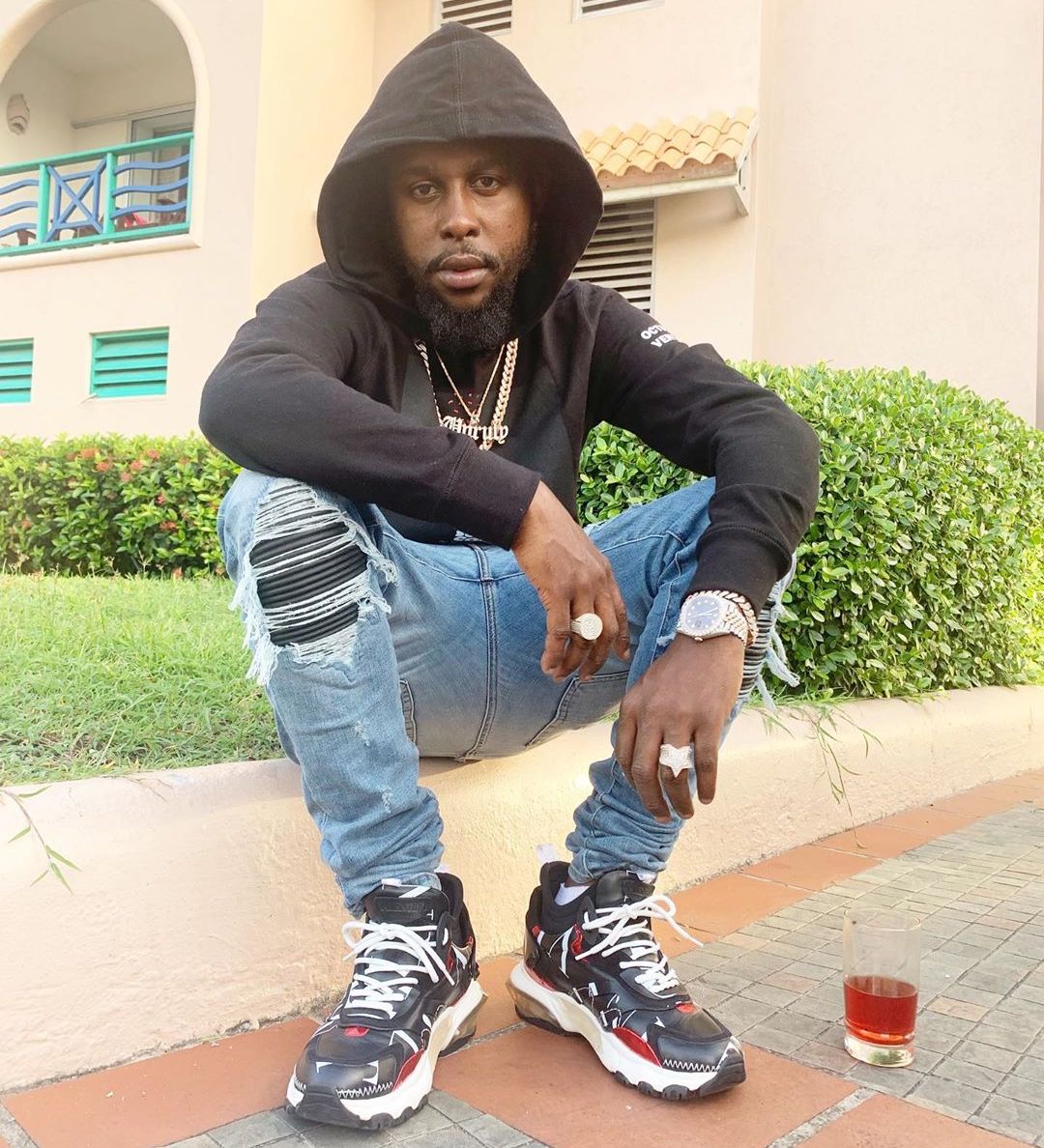 The St. Thomas born artiste secured his own brand "Unruly" and even had a hit song of the same name. Although he is now on his own and in his own right one of Dancehall's best deejays, he never fails to pay homage to Vybz Kartel.
The Unruly Boss's video has received thousands of likes from his supporters. One comment that several persons did not seem to agree with was him saying that he is the first Jamaican artiste to trend in the US. It is unclear if Poppy was referring to the Trending list on YouTube or speaking in general terms, but the majority of the commenters took it to be the latter. Therefore disputing what he said and making it clear that many others before him have been successful in the States such as Bob Marley.
He has been making his mark on the international scene and recently took part in Drake's OVO concert. He is also signed to that label. Popcaan has collaborated with several international artistes, most notably Drake, Jamie xx, Pusha T, Giggs, Matoma, Wale, Young Thug, and Gorillaz.
He is also the founder of the Popcaan Care Foundation that recently hosted a Back to School treat in Jamaica in his home parish of St Thomas. He is definitely an inspiration to all and a role model for many so it would be easy to understand why he would demand a certain level of respect.