Mavado is reportedly working on a new album due this year.
The Gullyside singjay appeared on DJ Khaled's new album Father Of Asahd where you can hear his signature vocals on the massive hit "Holy Mountain" featuring Buju Banton, Sizzla Kalonji, and 070 Shake. Sources are now saying that Mavado has been quietly working on his own project for the past couple of months.
We're told that the singjay is putting in the finishing touches on the yet to be announced album, due sometime later this year. "Gully Gad will destroy the game with this one the fans will love what he is working on now," sources said.
Mavado is also expected to drop some international collaborations on the project. So far there is no title or release date set for the album which will be released under DJ Khaled's We The Best Music Group.
Devin Di Dakta Disses Squash & Alkaline, Gets Torched By Vendetta, 6ix Fans
Former Magnum King of Dancehall winner, Devin Di Dakta, want a piece of the Alkaline and Squash war.
The Dancehall deejay took some shots at Alkaline and Squash on Instagram, but he didn't know the Vendetta and 6ix fans would retaliate. Followers of the two dueling artistes are not having it, because as far as they are concerned, the St. Mary native is a non-entity.
Devin, who is promoting his new song "when I'm gone," wrote comments on his Instagram page dissing both Squash and Alkaline as well as tagging them, under a video clip of the new song he released on Friday.
"Big Stinking Nyamkaline @manhimself and Dutty Trash @squash6iixboss, unu cum off a di internet wid unu Puppy ramping and mek ppl go listen mi new song weh just drop.. kmft.," the one-time Grammy nominee posted.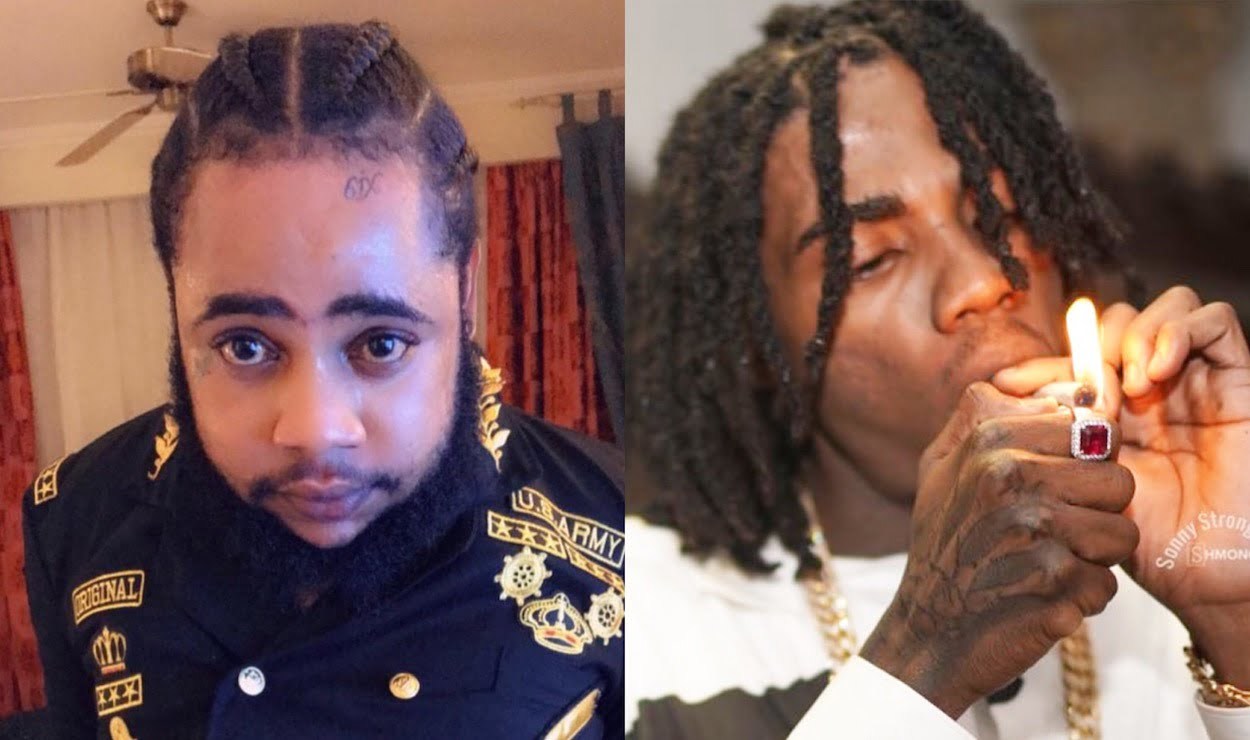 Devin was pounced upon from all angles, from fans of the two to persons who were just curious 'onlookers.' Some fans claimed accused him of seeking attention as his career was dormant.
"Dawg Yuh A Suffer From Some Real Life Depression Enu…Attention Seeking At It's Highest Level," bailey_raiie said.
"Devin is looking attention. Bro, I can't stress this enough but WE DO NOT WANT TO HEAR YOUR MUSIC," tahjj_ blasted the artiste.
Another follower, lymitlessmusic made a comment which was short, yet caustic. "U still do music waste man?" he asked in his insult of the artiste.
Others jeered the 23-year-old, reminding him of an incident a few years ago where he was beaten by Corey Todd a former manager of Vybz Kartel, and cautioned that he might just get another fine flogging by either the Vendetta or the 6IX Boss this time.
"Look like u nuh get enuff slap out a u own belt. U want more," an amused one_luss123 said.
"Corey Todd come get your boy him misbehaving Get the strap," sunshine_holic jeered.
"Corey Todd Bax Yuh Up & Beat Yo Wid Belt. Yuh will never recover in dancehall from disaster hombre… Furthermore yuh cya diss nobody," duran.dugg declared.
However, over on YouTube, where Devin uploaded the full video, viewers sand his praises, some even declaring that the song would be a hit due to its lyrical potency and structure.
"This bad yute. Make sure u get u manager to endorse this music and the video well Caz this should be a hit enuh devin DAT mi a tell u," Te-Shawn Lewis said.
"Dweet bredda jah know u always go different enuh….one of Jamaica's lyricist," Grampa Entertain posted.
"Well it work me ova yh now n never disappointed…. this is a hit. Very good production n different style," Keenon Leslie posted.
Kanye West Gifted DJ Khaled Pair Of Unreleased Yeezy Sneakers Off Hit Feet
Kanye West was in a giving mood on Sunday and DJ Khaled was at the right place at the right time to cop some unreleased Yeezys.
It was quite the eventful few days in Atlanta this weekend. There was the three-day Revolt Conference which showcased panels and parties throughout the weekend, and of course, Kanye West's Sunday Service was also held in Atlanta this Sunday. Such a combination could only mean multiple celebrity sightings and even more social media posts to share.
The latest video making the rounds online involves two of the industry's biggest names right now – Kanye West and DJ Khaled. In the short video captured by who we can only assume is a close associate of DJ Khaled, the two musical geniuses are seen greeting each other and engaging in a brief conversation on the tarmac of the Atlanta airport where both A-lister's private jets awaited them. Though it was inaudible, it seems the two had a delightful conversation as they kept smiling the whole time.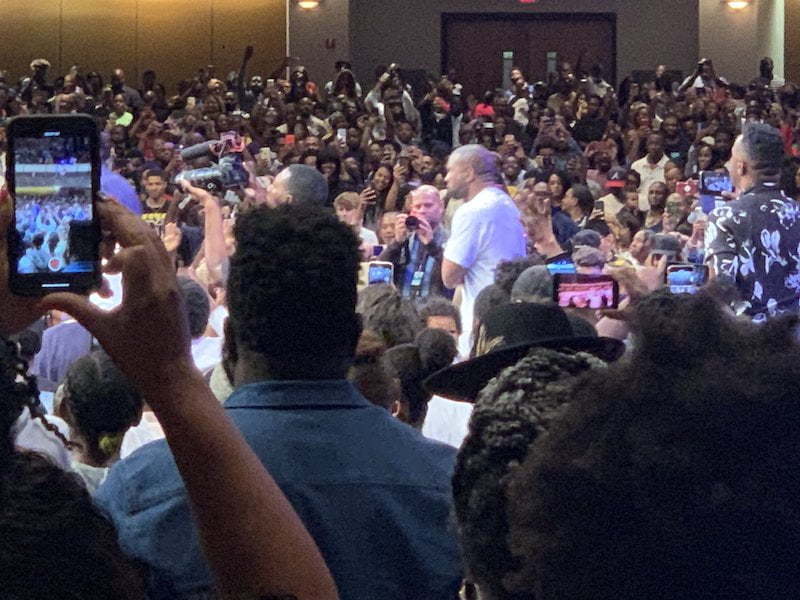 In the next part of Khaled's Instagram story, Ye is seen wearing only a pair of socks while Khaled held his shoes in his hands as they hugged farewell. Ye literally took off his unreleased Yeezy 700 V3's right there on the runway and gave it to Khaled like it was nothing before casually walking back to his private jet. As Khaled did the same, he smiled down at his nearly-new Yeezys like a teenager who waited all year for the newest release of their favorite video game.
It was DJ Khaled who just gifted Offset two brand new pairs of custom "We The Best" Jordans worth a total of $30,000. What's that saying, "Give, and it will be given to you"? Well, this case is a prime example of what happens when we give selflessly; or when celebrities give selflessly seeing as these gifts are far beyond some of our pay grades.
Kanye giving DJ Khaled the Yeezys off his feet at the airport today. ? @djkhaled pic.twitter.com/6KVf2XPjU1

— TeamKanyeDaily (@TeamKanyeDaily) September 15, 2019
SUNDAY SERVICE!!!! INCREDIBLE AND LIFETIME EXPERIENCE, THANK YOU KANYE pic.twitter.com/cfmgOpV92R

— boogley woogley (@torbor_44) September 15, 2019
Meek Mills Teams With Puma To Donate 500 Bags To His Old Elementary School
Rapper Meek Mills shows off his charitable side and donates 500 school bags to his old Elementary school.
The Philadelphia rapper is no stranger to giving back, and he is doing so in a big way this year, by donating more than 6,000 backpacks and school supplies to kids in his home state. Meek Mill is working with the School District of Philadelphia to provide the bags and school items to mostly low-income students from pre-kindergarten straight up to 12th grade.
"Growing up in Philly, I've watched families struggle to make ends meet and buy basic school supplies for their kids," Mill said in a press release. "Those memories stay with me and that's why I'm committed to giving back to families in my hometown, putting smiles on kids' faces and helping them start the school year on the right note with the right supplies."
The "All On Me" rapper recently posted a video to his Twitter page of him visiting his old Elementary school, James G. Blaine and unveiling the 500 backpacks to students. The students were extremely grateful, screaming, and smiling while Meek looked on with pride. The rapper is clearly on a path to make a difference in the lives of less fortunate children.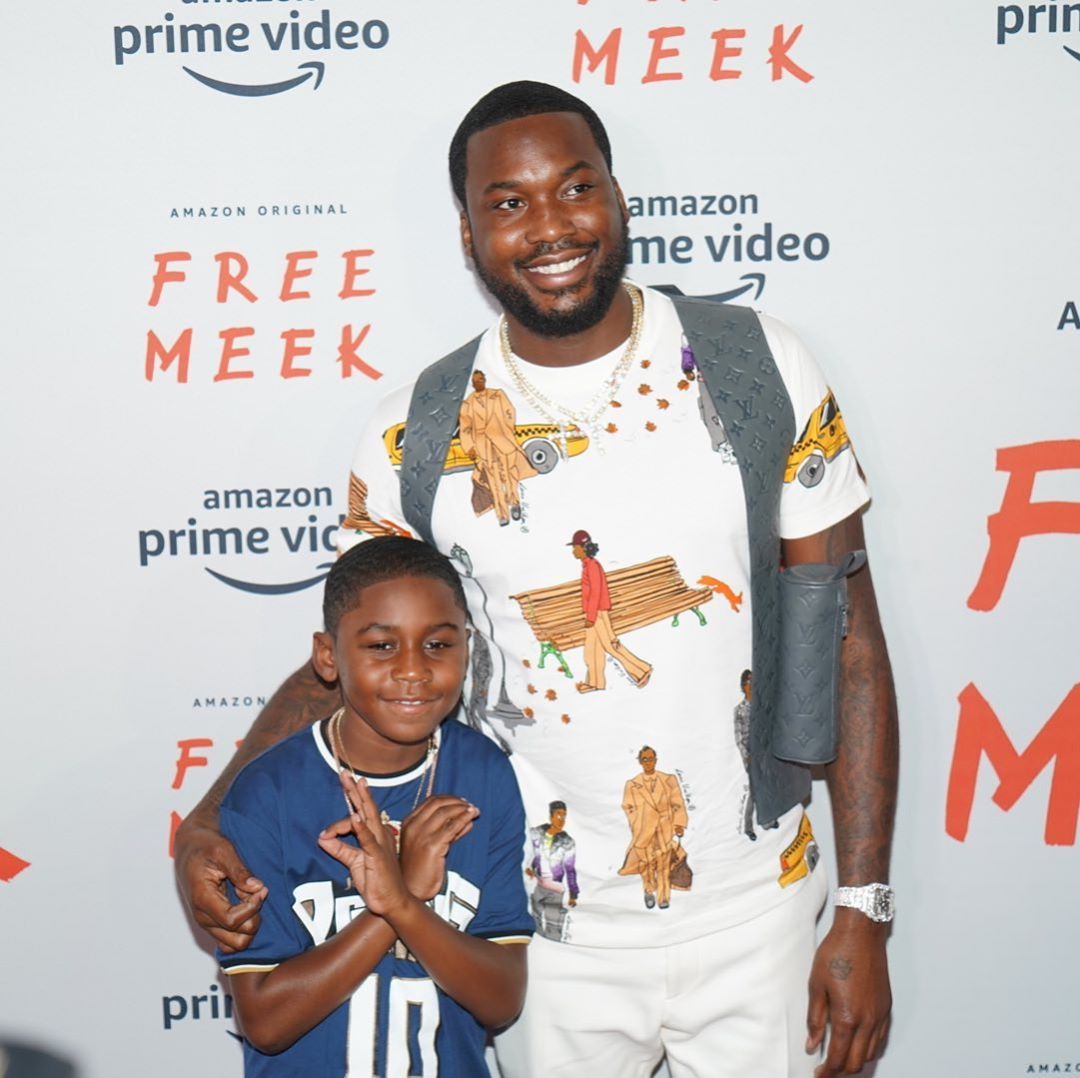 "I wanted to stop here today, my elementary school that I grew up at… I just wanted to stop back and show my love and appreciation to my neighborhood," Meek Mill told the cheering students. "I want to give a shoutout to Puma for collaborating with me on school supplies and book bags… I came here to give the kids a message: Continue to chase your dreams. Do what you do."
The PUMA designed bags were provided in 3 different color schemes, black, blue mixed with black and pink with gray. Online sportswear retailer Fanatics and luxury streetwear brand Milano Di Rouge contributed supplies. The rapper also donated a year's worth of supplies to more than 30 classrooms at the school.
Meek Mill, along with his nonprofit organization Dream Chasers are known for their charity efforts within the Philly community. His "A DreamChaser's Thanksgiving" is seen as a truly philanthropic effort. He started this initiative back in 2013, where he donates, approximately 1,000 turkeys every year the night before Thanksgiving.
The group has done a whole lot of work within the Philadelphia area. Back in 2018, the group donated toys to over 3000 children. The donations included video game consoles, over 500 bicycles, and helmets, sneakers, art sets, superhero figures, board games, and many other items to bring joy to the lives of the kids in the area.
Their most recent work is the unveiling of a renovated basketball court. Meek partnered with various other organizations, including PUMA, Roc Nation, and the Philadelphia Parks & Rec Department to bring the idea to light.
The Hip-hop community has praised Meek and the Dream Chasers for all the work they have been doing. The move is a clear stance that other rappers and persons of influence can take to help out less fortunate families back in their hometown communities.