Shenseea got some dancehall fans shook when she responded to a burning question about her sexuality.
The Romeich Entertainment first lady had raised a lot of eyebrows this week when a photo of her in bed with another female went viral. The pics were stills taken from her new video "Blessed" featuring Tyga. Nevertheless, she received some backlash from some quarters of dancehall who thinks that she is sending a bad example for her young fans. ShenYeng pushed back, saying that she is expressing her creative freedom as a dancehall artist.
One fan left a comment on Shenseea's post on Instagram, making references to her sexuality and the dancehall diva responded. "Who really thought it wasnt a video. Shenseea done seh strictly d*ck," the fan wrote. The "ShenYeng Anthem" deejay responded saying, "I didn't say that either but ok."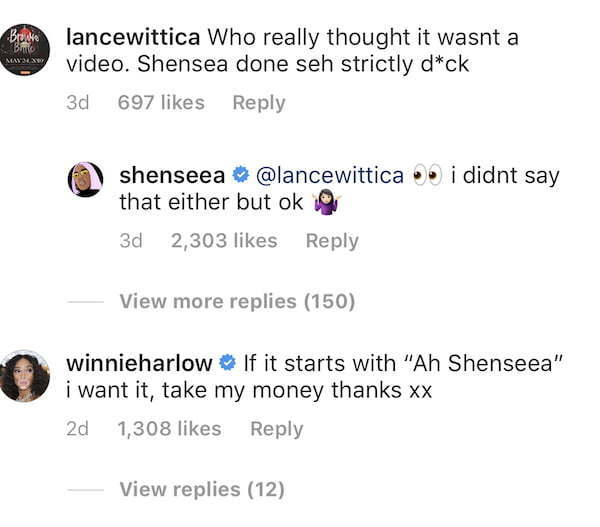 Shenseea's response left some of her fans shook while other fans commend her for being honest about who she is. Supermodel Winnie Harlow commented on the post. "If it starts with 'Ah Shenseea' I want it, take my money thanks," she wrote.
"I was defending you after you posted the video but now I can't anymore and am not a fan anymore kmt," one fan wrote.
Another fan added, "@shenseea the sexy suspense continues, but who cares, as long as you find pleasure, wherever or with whomever is your business. Keep them hooked and guessing mami."