Beenie Man's ex-wife D'Angel says she is relinquishing the crown for the First Lady of Dancehall.
In the aftermath of her well-publicized fairytale marriage to Beenie Man, D'Angel took on the moniker of dancehall's "First Lady" since Beenie took on the "King of Dancehall" title. The female dancehall star took to her Instagram last week to announce that she is dropping the title and now wants to be referred to as the "Lady of Dancehall."
"Fun and joke aside now, you see as from today, I won't be refer to as the First Lady of Dancehall anymore," she said. "You know who I am? I am the Lady of Dancehall."
D'Angel says the move has nothing to do with Beenie Man, but more a personal decision she made as she gets ready to make some new moves in dancehall. "Me and Beenie Man been done, been over, and been doing our own thing. Dem same people deh weh a talk now, always a put me and him inna things weh wi nuh inna," she said. "My real fans will understand this move and to those who are saying that I will always be the first lady in their eyes; I'm just asking them to respect my decision."
The "Stronger" singer push back against critics who say that she was pressured by dancehall fans to drop the "First Lady" title after she and Beenie Man have been broken up for years.
Beenie still refers to himself as the King of Dancehall and that will not change anytime soon. Just recently he got into a heated back-and-forth with Vybz Kartel over who is currently sitting on the throne, and he strongly defended his title, even dropping a song reinforcing his achievements in dancehall after being a recording artist for three decades.
Tee Grizzley Breaks Silence On Heartbreaking Murder Of Aunt/Manager Jobina Brown
Tee Grizzley has broken his silence on the heartbreaking murder of his aunt/manager Jobina Brown.
The hip hop community is still pouring out tribute to Detroit rapper Tee Grizzley and his family who are mourning the tragic loss of a close family member and confidant. Urban Islandz first reported on Wednesday (August 21) that Grizzley, whose real name is Terry Sanchez Wallace Jr., car was shot up and his manager killed in said attack. The rapper's aunt, Jobina Brown, who also managed his career, has since been confirmed as the murdered victim.
The "First Day Out" rapper has since shared a tribute to his late aunt on Instagram and thanked his fans and friends for their support.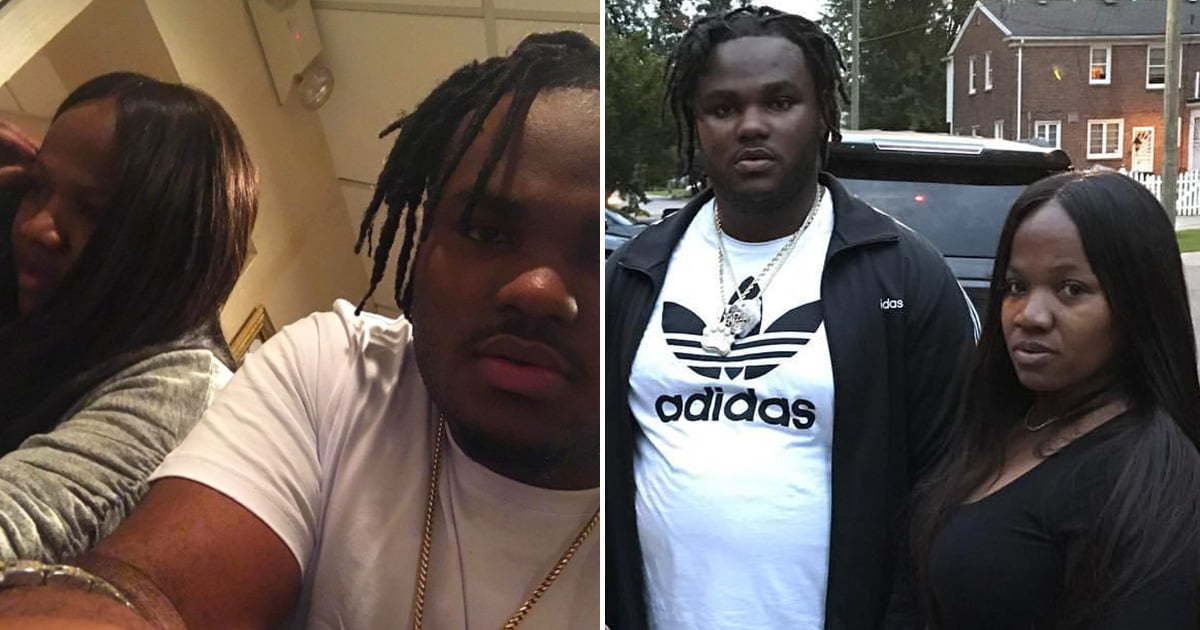 "Since I was 12 We been going everywhere together how you gone go to heaven without me???? Idek what to say JB I just wanted to show the world yo smile I love you so much," he wrote while sharing a rare video clip of Jobina.
Several of his celebrity friends have since commented on the video while sending their thoughts and prayers. We're told that Detroit PD is actively investigating the shooting incident that has sent shock waves throughout the community since Jobina was a well-known figure. So far, no arrest has been made.
Demarco 'The Dancehall Rick Ross' Details Massive 80 Pounds Weight Loss
Demarco, aka the Rick Ross of dancehall, lost a ton of weight and now he is detailing his fitness regime.
Multi-talented dancehall artist Demarco recently returned to Jamaica from the United States looking a lot slimmer than before. The deejay/producer sat down with Anthony Miller of Entertainment Report where he detailed his massive weight loss. The artiste, who boasts hits such as "True Friends" and "Fallen Soldier," spoke about his skills, which include producing.
Demarco mentions that he is the creator of the riddim "Jambe An," which features the Diamond selling hit song "Party Animal" by Charly Blacks. He shared his new-found knowledge of the music industry, stating that music goes beyond just merely making music and performing on stage. There is the production aspect, as well as what comes after, such as song royalties and publishing. 
Demarco, who firmly believes that he cannot fail in the music industry, set himself on a pedestal securing his future by establishing a publishing company and a record label. He can also add songwriter to his repertoire as he has co-written a new dancehall song for Rihanna who has recently been dubbed the richest musician in the world. Maro also currently has a new song with Yanique Curvy Diva. 
So it is without a doubt that Demarco is truly a remarkable dancehall artist. But his greatest accomplishment yet has nothing to do with music but is in fact about his incredible weight loss. The artist highlighted that "slim is in," and he has lost about 80 lbs to date. He is currently a vegetarian and makes time in his busy schedule to visit the gym 2 to 3 times per week. The artist stated that good health is essential. He also strives to maintain an appealing appearance for his female fans. 
The artist who has been diagnosed with diabetes is making the right choices to be a better person and live a better life. His mind-blowing transformation renders many speechless, leaving them in awe. The artist who prides himself as a genuine singer says that even when his music does not circulate in Jamaica, it will still receive international success and recognition. He also shares the same sentiments with popular dancehall legend Sean Paul saying that speaking proper English is important in crossing over. The chorus of your song has to be easily understood for your song to make it in the International market. The artist closed by saying he currently weighs about 230 lbs, and his ultimate goal is to be 200 lbs, but he has no time limitations on achieving it. 
Be on the lookout for his upcoming collaboration with Chronic Law and to see where his incredible weight loss journey will take him. 
Konshens Drops "Dancehall Love Story" Visual And It's Pure Fire
What's your dancehall love story?
Konshens is once again the talk of the town, and this time it's for his music and not what he is wearing. The dancehall artiste dropped a new song titled "Dancehall Love Story" on his Vevo channel. The track, which was released on Friday, already has nine thousand views and climbing. The video for the song is pretty impressive, and it is not your typical music video but comes across as more of a short film.
The concept of the video is basically about two friends who visit Jamaica on vacation from abroad. One of the women, who was hesitant about coming to Jamaica meets a local man at a party, and they hit it off. This begins the dancehall love story, and the video chronicles their time together during the trip.
The song was produced by Submachine, Ridwaan Razak and Y.G.F Records is lining up to be the ultimate song to close out the summer. Konshens did hit all the right notes with this one but should've released it earlier in the summer.
The track gives off major Vybz Kartel vibes and is one that will surely do well on the international market. It is a high energy, feel-good love song with great lyrics and is just what we have come to expect from the deejay.
Konshens has been in the public eye for some time now due to his back and forth drama with local artiste I-Octane and Demarco for their criticisms about his fashion choices and his decision to pierce his nose.
Hopefully, this song is just the beginning of more to come from this talented artiste.
Check out the music video below.