In Uganda, young women are leaving their homes to try and find jobs as domestic workers, but for some their new lives can lead to mistreatment and abuse.
A charity in Kenya is calling for the introduction of laws to protect domestic workers, commonly referred to as housegirls, to ensure their safety.
For BBC Africa Eye, reporter Nancy Kacungira has been investigating why young women living near Uganda's border are leaving their villages to find work in Kenya.
South Korea begins military drills around disputed island amid feud with Japan
FILE PHOTO: An aerial view shows a part of the group of islets known in South Korea as Dokdo and in Japan as Takeshima in the Sea of Japan, October 20, 2007. REUTERS/Yuri Maltsev/File Photo
SEOUL (Reuters) – South Korea's military will conduct two days of drills around a tiny island also claimed by Japan, Yonhap news agency reported on Sunday, just days after Seoul decided to scrap an intelligence-sharing pact with Tokyo amid worsening relations.
Tokyo and Seoul have long been at loggerheads over the sovereignty of the group of islets called Takeshima in Japanese and Dokdo in Korean, which lie about halfway between the East Asian neighbors in the Sea of Japan, which Seoul refers to as the East Sea.
The military drills were scheduled to begin on Sunday, Yonhap reported, and could exacerbate tensions between the two neighbors.
South Koreas on Thursday had announced the scrapping of the intelligence-sharing pact with Japan, drawing a swift protest from Tokyo and deepening a decades-old dispute over history that has hit trade and undercut security cooperation over North Korea.
Relations between South Korea and Japan began to deteriorate late last year following a diplomatic row over compensation for wartime forced laborers during Japan's occupation of Korea.
They soured further when Japan tightened its curbs on exports of high-tech materials needed by South Korea's chip industry, and again this month when Tokyo said it would remove South Korea's fast-track export status.
The disputed islands have long been one of the most sensitive areas of contention for South Korea and Japan. Recently, South Korea and Japan traded words over the way the islands were described on a website for the 2020 Tokyo Summer Olympics.
The islands were at the center of a more serious clash in July, when both South Korea and Japan responded to what they saw as a violation of their air space near the islands by a Russian military plane.
Reporting by Josh Smith; Editing by Leslie Adler
Airport security: 3D baggage scanners could end liquid restrictions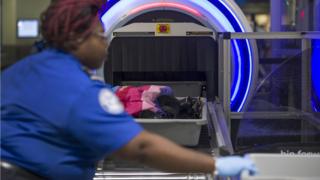 All major UK airports must introduce 3D baggage screening equipment before the end of 2022, the government says.
Ministers say the technology will boost security, speed up pre-boarding checks, and could end the restrictions on travelling with liquids and laptops.
The equipment, similar to CT scanners used in hospitals, is already being installed at London's Heathrow Airport.
It provides a clearer picture of a bag's contents, which staff can zoom in to and rotate for inspection.
Currently, passengers taking liquid in their cabin baggage are restricted to containers holding no more than 100ml, which must be shown to security staff in a single, transparent, resealable plastic bag of about 20cm (8in) x 20cm.
The limits have been in place since November 2006. Their introduction ended a ban on liquids in the cabin imposed three months earlier, when British police said they had foiled a plot to blow up as many as 10 planes using explosives hidden in drinks bottles.
Announcing the new plans, Prime Minister Boris Johnson said the new technology would cut down on "hassle" for travellers and improve security.
"By making journeys through UK airports easier than ever, this new equipment will help boost the vital role our airports play in securing the UK's position as a global hub for trade, tourism and investment," he added.
Heathrow has revealed it is spending £50m in order to roll out the technology over the next few years.
It is the first UK airport to install the equipment, which it has been trialling since 2017.
The airport's chief executive, John Holland-Kaye, said it would make travel "less disruptive", adding that the scanners were able to see what liquid was contained in luggage.
The scanners are set to be rolled out to other UK airports over the next few years.
Transport secretary Grant Shapps said the new equipment means "no more pulling out your socks and your underwear, and having to separate your liquids and and take your laptops out".
He added that aviation companies would be paying for the changes, rather than the taxpayer.
The technology is already being used by US airports, including Atlanta's Hartsfield-Jackson and Chicago's O'Hare.
Royal Family: From costs to carbon, how do they travel?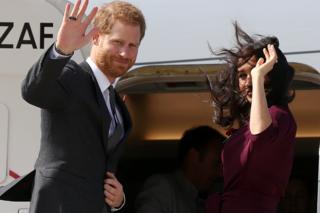 The image of the Duke and Duchess of Cambridge stepping onto a budget flight contrasted somewhat with the Duke and Duchess of Sussex's travel this summer.
Prince William and Kate's cheap hop on Flybe from Norwich to Aberdeen was compared unfavourably by critics to Prince Harry and Meghan's trips by private jet.
But who decides how the Royal Family travels? And how much do they spend getting about?
Official v unofficial
While the costs of official royal trips are published online in annual reports, the amount the royals spend on unofficial travel is not.
Spending on official travel, which is paid for by taxpayers, was £2.7m overall last year. Of trips costing more than £15,000, Prince Charles spent the most.
Tradition dictates that what the royals spend in their own time is up to them and so we only know what gets reported, often by chance.
Kensington Palace would not comment on the cost of the Cambridges' personal travel after they were snapped boarding their budget flight this week. Reports said tickets cost as little as £73.
Meanwhile, Sir Elton John said he lent his private jet to Prince Harry and Meghan to ensure their privacy on a recent visit to his French estate.
Phil Dampier, who has written several books about the royals, said he expects that gifts of flights – which can total tens of thousands of pounds – may need to be disclosed in future.
"I think what will have to happen in future is that any flights given to them by the likes of Elton John or any benefactors they'll have to declare," he said.
Helicopters are preferred
When travelling in an official capacity, the royals make use of chartered helicopters far more than private jets.
Figures published by the royal household showed that 207 trips by helicopter were made last year, compared with 56 flights on specially-chartered planes.
The vast majority of the helicopter trips were short hops and cost less than £15,000 each, the accounts showed.
But the royals almost exclusively use chartered planes when travelling abroad.
Among the more expensive trips taken was the Prince of Wales and Duchess of Cornwall's official visit to the Caribbean Islands and Cuba aboard RAF Voyager which cost £416,576.
Costs have plummeted
Despite the seemingly high costs, royal travel still costs a lot less than it did a few decades ago.
According to the National Audit Office (NAO), official royal travel costs declined by 76% in real terms between 1991-2 and 2011-12.
The NAO said that was because the household switched from using RAF helicopters to a civilian service and by taking fewer flights on more expensive planes.
Official royal travel is paid for by the Sovereign Grant, funded by the taxpayer.
This year, the grant – which also pays the Queen's household staff and upkeep of palaces – is expected to be £82.4m in total.
Last year, the money spent on official royal travel (£2.7m) was roughly the same as the previous two years. In 1997-98, the equivalent figure was £17.3m.
It's not all about money
The decision to charter a special plane or fly on a commercial flight is often taken by senior royal staff in conjunction with government, according to a former head of royal protection.
Dai Davies, who led palace police in the 1990s, told the BBC: "Convenience in terms of the routes, the number of the visits, the timings, and in some parts of the world the need for security [are all considered]".
But the suggestion, made by celebrities who came to the defence of Prince Harry and Meghan, that the couple are not safe flying on a normal airliner was untrue, Mr Davies added.
"It's absolute nonsense in terms of security," he said.
'More Travelodge than palace'
For trips closer to home, the royal train is still used by senior members of the Royal Family, despite the current stock dating back to the 1970s and it costing more per mile than a plane.
The train was most recently used by the Queen in March 2019, when the monarch slept on it overnight before an early visit to Somerset. Her combined train and helicopter for that trip cost £21,230.
Yet the train costs much more per mile than chartered flights.
A September 2018 trip by the Prince of Wales from Aberdeen to Euston cost £22,086, around £40 a mile, but a similar journey by the Queen on a chartered flight in October 2018 cost £17,689, or £32 a mile.
Courtiers have argued that using the train reduces the need for costly and disruptive hotel stays.
The train has begun to show its age. Sir Alan Reid, the former keeper of the palace purse, told MPs in 2013 the interior of the train "is very G-Plan, which is either '60's or '70's".
"It is not luxurious by any stretch of the imagination, but it does offer a very safe, secure and effective way – particularly as the Queen has got older – of having her go up the country in order to do engagements first thing the next morning."
A reporter for The Daily Telegraph once said the décor was "closer to a Travelodge than a palace".
Mr Davies added: "In truth it is an antiquated system that costs a huge amount in terms of security and protection… I think there's a question mark as to whether it is justified."
Carbon controversy
Prince Harry and Meghan's recent flights to Nice generated an estimated 37.6 tonnes of carbon, which Sir Elton John said he paid to offset.
The couple had previously told their followers on social media that "every choice… every action makes a difference" to climate change.
Royal historian Caroline Aston told the BBC that the younger royals should practice what they preach.
"If you're going to create your own 'woke up' brand of greenness and ethical behaviour, then you do need to dot the 'i's' and cross the 't's' a little bit," she said.
Yet claims of hypocrisy when it comes to how senior royals travel are nothing new.
Ms Aston said history was "packed with examples of royalty who have been attracted to the glitzy lifestyle" of private jets only to find "the friend who extended the hand might just have been doing it for their own reasons".
"Now because we finance the Royal Family… they have to be seen to earn our respect. We don't give it anymore purely because of an accident of birth, it has to be earned."
Prince Charles faced claims of hypocrisy in 1991 after making a speech on "monstrous" motorcars only to have his favourite Bentley driven 800 miles to then-Czechoslovakia ahead of a visit.
In 2015, he was accused of "double standards" by making an 80-mile journey by helicopter just days after urging people to save energy by turning off their lights.
Prince Charles, who takes on the lion's share of royal travel as heir to the throne, now lists measures his household takes to reduce his carbon footprint online, including the use of waste from the production of wine and cheese to fuel his prized Aston Martin.
Despite the measures, the royals' latest accounts revealed that the family's carbon footprint from official travel nearly doubled last year, to 3,344 tonnes of CO2.
It is unclear which members of the Royal Family engage in so-called carbon offsetting. The Foreign Office, which organises the royals' official trips abroad, spent £43,635 on offsetting the carbon created by international flights in 2017-18.
A Buckingham Palace spokeswoman told the BBC: "Travel arrangements for members of the Royal Family are made taking into consideration security, efficiency, cost, effective use of time and disruption to others.
"Official overseas travel undertaken by members of the Royal Family is done so at the request of government."