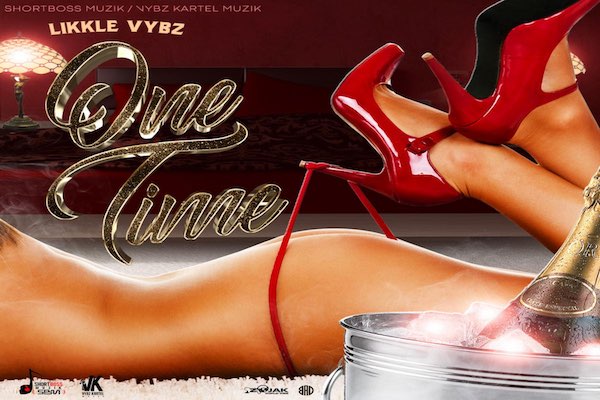 The track, produced by his parents imprinting, Short Boss & Vybz Kartel Muzik, is an epic anthem for the ladies.
An infectious hook separates hypnotic verses which rest on a club banger instrumental that gives you those real late night vibes..
With such a great instrumental construction Likkle Vybz added his own style and smooth delivery to make the song pop, thanks also to the explicit and sexy lyrics.
Taking on from his father, incarcerated World Boss Vybz Kartel, and his mom's work ethic Likkle Vybz never skylarks and is cementing his growing position in dancehall music with every new song.
Vybz Kartel's sons Jaheim, also known as 'Likkle Vybz', is Kartel's first son and was born when Addi was twenty seven years old. Likkle Vybz turned 18 years old this past April and he is looking forward to manage and shape the future of his parents labels, while growing popular in his homeland Jamaica and the rest of the dancehall arena around the world.
Already available in all major music digital platforms get Likkle Vybz new single "One Time" clicking on the banners posted on this page.
---
Intro
Mi cya figet
Grab yuh hair and touch di sheet
No way
Mi cya figet we dweet
Grab yuh hair and touch di sheet
[Chorus]
A one time
Cah mi cya figet we dweet
Nuh affi
Grab yuh hair, yuh wul' di sheet
(No way)
A one time
Cah mi cya figet we dweet
Nuh affi
Grab yuh hair, yuh wul' di sheet
(No way)
[Verse 1]
Come ah mi yawd
Yuh leff and try fi come ah mi yawd
And bring yuh fren, yuh [?] did bad
Yuh [?] did bad
Yuh clitty wish she coulda did talk
Mi see ah lip and it ah look pon mi hard
Mi fulla liquor
Yuh tek di shot like pull di trigger
It reach yuh brain and now yuh head ah kick off
And chuck off ina (Ah)
Di pull.. dat never mek a difference
Because yuh wet before yuh tek off di shorts
[Chorus]
A one time
Cah mi cya figet we dweet
Nuh affi [?]
Grab yuh hair, yuh wul' di sheet
(No way)
A one time
Cah mi cya figet we dweet
Nuh affi [?]
Grab yuh hair, yuh wul' di sheet (Yuh wul' di sheet)
[Verse 2]
We leff di poolside
Wul on pon you waist, caress di two thighs
Yuh gone down 'e stairs and tek di two side
[?] and ina shape, yuh mek di yutes smile
We reach ah di room, yuh too shy
[?] tek off your clothes, nuh rush, we use time
Nibble pon yuh nipple, yuh love di rude style
Backshot mek yuh cripple, yuh sore fi few nights
(Sore fi few nights)
[Chorus]
A one time
Cah mi cya figet we dweet
Nuh affi [?]
Grab yuh hair, yuh wul' di sheet
(No way)
A one time
Cah mi cya figet we dweet
Nuh affi [?]
Grab yuh hair, yuh wul' di sheet
(No way)
[Verse 1]
Come ah mi yawd
Yuh leff and try fi come ah mi yawd
And bring yuh fren, yuh [?] did bad
Yuh [?] did bad
Yuh clitty wish she coulda did talk
Mi see ah lip and it ah look pon mi hard
Mi fulla liquor
Yuh tek di shot like pull di trigger
It reach yuh brain and now yuh head ah kick off
And chuck off ina (Ah)
Di pull.. dat never mek a difference
Because yuh wet before yuh tek off di shorts
[Chorus]
A one time
Cah mi cya figet we dweet
Nuh affi [?]
Grab yuh hair, yuh wul' di sheet
(No way)
A one time
Cah mi cya figet we dweet
Nuh affi [?]
Grab yuh hair, yuh wul' di sheet (Yuh wul' di sheet)
[Verse 2]
We leff di poolside
Wul on pon you waist, caress di two thighs
Yuh gone down 'e stairs and tek di two side
[?] and ina shape, yuh mek di yutes smile
We reach ah di room, yuh too shy
[?] tek off your clothes, nuh rush, we use time
Nibble pon yuh nipple, yuh love di rude style
Backshot mek yuh cripple, yuh sore fi few nights
(Sore fi few nights)
[Chorus]
A one time
Cah mi cya figet we dweet
Nuh affi [?]
Grab yuh hair, yuh wul' di sheet
(No way)
A one time
Cah mi cya figet we dweet
Nuh affi [?]
Grab yuh hair, yuh wul' di sheet (Yuh wul' di sheet)
Related Posts via Taxonomies