How much of Europe does China own?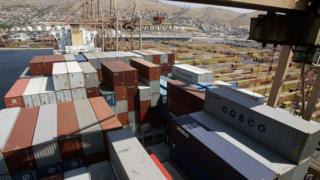 The European Union has introduced a new mechanism for screening foreign investment.
It's widely believed to have been prompted by concerns over China's economic ambitions in Europe.
It will allow the European Commission – the EU's executive arm – to give an opinion when an investment "threatens the security or public order" of more than one member state or undermines an EU-wide project such as the Galileo satellite project.
In March, the European Commission called China a "systemic rival" and a "strategic competitor".
The Chinese Ambassador to the EU urged the bloc to remain "open and welcome" to Chinese investment, and not to "discriminate".
How much foreign investment is in the EU?
China's ownership of EU businesses is relatively small, but has grown quickly over the past decade.
A third of the bloc's total assets are now in the hands of foreign-owned, non-EU companies, according to a report from the European Commission in March.
Of these, 9.5% of companies had their ownership based in China, Hong Kong or Macau – up from 2.5% in 2007.
That compares with 29% controlled by US and Canadian interests by the end of 2016 – down from nearly 42% in 2007.
So, it's a significant increase, but the total amount is not huge, comparatively speaking.
China in the EU
Foreign direct investment into the 28 member states
Although the levels of Chinese foreign direct investment in the EU have been increasing rapidly, it peaked at €37.2bn in 2016 amidst a slowdown in Chinese investment globally, according to the Rhodium Group and the Mercator Institute for China Studies.
In European countries outside the EU, investment also dropped in 2018.
What and where is China investing?
A large proportion of Chinese direct investment, both state and private, is concentrated in the major economies, such as the UK, France and Germany combined, according to the Rhodium Group and Mercator Institute.
Analysis by Bloomberg last year said that China now owned, or had a stake in, four airports, six maritime ports and 13 professional soccer teams in Europe.
It estimated there had been 45% more investment activity in 30 European countries from China than from the US, since 2008.
And it said this was underestimating the true extent of Chinese activity.
What about infrastructure?
In March, Italy was the first major European economy to sign up to China's new Silk Road programme – known as the Belt and Road Initiative (BRI).
It involves huge infrastructure building to increase trade between China and markets in Asia and Europe.
Officially more than 20 countries in Europe (including Russia) are part of the initiative.
For example, China is financing the expansion of the port of Piraeus in Greece and is building roads and railways in Serbia, Montenegro, Bosnia-Herzegovina and North Macedonia.
This could prove attractive to poorer Balkan and southern European countries, especially as demands for transparency and good governance can make EU funding appear less attractive.
However, analysts point out that Chinese loans come with conditions – such as the involvement of Chinese companies – and also risk burdening these countries with large amounts of debt.
Will Chinese investment grow?
Globally, China's outward direct investment has slowed over the last year or two, after more than a decade of expansion.
"This is mainly the result of stricter controls on capital outflows from China, but also of a changing political environment globally concerning Chinese investment," says Agatha Kratz of the Rhodium Group.
China's global investment slows
Total investment outflows (FDI)
The Trump administration is taking a tougher line towards China's economic activities.
Governments elsewhere are more cautious – particularly when it comes to investment in sensitive areas of the economy, such as telecommunications and defence.
But there's little doubt China is now a significant player in Europe, whether through direct investments or via the new Silk Road project.
What do you want BBC Reality Check to investigate? Get in touch
Biden Officials Now Expect Vulnerable Americans to Need Booster Shots
WASHINGTON — Biden administration health officials increasingly think that vulnerable populations will need booster shots even as research continues into how long the coronavirus vaccines remain effective.
Senior officials now say they expect that people who are 65 and older or who have compromised immune systems will most likely need a third shot from Pfizer-BioNTech or Moderna, two vaccines based on the same technology that have been used to inoculate the vast majority of Americans thus far. That is a sharp shift from just a few weeks ago, when the administration said it thought there was not enough evidence to back boosters yet.
On Thursday, a key official at the Centers for Disease Control and Prevention said the agency is exploring options to give patients with compromised immune systems third doses even before regulators broaden the emergency use authorization for coronavirus vaccines, a step that could come soon for the Pfizer vaccine.
Dr. Amanda Cohn, the chief medical officer of the C.D.C.'s immunizations division, told an advisory committee to the agency that officials were "actively looking into ways" to provide certain people access to booster shots "earlier than any potential change in regulatory decisions."
"So stay tuned," she added.
The growing consensus within the administration that at least some Americans will need a booster is tied in part to research suggesting that the Pfizer vaccine is less effective against the coronavirus after about six months. More than half of those fully vaccinated in the United States so far have received Pfizer's vaccine, in two doses administered three weeks apart.
Pfizer's continuing global study of its clinical trial participants shows that four to six months after the second dose, the vaccine's effectiveness against symptomatic infection drops from a high of 95 percent to 84 percent, according to the company.
Data from the Israeli government, which has fully vaccinated more than half of its population with Pfizer doses since January, also points to a downward trend in effectiveness over time, although administration officials are viewing that data cautiously because of wide margins for error.
The most recent figures from the Israeli Ministry of Health, released late this week, suggested that Pfizer's vaccine was just 39 percent effective in preventing infection in that country in late June and early July, compared to 95 percent from January to April.
The vaccine remained more than 90 percent effective in preventing severe disease, and nearly as effective in preventing hospitalization. Israel began offering a third Pfizer dose to citizens with severely weakened immune systems on July 12.
Dr. Anthony S. Fauci, who heads the infectious disease division of the National Institutes of Health, said he was surprised by the apparent steep falloff in the Pfizer vaccine's effectiveness that the Israeli data seems to suggest. He said he wanted to compare it with data that the C.D.C. had been gathering from cohorts of thousands of people across the United States. "People are sort of raising their eyebrows a bit," he said.
While other questions abound, senior administration officials said it appeared increasingly clear that the vaccines would not grant indefinite immunity against the virus, and that boosters might be necessary for at least some people perhaps nine months after their first shot. The administration has already purchased more than enough vaccine to deliver third doses of both Pfizer and Moderna, and has been quietly preparing to expand the distribution effort, should it become necessary.
With so little data yet public, many health officials and experts have spoken cautiously about booster shots. Dr. Paul A. Offit, a member of the Food and Drug Administration's outside advisory committee of vaccine experts, said a rise in mild or moderate cases of Covid-19 among vaccinated people did not necessarily mean a booster was required.
"The goal of this vaccine is not to prevent mild or low, moderate infectious disease," he said. "The goal is to prevent hospitalization to death. Right now this vaccine has held up to that."
Prematurely dangling the prospect of a third dose could also work as a deterrent against vaccination, other health experts warn. If Americans think that immunity from the vaccines is short-lived, they said, they may be less likely to get their initial shot.
"We don't want people to believe that when you're talking about boosters, that means that the vaccines are not effective," Dr. Fauci testified at a congressional hearing Tuesday. "They are highly effective."
Among the vaccine manufacturers, Pfizer has been especially proactive in sharing its data with the government. But the administration was taken aback by the company's public announcement this month that it planned to seek emergency authorization from the F.D.A. for a booster shot.
The company said that early data from its booster study showed the level of neutralizing antibodies among clinical trial participants who received a third dose six months after the second was five to 10 times as high as among two-dose recipients.
Fearful the American public would get the wrong message, the F.D.A. and the C.D.C. reacted with an unusual public statement saying, "Americans who have been fully vaccinated do not need a booster shot at this time." They added, "We are prepared for booster doses if and when the science demonstrates that they are needed."
Typically, the F.D.A. would authorize use of a booster, perhaps after a meeting of its outside advisory committee. Then the C.D.C., which has its own advisory committee, would need to formally recommend it, Dr. Offit said.
Understand the State of Vaccine Mandates in the U.S.
But if the F.D.A. fully licenses a vaccine, doctors would have vastly more leeway to prescribe a booster for their patients. Some health experts expect that Pfizer could receive that approval by this fall.
At the C.D.C. advisory panel's meeting Thursday, Dr. Cohn, the medical officer for the vaccine division, suggested that it might be possible to offer booster shots to those with weakened immune systems through an investigational study or other avenues, without waiting for the F.D.A.
Dr. Camille Kotton, an infectious disease expert with Massachusetts General Hospital, told the panel that some patients, especially those who are more educated or "empowered to take care of their own health care," are managing to get a third dose on their own, despite the lack of a green light from the government.
"Many have taken matters into their own hands," she said. "I am concerned about them doing this kind of in an unsupervised fashion," she said, while doctors' hands are tied because of the lack of regulatory approval.
People with compromised immune systems make up 2.7 percent of the population, according to the C.D.C., and include those with cancer, organ or stem cell transplants or H.I.V., among other conditions.
At Tuesday's hearing of the Senate's health committee, several senators grilled administration health officials on how soon they would act on the question of boosters. Senator Mitt Romney, a Utah Republican, said he was unhappy that officials could not provide a better timetable.
Senator Richard M. Burr, a North Carolina Republican, noted that Israel was already offering some of its most vulnerable citizens a third shot. "Why aren't we making the same decisions?" he asked.
Dr. Rochelle Walensky, the director of the C.D.C., testified that scientists were studying the vaccines' efficacy in tens of thousands of people, including nursing home residents and more than 5,000 essential workers.
"Fortunately, we're anticipating that this will wane and not plummet," she said of their efficacy. "As we see that waning, we — that will be our time for action."
Pfizer is expected to soon publicize its clinical trial research about waning immunity and the benefits of a booster shoot in articles in a peer-reviewed journal. Moderna has yet to release data on any booster studies, officials said.
Johnson & Johnson's one-shot vaccine has so far played a minor role in the nation's vaccination campaign. Clinical trial data on how that vaccine works with two shots is expected next month.
Noah Weiland contributed reporting.