Mueller report: Democrats keep pressure on Trump over Russia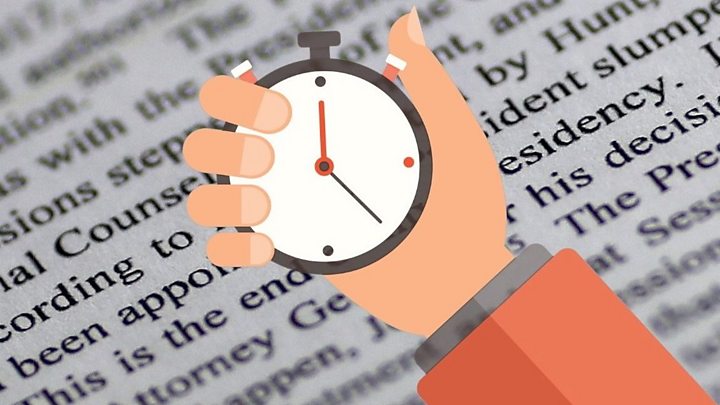 Democrats are keeping up pressure on President Donald Trump following the long-awaited release of a report into Russian meddling in the 2016 election.
They want Robert Mueller, the man who collated the report, to publicly testify before congress about the work he has done.
The redacted report, which was released on Thursday, reveals the president tried to get Mr Mueller fired.
Mr Trump's legal team has described its release as a "total victory".
The 448-page redacted document is the result of a 22-month investigation by Mr Mueller, who was appointed to investigate alleged Russian interference in the 2016 election and possible collusion with the Trump campaign.
What's in the report?
Mr Mueller's report says he found no criminal conspiracy between Mr Trump's campaign and Russia, but could not reach a concrete legal conclusion on whether Mr Trump tried to obstruct the investigation.
"If we had confidence after a thorough investigation of the facts that the president clearly did not commit obstruction of justice, we would so state," the report says. "Based on the facts and the applicable legal standards, we are unable to reach that judgement.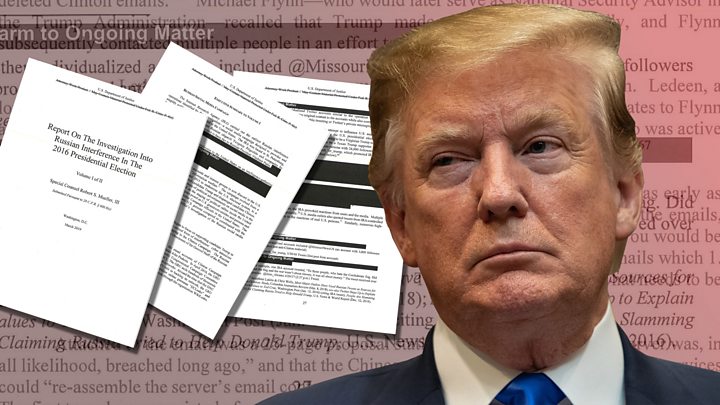 "Accordingly, while this report does not conclude that the president committed a crime, it also does not exonerate him."
The report also reveals:
Mr Trump instructed a White House lawyer to try to get Mr Mueller removed over alleged "conflicts of interest", but the lawyer resigned because "he did not plan" to follow the directive
Mr Trump reportedly used an expletive when the investigation was announced, adding: "Oh my god. This is terrible. This is the end of my presidency"
Mr Mueller examined 10 actions by the president in regards to obstruction of justice, which he said largely "took place in public view"
The report says that potential obstruction of justice by the president only failed because members of his administration refused to "carry out orders"
Investigators viewed the president's written responses to their questions as "inadequate" but chose not to pursue a potentially lengthy legal battle to interview him
What do Democrats say?
Democrat congressional leaders Nancy Pelosi and Chuck Schumer in a joint statement said the report painted a "disturbing picture of a president who has been weaving a web of deceit, lies and improper behaviour".
The party has begun moves to try to obtain the full, unredacted document and to have Mr Mueller testify before Congress.
Congresswoman Jackie Speier told the BBC that Mr Mueller had "basically tossed the ball to Congress and said, 'you need to pursue obstruction of justice here'."
Democrats have also attacked US Attorney-General William Barr, accusing him of "misleading" them with an earlier summary of the report's findings regarding whether Mr Trump obstructed justice.
Mr Barr held a news conference before the report was made public in which he backed the president.
The report has long been viewed as a potential tool to impeach the president but the House Majority Leader Steny Hoyer said this would not be "worthwhile at this point".
"Very frankly, there is an election in 18 months and the American people will make a judgement," he told CNN.
What's the Democrat game plan?
I think that the wider strategy of the Democrats is that they would like to see a president going into 2020 a bit wounded, a bit weakened.
The danger of going down the impeachment route is that all that it results in is uniting the Republican party.
For that reason I think the Democratic leadership would much rather knock the president around a bit than go down a route which would almost certainly end in failure and almost certainly be counter-productive.
And for all the questions, doubts, contradictions, sleights of hand, Mr Trump emerges with two key headlines: Mueller says there was no collusion; the attorney-general says there was no obstruction of justice.
How has Mr Trump responded?
Speaking at an event for veterans, Mr Trump said he was having a "good day" – adding that there was "no collusion" and "no obstruction".
Representatives for the president have also reiterated his view that the investigation was a "hoax" and called for reprisal inquiries.
"President Trump has been fully and completely exonerated yet again," Mr Trump's 2020 campaign manager Brad Parscale said in a statement.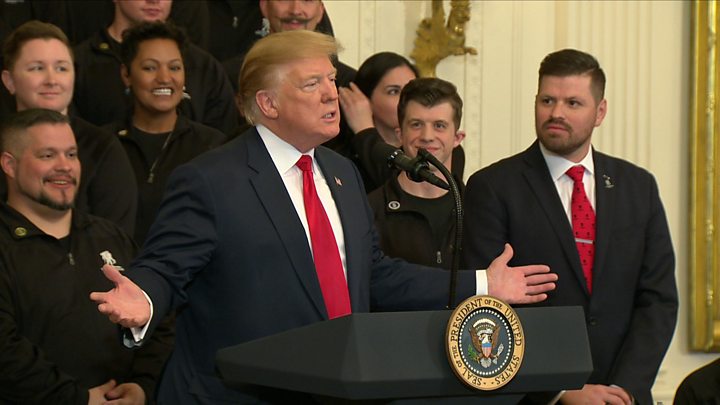 "Now the tables have turned, and it's time to investigate the liars who instigated this sham investigation into President Trump, motivated by political retribution and based on no evidence whatsoever."
His comments followed a stream of social media posts by the president on Thursday regarding the report's release.
In one tweet, he said had the right to "end the whole witch hunt" and fire Mr Mueller had he wanted to.
Biden Officials Now Expect Vulnerable Americans to Need Booster Shots
WASHINGTON — Biden administration health officials increasingly think that vulnerable populations will need booster shots even as research continues into how long the coronavirus vaccines remain effective.
Senior officials now say they expect that people who are 65 and older or who have compromised immune systems will most likely need a third shot from Pfizer-BioNTech or Moderna, two vaccines based on the same technology that have been used to inoculate the vast majority of Americans thus far. That is a sharp shift from just a few weeks ago, when the administration said it thought there was not enough evidence to back boosters yet.
On Thursday, a key official at the Centers for Disease Control and Prevention said the agency is exploring options to give patients with compromised immune systems third doses even before regulators broaden the emergency use authorization for coronavirus vaccines, a step that could come soon for the Pfizer vaccine.
Dr. Amanda Cohn, the chief medical officer of the C.D.C.'s immunizations division, told an advisory committee to the agency that officials were "actively looking into ways" to provide certain people access to booster shots "earlier than any potential change in regulatory decisions."
"So stay tuned," she added.
The growing consensus within the administration that at least some Americans will need a booster is tied in part to research suggesting that the Pfizer vaccine is less effective against the coronavirus after about six months. More than half of those fully vaccinated in the United States so far have received Pfizer's vaccine, in two doses administered three weeks apart.
Pfizer's continuing global study of its clinical trial participants shows that four to six months after the second dose, the vaccine's effectiveness against symptomatic infection drops from a high of 95 percent to 84 percent, according to the company.
Data from the Israeli government, which has fully vaccinated more than half of its population with Pfizer doses since January, also points to a downward trend in effectiveness over time, although administration officials are viewing that data cautiously because of wide margins for error.
The most recent figures from the Israeli Ministry of Health, released late this week, suggested that Pfizer's vaccine was just 39 percent effective in preventing infection in that country in late June and early July, compared to 95 percent from January to April.
The vaccine remained more than 90 percent effective in preventing severe disease, and nearly as effective in preventing hospitalization. Israel began offering a third Pfizer dose to citizens with severely weakened immune systems on July 12.
Dr. Anthony S. Fauci, who heads the infectious disease division of the National Institutes of Health, said he was surprised by the apparent steep falloff in the Pfizer vaccine's effectiveness that the Israeli data seems to suggest. He said he wanted to compare it with data that the C.D.C. had been gathering from cohorts of thousands of people across the United States. "People are sort of raising their eyebrows a bit," he said.
While other questions abound, senior administration officials said it appeared increasingly clear that the vaccines would not grant indefinite immunity against the virus, and that boosters might be necessary for at least some people perhaps nine months after their first shot. The administration has already purchased more than enough vaccine to deliver third doses of both Pfizer and Moderna, and has been quietly preparing to expand the distribution effort, should it become necessary.
With so little data yet public, many health officials and experts have spoken cautiously about booster shots. Dr. Paul A. Offit, a member of the Food and Drug Administration's outside advisory committee of vaccine experts, said a rise in mild or moderate cases of Covid-19 among vaccinated people did not necessarily mean a booster was required.
"The goal of this vaccine is not to prevent mild or low, moderate infectious disease," he said. "The goal is to prevent hospitalization to death. Right now this vaccine has held up to that."
Prematurely dangling the prospect of a third dose could also work as a deterrent against vaccination, other health experts warn. If Americans think that immunity from the vaccines is short-lived, they said, they may be less likely to get their initial shot.
"We don't want people to believe that when you're talking about boosters, that means that the vaccines are not effective," Dr. Fauci testified at a congressional hearing Tuesday. "They are highly effective."
Among the vaccine manufacturers, Pfizer has been especially proactive in sharing its data with the government. But the administration was taken aback by the company's public announcement this month that it planned to seek emergency authorization from the F.D.A. for a booster shot.
The company said that early data from its booster study showed the level of neutralizing antibodies among clinical trial participants who received a third dose six months after the second was five to 10 times as high as among two-dose recipients.
Fearful the American public would get the wrong message, the F.D.A. and the C.D.C. reacted with an unusual public statement saying, "Americans who have been fully vaccinated do not need a booster shot at this time." They added, "We are prepared for booster doses if and when the science demonstrates that they are needed."
Typically, the F.D.A. would authorize use of a booster, perhaps after a meeting of its outside advisory committee. Then the C.D.C., which has its own advisory committee, would need to formally recommend it, Dr. Offit said.
Understand the State of Vaccine Mandates in the U.S.
But if the F.D.A. fully licenses a vaccine, doctors would have vastly more leeway to prescribe a booster for their patients. Some health experts expect that Pfizer could receive that approval by this fall.
At the C.D.C. advisory panel's meeting Thursday, Dr. Cohn, the medical officer for the vaccine division, suggested that it might be possible to offer booster shots to those with weakened immune systems through an investigational study or other avenues, without waiting for the F.D.A.
Dr. Camille Kotton, an infectious disease expert with Massachusetts General Hospital, told the panel that some patients, especially those who are more educated or "empowered to take care of their own health care," are managing to get a third dose on their own, despite the lack of a green light from the government.
"Many have taken matters into their own hands," she said. "I am concerned about them doing this kind of in an unsupervised fashion," she said, while doctors' hands are tied because of the lack of regulatory approval.
People with compromised immune systems make up 2.7 percent of the population, according to the C.D.C., and include those with cancer, organ or stem cell transplants or H.I.V., among other conditions.
At Tuesday's hearing of the Senate's health committee, several senators grilled administration health officials on how soon they would act on the question of boosters. Senator Mitt Romney, a Utah Republican, said he was unhappy that officials could not provide a better timetable.
Senator Richard M. Burr, a North Carolina Republican, noted that Israel was already offering some of its most vulnerable citizens a third shot. "Why aren't we making the same decisions?" he asked.
Dr. Rochelle Walensky, the director of the C.D.C., testified that scientists were studying the vaccines' efficacy in tens of thousands of people, including nursing home residents and more than 5,000 essential workers.
"Fortunately, we're anticipating that this will wane and not plummet," she said of their efficacy. "As we see that waning, we — that will be our time for action."
Pfizer is expected to soon publicize its clinical trial research about waning immunity and the benefits of a booster shoot in articles in a peer-reviewed journal. Moderna has yet to release data on any booster studies, officials said.
Johnson & Johnson's one-shot vaccine has so far played a minor role in the nation's vaccination campaign. Clinical trial data on how that vaccine works with two shots is expected next month.
Noah Weiland contributed reporting.