420: Seven charts on how cannabis use has changed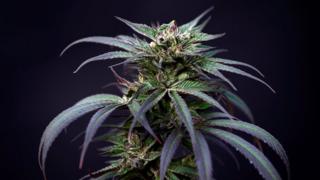 Around the world, on the 20 April – or "420" – cannabis users will be lighting up to celebrate "weed culture" and protest about its prohibition in many countries.
But even though recreational cannabis has been illegal in the UK since 1928, the evidence shows that punishments for its possession have plummeted in recent years in England and Wales.
Comparative figures for policing in Scotland and Northern Ireland are not available.
Today cannabis is classified as a Class B – or middle-risk – substance.
Despite this, prosecutions are lower than when it was considered a low-risk, Class C drug in 2008.
Number of cannabis possession punishments
Out of court disposals and prosecutions for possession of cannabis, England and Wales
In theory, possession of cannabis can still land you with five years in prison.
However, if you only have a small amount on you, then you are more likely to get a cannabis warning, often used for first offenders. These warnings do not show up on criminal records checks, but are recorded on the police database.
Repeat offenders could face a penalty notice (fine), a caution or prosecution.
A Home Office spokesperson said that enforcement of cannabis laws is "an operational decision for chief constables, but we are clear that we expect them to enforce the law".
Some police forces have openly changed tack towards small-scale users, with Somerset and Avon Police, for example, offering drug awareness courses for those caught with small amounts, while maintaining a tough approach to dealers and growers.
The drugs lead for the National Police Chiefs' Council, Assistant Chief Constable Jason Harwin, says it is up to chief constables to determine "operational priorities".
"However, there is strong evidence to suggest that recommending minor offenders for early intervention treatment instead of pursuing convictions can prevent reoffending and result in the best outcome for both the user and the criminal justice system," he says.
Despite this, the vast majority of police seizures are of fewer than five grams (0.18oz) – or about £25 street value in the UK.
Number of cannabis seizures
Total seizures of herbal cannabis and cannabis resin by weight group, 2017-18, England and Wales
Last year, almost 36,000kg (79,000lb) of cannabis was seized by the police and Border Force, with the largest seizure weighing more than 100kg.
Racial disparities
A lot of the time, small-scale seizures of cannabis come from stop and searches, the police power which allows officers to search someone under the "reasonable" suspicion that they are engaged in an illegal activity.
Stop and searches disproportionately affect black people, who are nine times more likely to be searched for drugs than white individuals.
Research carried out by by the London School of Economics suggests this is why black people are so heavily represented in cannabis prosecutions, with more than 20% of those convicted being black people. who only make up 5% of the population.
Ethnicity and cannabis
Drug stop and searches and cannabis prosecutions by ethnicity, England and Wales
In 2016, the College of Policing issued guidance saying that the smell of cannabis was no longer a good enough reason for a stop and search.
Currently, almost half of all stop and searches are linked to suspicion of drug possession.
Most popular illegal drug
Cannabis remains the country's most popular illegal drug.
In England and Wales, 30% – that's around 10 million – adults aged 16 to 64 have tried the drug at least once, according to the annual crime survey.
Regular cannabis use has dropped
Percentage of cannabis users by age group and frequency of use, England and Wales
Regular use is far less common, with only 3.3% of adults saying they had used it in the past week.
Among young adults cannabis is used more widely, but weekly use has more than halved since 2002, down to 7.3%.
Issues around health
The NHS warns that regular use of cannabis can lead to dependency, similar to alcohol, and severe mental health issues, such as psychosis.
In 2017-18, almost 55,000 people were receiving support for cannabis use in England, making it the fourth most-represented substance after opiates, crack cocaine and alcohol (although in many cases it is abused alongside other drugs).
Individuals receiving substance abuse help by drug used
% of those individuals receiving substance by drug used, 2017-18, England
The number of people under 18 who are receiving support stands at 12,066; a small decrease from a decade ago.
Because of its illegal nature, it is impossible to fully assess the potency – and therefore the health risks – of cannabis being sold on the street, but research in 2016 highlighted that people are being sold higher-strength strains of the drug.
The research comes as A&E admissions because of mental and behavioural problems linked to cannabis in England have increased by 50% in five years.
A&E admissions due to cannabis
Admissions due to mental or behavioural disorders linked to cannabis, England
But when the chemicals in the plant are controlled, some evidence suggests medicinal cannabis can help patients suffering from illnesses such as epilepsy, multiple sclerosis or sickness linked to chemotherapy.
Towards the end of 2018, cannabis was reclassified to allow some cannabis-derived medicines to be prescribed by specialist doctors in limited situations, but so far very few prescriptions have been issued.
England's Chief Medical Officer, Prof Dame Sally Davies, has called for more research into the plant's benefits, so that any future guidance on prescribing cannabis-based medicines has a more solid scientific basis.
The UK is in a good position to lead this research.
According to the UN, the UK produced 44% of global cannabis plants intended for medicine and scientific research in 2016, even though the end product is still tightly restricted.
Top cannabis production for medical and scientific use
Kilograms of cannabis produced by country, 2016
Biden Officials Now Expect Vulnerable Americans to Need Booster Shots
WASHINGTON — Biden administration health officials increasingly think that vulnerable populations will need booster shots even as research continues into how long the coronavirus vaccines remain effective.
Senior officials now say they expect that people who are 65 and older or who have compromised immune systems will most likely need a third shot from Pfizer-BioNTech or Moderna, two vaccines based on the same technology that have been used to inoculate the vast majority of Americans thus far. That is a sharp shift from just a few weeks ago, when the administration said it thought there was not enough evidence to back boosters yet.
On Thursday, a key official at the Centers for Disease Control and Prevention said the agency is exploring options to give patients with compromised immune systems third doses even before regulators broaden the emergency use authorization for coronavirus vaccines, a step that could come soon for the Pfizer vaccine.
Dr. Amanda Cohn, the chief medical officer of the C.D.C.'s immunizations division, told an advisory committee to the agency that officials were "actively looking into ways" to provide certain people access to booster shots "earlier than any potential change in regulatory decisions."
"So stay tuned," she added.
The growing consensus within the administration that at least some Americans will need a booster is tied in part to research suggesting that the Pfizer vaccine is less effective against the coronavirus after about six months. More than half of those fully vaccinated in the United States so far have received Pfizer's vaccine, in two doses administered three weeks apart.
Pfizer's continuing global study of its clinical trial participants shows that four to six months after the second dose, the vaccine's effectiveness against symptomatic infection drops from a high of 95 percent to 84 percent, according to the company.
Data from the Israeli government, which has fully vaccinated more than half of its population with Pfizer doses since January, also points to a downward trend in effectiveness over time, although administration officials are viewing that data cautiously because of wide margins for error.
The most recent figures from the Israeli Ministry of Health, released late this week, suggested that Pfizer's vaccine was just 39 percent effective in preventing infection in that country in late June and early July, compared to 95 percent from January to April.
The vaccine remained more than 90 percent effective in preventing severe disease, and nearly as effective in preventing hospitalization. Israel began offering a third Pfizer dose to citizens with severely weakened immune systems on July 12.
Dr. Anthony S. Fauci, who heads the infectious disease division of the National Institutes of Health, said he was surprised by the apparent steep falloff in the Pfizer vaccine's effectiveness that the Israeli data seems to suggest. He said he wanted to compare it with data that the C.D.C. had been gathering from cohorts of thousands of people across the United States. "People are sort of raising their eyebrows a bit," he said.
While other questions abound, senior administration officials said it appeared increasingly clear that the vaccines would not grant indefinite immunity against the virus, and that boosters might be necessary for at least some people perhaps nine months after their first shot. The administration has already purchased more than enough vaccine to deliver third doses of both Pfizer and Moderna, and has been quietly preparing to expand the distribution effort, should it become necessary.
With so little data yet public, many health officials and experts have spoken cautiously about booster shots. Dr. Paul A. Offit, a member of the Food and Drug Administration's outside advisory committee of vaccine experts, said a rise in mild or moderate cases of Covid-19 among vaccinated people did not necessarily mean a booster was required.
"The goal of this vaccine is not to prevent mild or low, moderate infectious disease," he said. "The goal is to prevent hospitalization to death. Right now this vaccine has held up to that."
Prematurely dangling the prospect of a third dose could also work as a deterrent against vaccination, other health experts warn. If Americans think that immunity from the vaccines is short-lived, they said, they may be less likely to get their initial shot.
"We don't want people to believe that when you're talking about boosters, that means that the vaccines are not effective," Dr. Fauci testified at a congressional hearing Tuesday. "They are highly effective."
Among the vaccine manufacturers, Pfizer has been especially proactive in sharing its data with the government. But the administration was taken aback by the company's public announcement this month that it planned to seek emergency authorization from the F.D.A. for a booster shot.
The company said that early data from its booster study showed the level of neutralizing antibodies among clinical trial participants who received a third dose six months after the second was five to 10 times as high as among two-dose recipients.
Fearful the American public would get the wrong message, the F.D.A. and the C.D.C. reacted with an unusual public statement saying, "Americans who have been fully vaccinated do not need a booster shot at this time." They added, "We are prepared for booster doses if and when the science demonstrates that they are needed."
Typically, the F.D.A. would authorize use of a booster, perhaps after a meeting of its outside advisory committee. Then the C.D.C., which has its own advisory committee, would need to formally recommend it, Dr. Offit said.
Understand the State of Vaccine Mandates in the U.S.
But if the F.D.A. fully licenses a vaccine, doctors would have vastly more leeway to prescribe a booster for their patients. Some health experts expect that Pfizer could receive that approval by this fall.
At the C.D.C. advisory panel's meeting Thursday, Dr. Cohn, the medical officer for the vaccine division, suggested that it might be possible to offer booster shots to those with weakened immune systems through an investigational study or other avenues, without waiting for the F.D.A.
Dr. Camille Kotton, an infectious disease expert with Massachusetts General Hospital, told the panel that some patients, especially those who are more educated or "empowered to take care of their own health care," are managing to get a third dose on their own, despite the lack of a green light from the government.
"Many have taken matters into their own hands," she said. "I am concerned about them doing this kind of in an unsupervised fashion," she said, while doctors' hands are tied because of the lack of regulatory approval.
People with compromised immune systems make up 2.7 percent of the population, according to the C.D.C., and include those with cancer, organ or stem cell transplants or H.I.V., among other conditions.
At Tuesday's hearing of the Senate's health committee, several senators grilled administration health officials on how soon they would act on the question of boosters. Senator Mitt Romney, a Utah Republican, said he was unhappy that officials could not provide a better timetable.
Senator Richard M. Burr, a North Carolina Republican, noted that Israel was already offering some of its most vulnerable citizens a third shot. "Why aren't we making the same decisions?" he asked.
Dr. Rochelle Walensky, the director of the C.D.C., testified that scientists were studying the vaccines' efficacy in tens of thousands of people, including nursing home residents and more than 5,000 essential workers.
"Fortunately, we're anticipating that this will wane and not plummet," she said of their efficacy. "As we see that waning, we — that will be our time for action."
Pfizer is expected to soon publicize its clinical trial research about waning immunity and the benefits of a booster shoot in articles in a peer-reviewed journal. Moderna has yet to release data on any booster studies, officials said.
Johnson & Johnson's one-shot vaccine has so far played a minor role in the nation's vaccination campaign. Clinical trial data on how that vaccine works with two shots is expected next month.
Noah Weiland contributed reporting.