G Herbo's baby mama Ari Fletcher is speaking out about their confrontation.
The Chicago rapper was arrested in Atlanta on Wednesday and charged with battery. Ari Fletcher, who is currently pregnant, posted a lengthy message on her IG Story confirming that G Herbo put hands on her. According to the police report, the two got into a heated argument, and at some point, the rapper physically assaulted Fletcher. Someone called in the cops who arrested him.
"He kicked my door down to get in my house because I wouldn't let him in, beat the f*** out of me front of my son then he took my son outside to his friends and had them drive off with my son," she wrote. "Broke my phone and locked me inside and beat the f*** out of me again (chocked me, punched me in my face and all over my body, dragged me outside on the concrete by my hair after his friends drove off with my son, took me in the house and continued beating me), he wrecked my whole house, broke all type of sh*t, I have a black eye, my body scraped up from being dragged outside, bruises and cuts all over my body… Please don't speak on no old "relationship play fights. cause this ain't that."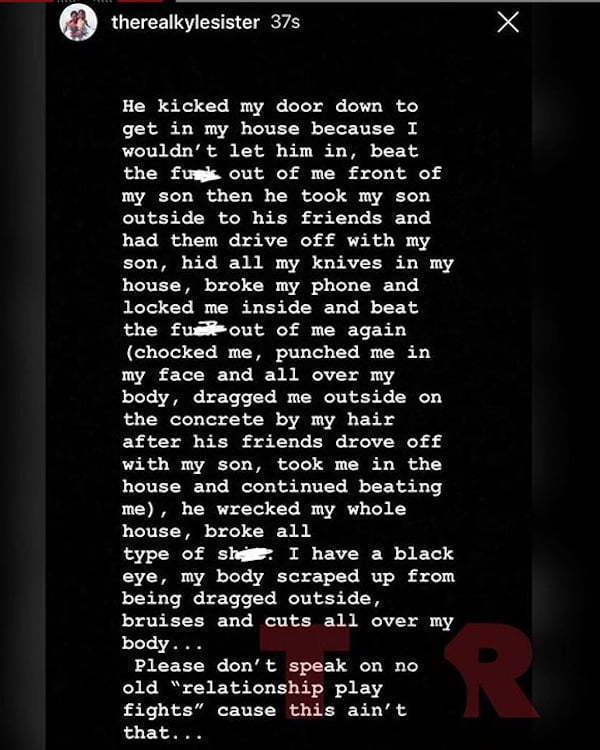 Police reported that Ari Fletcher had visible scratches on her body from the assault. Ari is currently dating boxer Gervonta Davis and is reportedly 14 weeks pregnant with his child. Some folks are now saying that Davis will do something to G Herbo and this could turn into a major feud.
It's still unclear what triggered the fight, but the three of them were spotted partying at Allure Gentlemen's club on Tuesday of this week. Ari and Gervonta Davis were there together, and Herbo was there with his crew in another section. It's unclear if they crossed path.
Cops are actively investigating the issue.