Shivani Ranchod, co-founder and director at Alignd.
Newly launched fintech health start-up Alignd uses real-time data analytics to bring alternative and affordable palliative care to the South African market.
Alignd works in collaboration with medical schemes to provide financial solutions to palliative patients, improving the quality of life for patients with serious or life-threatening diseases such as cancer.
The company uses a series of algorithms to identify patients who meet the clinical criteria for its palliative care programme, and offers the necessary financial assistance and healthcare to address the patient as a whole, not just their disease.
The medical care offered aims to help treat, as early as possible, the symptoms and side effects of the disease and related psychological, social and spiritual problems, according to the company.
Alignd is the brainchild of three South African women: Dr Linda Holding, a palliative-trained doctor with 20 years of clinical risk management experience; Victoria Barr, a healthcare economist and senior director at FTI Consulting; and Shivani Ranchod, a healthcare actuary and academic.
The current focus of end-of-life care for palliative patients is mostly in a hospital setting, making it hugely expensive to manage the patient's medical costs in the final stages of their life. Alignd says it offers end-to-end financing solutions for the optimal care of complex cases, aligning the incentives of all stakeholders (patients, finance providers and schemes) to deliver patient-centred, value-based healthcare.
"In current medical scheme approaches, healthcare costs in the last year of life are more than three times higher than in the second-last year. This ramping up of cost represents the huge efforts to stave off death; efforts that are often invasive and non-beneficial," explains Ranchod, who is also the director of Alignd.
"Using a combination of innovation, data analytics and a desire to bring the patient's life to the fore, we believe we have a model that benefits all stakeholders and incentivises them to collaborate for the greater comfort of the patient and their wellbeing."
The solution is sold to medical schemes or health insurers, and not directly to patients. The medical schemes pay Alignd a small fee per patient registered on its programme.
In order to identify patients in need, Alignd uses a combination of diagnosis codes, based on clinical "flags" in medical scheme claims data. These codes identify the patients' medical condition and the medication they are on.
Current medical aid models for end-of-life care will pay for costly in-hospital care but will not pay for home-based care, notes Alignd. Under its programme, patients can receive palliative care in a hospital, an outpatient clinic, a long-term care facility or at home.
The fee is used to help the patient navigate access to their palliative benefits, including connecting them to a network of palliative care teams.
"We have developed a new way of paying for care by designing the contracts between funders and providers of care to enable co-ordinated care in a fragmented system. We help build trust between funders of healthcare and those on the frontline delivering care, enabling co-ordinated care and teamwork in a fragmented system," adds Ranchod.
In SA, metastasised cancer absorbs a disproportionately high percentage of funding from medical aids. The most recent estimates indicate 8% of scheme expenditure is in the last year of life; a staggering R11.6 billion in 2017 alone, says Alignd.
'We are hostages': Two years on, Rohingya still in Myanmar trapped by new war
YANGON (Reuters) – When Myanmar officials toured refugee camps in Bangladesh last month, inviting Rohingya Muslims who fled the country to return, they brought with them pamphlets adorned with cartoons showing hijab-wearing women passing through checkpoints and happily grasping identity cards.
Muslim vendors sell fish in the market of Maungdaw, Rakhine July 9, 2019. REUTERS/Ann Wang
They did not mention the new war being waged at home.
While the majority of Rohingya residents of northwestern Myanmar were driven out by a military campaign that began in August 2017, a scattered community of some 200,000 remained behind in Rakhine state, in villages that were spared the violence. Two years on, many of them are now trapped by a new conflict.
Since late last year, government troops have been battling the Arakan Army, an ethnic armed group that recruits from the mostly Buddhist Rakhine, who make up the majority in the region.
The worsening fighting has left Rohingya caught in the middle and facing threats from both sides, a dozen villagers told Reuters, making returns ever more unlikely.
"We are stuck in the middle of their fight," said Tin Shwe, a villager from Buthidaung township, where clashes have been intense. "There has been no improvement of our lives over the past two years, only degradation. Only trouble."
More than 730,000 Rohingya fled Rakhine to Bangladesh after Myanmar's armed forces launched a crackdown following attacks on security posts on Aug. 25, 2017.
United Nations' investigators have said the army campaign included mass killings and gang-rapes and was carried out with "genocidal intent". The military denies almost all the allegations made by refugees during what it said was a legitimate counterterrorism operation.
On Thursday, a third attempt to begin the repatriation of 3,450 Rohingya cleared by the authorities to return to Myanmar failed when the refugees refused to go back.
Min Thein, director of Myanmar's social welfare ministry, said security measurements were in place for returning refugees. "The Myanmar police force will guard them," he said.
A military spokesman did not answer phone calls seeking comment.
INFORMATION BLACKOUT
Authorities have shut northern Rakhine off from journalists and most humanitarian agencies, and imposed an internet blackout since late June, citing the need to avert unrest.
The restrictions make information difficult to verify, but Reuters spoke to a dozen Rohingya still in central and northern Rakhine and refugees in Bangladesh with relatives who stayed behind.
Some described landmine blasts and shells falling in Muslim villages, as well as intimidation from combatants on both sides of the conflict.
Two told Reuters they would flee to Bangladesh if they could, but routes out of the country used during the previous exodus have been rendered unsafe by the violence.
More than 1,000 Rohingya have arrived in the camps in Bangladesh since January, according to the United Nations refugee agency, a figure that also includes arrivals from India, which has in recent months been cracking down on what it says are illegal Rohingya immigrants.
Those from Myanmar cited violence linked to fighting between Arakan Army insurgents and the military as well as poor living conditions, spokeswoman Louise Donovan said.
Many refugees living in the crowded Bangladesh camps say they want to return home, but under specific conditions, including guarantees of citizenship and security and improvements in the lives of Rohingya still in Myanmar.
Denigrated as illegal immigrants, although many can trace their ancestry in Myanmar back centuries, the Rohingya there are mostly denied citizenship and subject to tight restrictions on movement that keep them confined to camps and villages.
CAUGHT IN CROSSFIRE
The Arakan Army has been fighting for greater autonomy for Rakhine, a region that was an independent kingdom for centuries.
In its calls for an armed "revolution", the group draws on deep-seated historical resentment felt by some Rakhines towards the ethnic Bamar majority that dominates the central government.
Rohingya still living in the area say they have been caught in the middle of the conflict.
Government troops battling the insurgents have set up camp in Muslim villages in parts of northern Rakhine, five villagers told Reuters. Soldiers ask Muslim residents to bring them food and firewood, or to show them the roads, villagers said, putting them in danger of retribution from the Arakan Army.
"If they say they will stay, we have to accept it," said one Rohingya living in Rathedaung township, who like others asked not to be named for safety reasons.
Another in Buthidaung township said soldiers had asked him to guide troops, as he was a proficient Burmese speaker. Some of the Muslim population, particularly from poorer communities, speak only the Rohingya dialect.
Afterwards, the villager said, he got a call from an unknown number, warning that anyone who helped the military would face consequences. He said the speaker told him: "We will kill you. We will burn your village."
Two Rohingya were shot dead in Rathedaung township's Sin Khone Taing village in early August after escorting troops, five locals told Reuters. Officials from the village could not be reached for comment.
"We are hostages, stuck between two groups," said one Muslim who fled the village. "We are not safe. It has been three times already that we have fled from the village since June … The government cannot control this area."
Arakan Army spokesman Khine Thu Ka denied the organization had killed civilians, blaming Myanmar forces for the deaths.
"We don't kill our civilians like that," he said. "As we heard, the Burmese military took them and eliminated like them … There are too many cases like that."
AID SHORTAGES
Many Rohingya in Myanmar have been reliant on international non-profit organizations for medical care and deliveries of food since a previous bout of violence in 2012 that forced many into camps.
Since the start of the Arakan Army conflict, little has been getting through.
In Rathedaung's Sin Khone Taing village, Rohingya said they last received a delivery of food in May. "People are living off rice porridge," said one villager.
Kyaw Win, executive director of Burma Human Rights Network, which monitors the Rohingya crisis, said it had received reports of landmines and improvised explosive devices placed on the roads near the exits of Rohingya villages.
In a joint statement last week, 61 NGOs including Save the Children and Oxfam said there had been "no meaningful progress on freedom of movement or human rights" for the Rohingya still in Myanmar, while the recent "upsurge in violence has worsened the already precarious humanitarian situation in central and northern Rakhine state".
Slideshow

(4 Images)
Across the border, in the sprawling Bangladesh camps, refugees keep in touch with their relatives in Myanmar via phone, now that the internet connection has been cut. Nobody is urging them to come home.
"All of the people want to flee as there is no security," Tin Shwe said. "The government cannot help the few Rohingya left behind. So how could anyone believe they could help hundreds of thousands?"
(This story corrects typo in 34th paragraph, replacing "improved" with "improvised")
Reporting by Poppy McPherson and Thu Thu Aung; Editing by Alex Richardson
South Korea begins military drills around disputed island amid feud with Japan
FILE PHOTO: An aerial view shows a part of the group of islets known in South Korea as Dokdo and in Japan as Takeshima in the Sea of Japan, October 20, 2007. REUTERS/Yuri Maltsev/File Photo
SEOUL (Reuters) – South Korea's military will conduct two days of drills around a tiny island also claimed by Japan, Yonhap news agency reported on Sunday, just days after Seoul decided to scrap an intelligence-sharing pact with Tokyo amid worsening relations.
Tokyo and Seoul have long been at loggerheads over the sovereignty of the group of islets called Takeshima in Japanese and Dokdo in Korean, which lie about halfway between the East Asian neighbors in the Sea of Japan, which Seoul refers to as the East Sea.
The military drills were scheduled to begin on Sunday, Yonhap reported, and could exacerbate tensions between the two neighbors.
South Koreas on Thursday had announced the scrapping of the intelligence-sharing pact with Japan, drawing a swift protest from Tokyo and deepening a decades-old dispute over history that has hit trade and undercut security cooperation over North Korea.
Relations between South Korea and Japan began to deteriorate late last year following a diplomatic row over compensation for wartime forced laborers during Japan's occupation of Korea.
They soured further when Japan tightened its curbs on exports of high-tech materials needed by South Korea's chip industry, and again this month when Tokyo said it would remove South Korea's fast-track export status.
The disputed islands have long been one of the most sensitive areas of contention for South Korea and Japan. Recently, South Korea and Japan traded words over the way the islands were described on a website for the 2020 Tokyo Summer Olympics.
The islands were at the center of a more serious clash in July, when both South Korea and Japan responded to what they saw as a violation of their air space near the islands by a Russian military plane.
Reporting by Josh Smith; Editing by Leslie Adler
Airport security: 3D baggage scanners could end liquid restrictions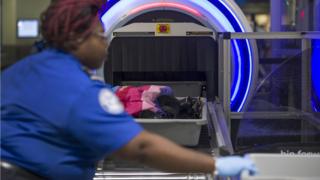 All major UK airports must introduce 3D baggage screening equipment before the end of 2022, the government says.
Ministers say the technology will boost security, speed up pre-boarding checks, and could end the restrictions on travelling with liquids and laptops.
The equipment, similar to CT scanners used in hospitals, is already being installed at London's Heathrow Airport.
It provides a clearer picture of a bag's contents, which staff can zoom in to and rotate for inspection.
Currently, passengers taking liquid in their cabin baggage are restricted to containers holding no more than 100ml, which must be shown to security staff in a single, transparent, resealable plastic bag of about 20cm (8in) x 20cm.
The limits have been in place since November 2006. Their introduction ended a ban on liquids in the cabin imposed three months earlier, when British police said they had foiled a plot to blow up as many as 10 planes using explosives hidden in drinks bottles.
Announcing the new plans, Prime Minister Boris Johnson said the new technology would cut down on "hassle" for travellers and improve security.
"By making journeys through UK airports easier than ever, this new equipment will help boost the vital role our airports play in securing the UK's position as a global hub for trade, tourism and investment," he added.
Heathrow has revealed it is spending £50m in order to roll out the technology over the next few years.
It is the first UK airport to install the equipment, which it has been trialling since 2017.
The airport's chief executive, John Holland-Kaye, said it would make travel "less disruptive", adding that the scanners were able to see what liquid was contained in luggage.
The scanners are set to be rolled out to other UK airports over the next few years.
Transport secretary Grant Shapps said the new equipment means "no more pulling out your socks and your underwear, and having to separate your liquids and and take your laptops out".
He added that aviation companies would be paying for the changes, rather than the taxpayer.
The technology is already being used by US airports, including Atlanta's Hartsfield-Jackson and Chicago's O'Hare.