Waka Flocka Flame is unhurt following a shooting incident at a studio.
The alleged shooting incident took placed on April 4th while Waka Flocka Flame, real name Jaquan Malphurs, and others were recording music at Zac Recording Studio in Northwest Atlanta. Channel 2 News reporter, Michael Seiden, confirmed the incident today saying that the rapper and about a dozen others were forced to dodge bullets when three armed men started firing at the studio.
"JUST IN: Atlanta rapper @WakaFlocka forced to dodge barrage of bullets after gunmen opened fire on recording studio, per law enforcement sources," Seiden tweeted.
Sources say a police report was filed and eyewitnesses told cops that it was three gunmen who are yet to be identified. Witnesses also told cops that it was close to a dozen people inside the recording studio at the time of the shooting. Police have also recovered several shell cases at the scene.
Waka Flocka Flame has remained tight-lipped on the breaking news. It's also unclear if he was the intended target of the shooting.
JUST IN: Atlanta rapper @WakaFlocka forced to dodge barrage of bullets after gunmen opened fire on recording studio, per law enforcement sources.@wsbtv

— Michael Seiden (@SeidenWSBTV) April 12, 2019
MORE INFO: @WakaFlocka , whose real name is Jaquan Malphurs, was among nearly a dozen people at the recording studio when the bullets started flying;witnesses told police that three gunmen fired shots into the studio, police confirmed.

— Michael Seiden (@SeidenWSBTV) April 12, 2019
MORE INFO: When officers arrived at the nw Atlanta recording studio, they were greeted outside by two armed men who told them that their friend had been shot in the right arm, police said. @WakaFlocka wasn't injured. Search continues for gunmen.

— Michael Seiden (@SeidenWSBTV) April 12, 2019
This all happened earlier this month (April 4) at Zac Recording on 669 Antone St. We stopped by the studio, but an unidentified man told us "no comment"through an intercom.

— Michael Seiden (@SeidenWSBTV) April 12, 2019
It's unclear if the Atlanta rapper was the intended target.

— Michael Seiden (@SeidenWSBTV) April 12, 2019
Lil Reese Shooting Update: Chicago Rapper Battling For His Life Severely Injured
More details are coming out about Lil Reese shooting that left him battling for life in the hospital.
Yesterday, we posted that rapper Lil Reese was shot and is now in critical condition. New reports being released by police are that he was shot in the neck and not the head as previously speculated. The shooting took place in the Country Club Hills, which is a suburb south of Chicago. The police were called to the scene of a shooting that took place on the evening of November 11, 2019.
According to reports, the victim was already rushed to the hospital before the police got to the scene. It was later revealed that the person was Lil Reese from both Chief Keef and Lil Durk's camp. A motive for the shooting has not yet been determined. However, the Illinois police are still investigating the incident, but so far, no arrest has been made.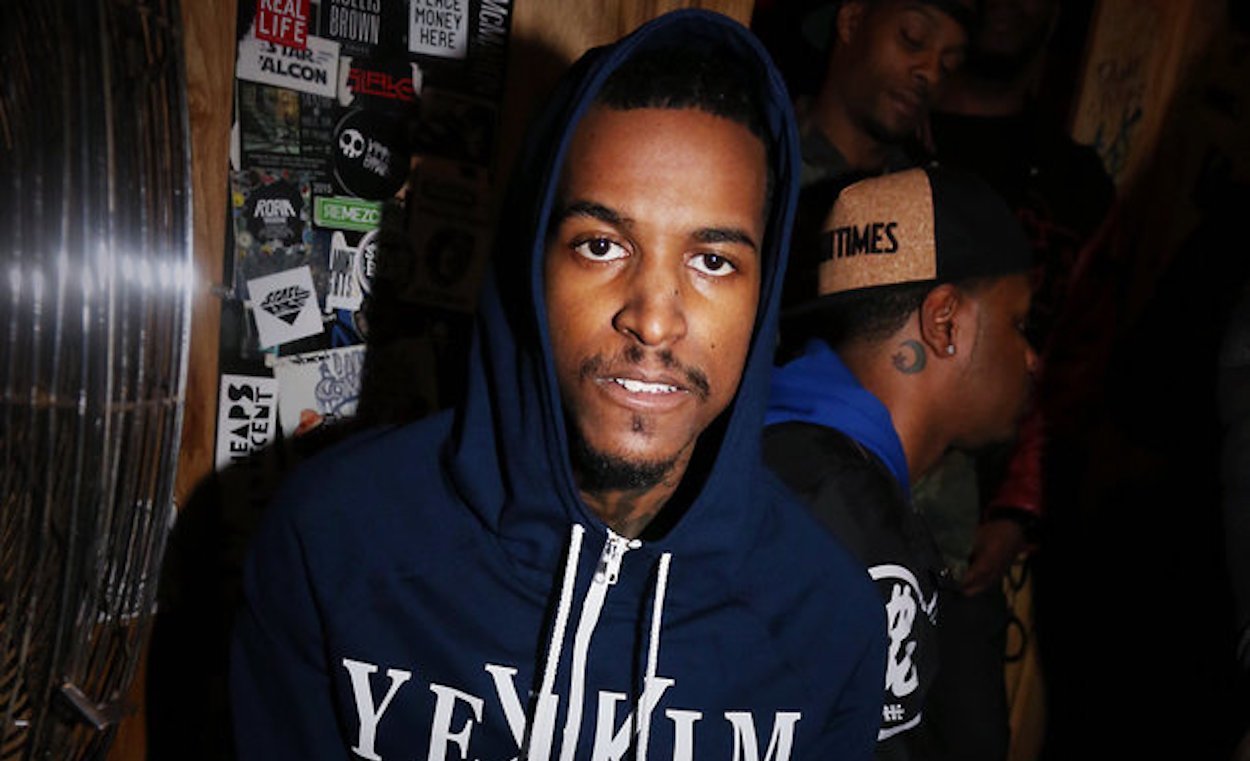 This shooting is just one of the many that have rocked the city of Chicago. The city and its surroundings are currently fighting a crime and gang epidemic among the younger population, leaving many to speculate that this latest shooting is also gang-related.
The most recent detail coming out of the Christ Medical Center to which he was transferred is that he is still in critical condition.
We send prayers up for the young rapper, as we await more details surrounding the shooting and his recovery.
Vybz Kartel Says Sean Paul & Shaggy Doesn't Make 'Authentic Dancehall' Music
Vybz Kartel doesn't think Sean Paul and Shaggy makes "authentic dancehall" music.
The dancehall music oppression has sparked a national conversation in Jamaica about the preservation of the culture. Emotions were already running high when some of the industry's biggest names took to Instagram to have an open and honest discussion on the future of Jamaican music. Among the big names sounding off on the issue are Vybz Kartel, Skatta Burrell, and NotNice.
Urban Islandz reported that UK radios are replacing reggae/dancehall music with Afrobeats. The news came out of the left field for most fans, but others believe it could have been projected from the music trends in the last few years where we see Afrobeats artists actually biting the Jamaican dancehall style in their music, and they wouldn't be the first genre to do so.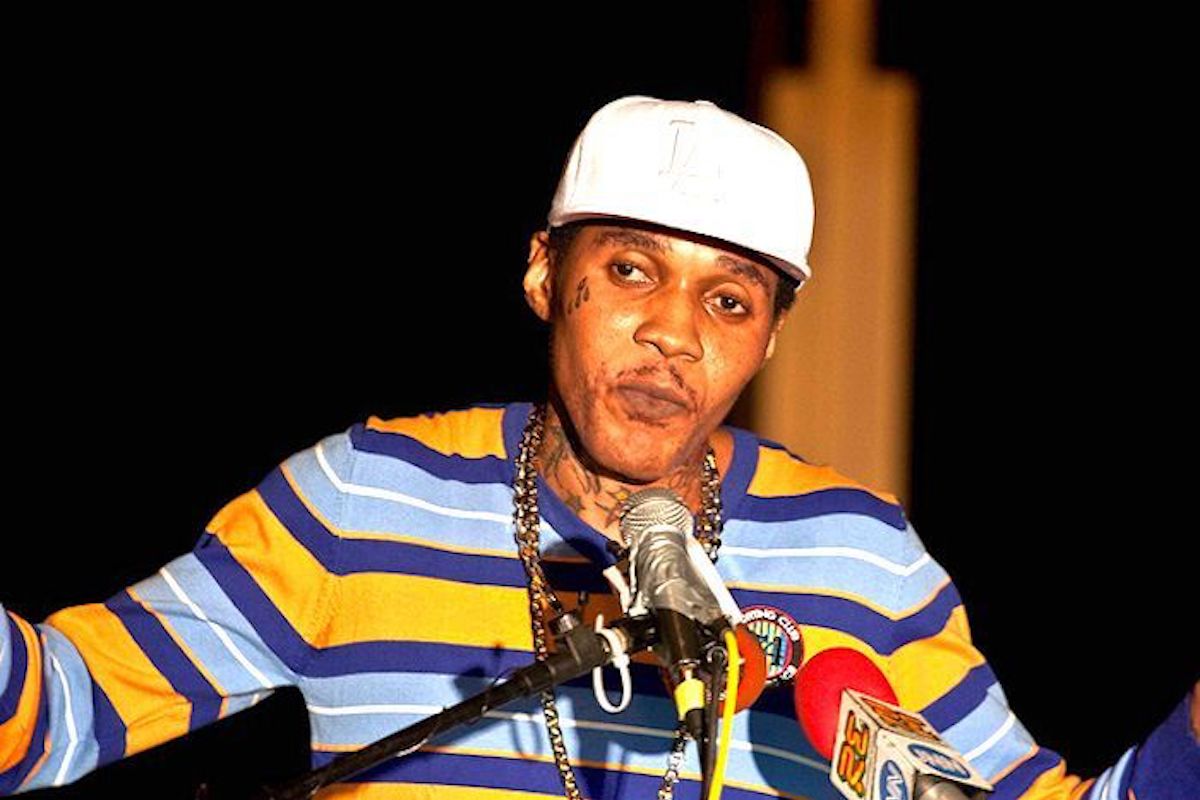 Taking to Instagram to share the disappointing news, producer Notnice voiced his opinion on the matter in a lengthy post that was later reposted by Skatta Burrell, who weighed in with an equally long caption. "We producers need to play our part in curving the sound of the music coming from Jamaica the hub of dancehall and reggae," Notnice wrote. "When is the last time we had a real international hit coming out of Jamaica? But everyday I hear many chart topping songs globally that's mimicking our dancehall sound," the producer continued. "So how can they see the value of our music and we can't?"
Skatta Burrell's post cited, "Dancehall has been on life support locally for a tall while now. Not because it's no longer great but because the real players who understand the sound stepped back and refuse to unite and collaborate in order to keep the movement going, he said. "I don't blame the Yutes cause they doing what they doing and it's working for em. I lay the blame at all who know better and refuse to step up and be a voice," Skatta wrote.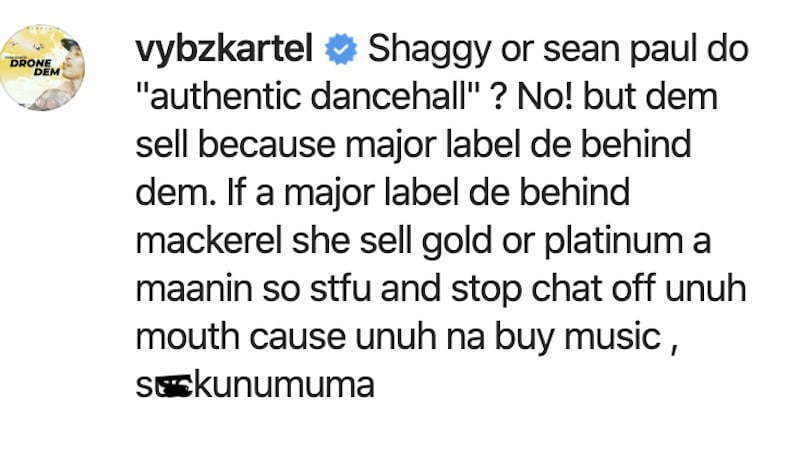 The conversation caught the attention of dancehall guru Vybz Kartel who had this to say: "Unuh buy music none at all or support ntn? S**k unuh mada a social media mek unuh tink unuh opinion matters …youths dictate what music is so stfu and go sort out unuh life unuh cyaa stop ntn @skattaburrell bless mi General" Kartel wrote. In another comment the deejay said, "Shaggy or sean paul do "authentic dancehall"? No! but dem sell because major label de behind dem. If a major label de behind mackerel she sell gold or platinum a maanin so stfu and stop chat off unuh mouth cause unuh na buy music , s*ckunum*ma." Harsh but I have to say, I get where Vybz Kartel is coming from. Do you think Jamaica has any chance at saving the music culture?
Vybz Kartel's statement has raised some eyebrows on whether or not Sean Paul and Shaggy, who are two of the most commercially successful dancehall artistes of all-time, put out authentic dancehall music, or something else.
Koffee's "Toast" Performed By Chinese Military Band Shook PM Andrew Holness
Watch the Chinese military band performed a rendition of Koffee's mega-hit "Toast" in front of Jamaica's Prime Minister Andrew Holness.
Jamaica's teenage Reggae/Dancehall singing sensation, Koffee's musical wings, have spread to the Orient. This past weekend, Prime Minister Andrew Holness posted a video clip on Instagram and Facebook, with the Chinese Military band in Beijing, performing the instrumental to Koffee's megahit 'Toast' at an event held in honor of a Jamaican delegation led by Holness, who is on a trade mission in China.
"Rendition of Koffee's 'Toast' in China," Holness captioned the video, which has attracted more than 600 comments on Instagram since it was posted on Sunday.
"It gave me such joy to hear Toast by Koffee played for the Jamaican delegation by the Chinese military band in Beijing. This shows the powerful and far-reaching impact of our music and culture," the Prime Minister added.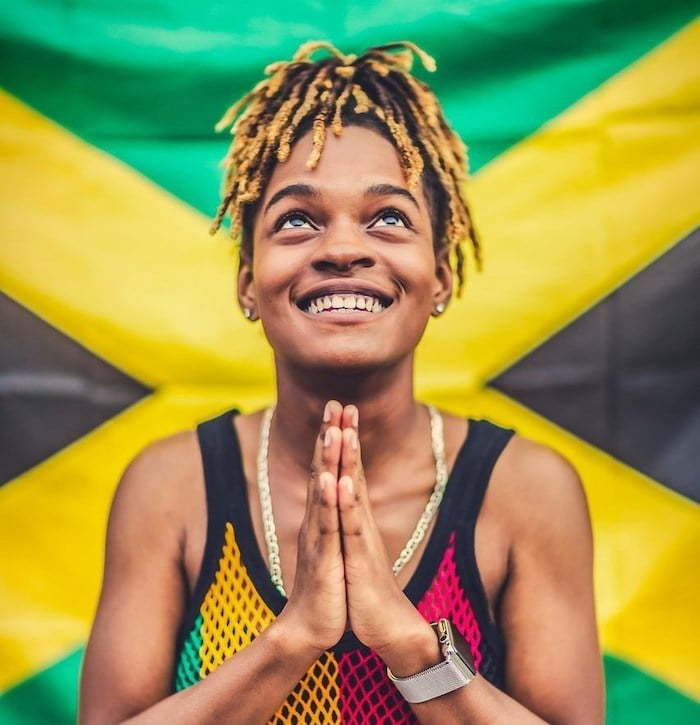 Koffee, who is now regarded as the poster child of Reggae and Dancehall, was also hailed by former US President Barack Obama, who listed 'Toast' on his 2019 summer playlist.
Responding to Holness' post, most Jamaicans expressed glee that Toast had broken another international barrier and had, according to them, transcended 'borders and echelons'. Others surmised that the Chinese Ambassador to Jamaica had his 'ears to the ground' and was instrumental in selecting the song, which is the most popular in Jamaica this year. One humourous commenter even called for a clash between the Jamaica Military Band and the Chinese Military Band.
Other Jamaican nationals responded with heavy sarcasm and used the opportunity to inject their displeasure about the impact of the noise abatement act on local events.
'Yes, and we will have to go to Beijing to hear Jamaican music because our police keep closing down our events," one woman complained.
"Yes, Mr. Prime Minister. Others are applauding it meanwhile in Jamaica politicians and aristocrats are trying to kill it off…," another commenter said
As usual, there were concerns expressed that the Chinese appear to be trying to exploit Jamaica and that the Prime Minister should not throw caution to the wind.
Rendition of Toast by Koffee in China

It gave me such joy to hear Toast by Koffee played for the Jamaican delegation by the Chinese military band in Beijing. This shows the powerful and far-reaching impact of our music and culture.

Posted by Andrew Holness on Saturday, November 9, 2019
"They are experts at pandering keep a steady head, Andrew Holness," one follower said, while another man said all Jamaicans should be wary of the loans the Chinese have been offering to Jamaica that 'they know the country will never be able to pay back, short of giving them more land ownership'.
"Please don't be fooled by this. Be alarmed that year after year, Jamaica is selling out more and more to the Chinese," one man said.