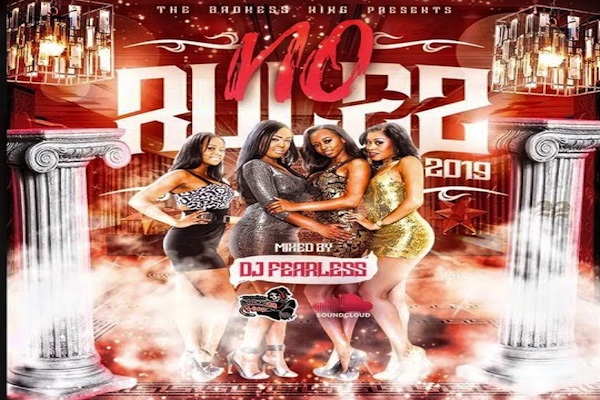 Dancehall lovers enjoy a new and free mixtape hot like fire and featuring major dancehall tunes and top Jamaican artists in the latest Dj Fearless "No Rulez" Mixtape for this beginning of April 2019.
The Fearless mix has to No Rulez interludes, one from Nefatari and Stylo G. The mix opens up with Kartel's "Designa Vagina", goes on with Spice "Genie" and keeps going with on with more Vybz Kartel's topping hits like "Come Home", "Undisputed Champion", "Me Tell You", and… keeps on coming.
If you are already familiar with the UK Badness King mixtapes you already know what to aspect, mad drops, baddest mix, coolest selection..if not… don't loose any time and play the mix below, you'll be hook!
Featuring all the best in Caribbean and Jamaican music this mix will keep you company for more than an hour with the topping tunes from Shenseea, Popcaan, Govana, Stylo G, Masicka, Tommy Lee Sparta, Alklaine, Jahvillani, Mavado, Munga, Nefatari and many more artists and songs.
Available for free streaming and download get Dj Fearless "No Rulez" via the buttons after the stream.
Dj Fearless No Rulez (Dancehall Mix 2019)
DWNLD DJ FEAR:ESS NO RULEZ TRACKED
Dj Fearless "No Rulez" MIx Track Listing
1. Vybz Kartel – Designa Vagina
2. Spice – Genie
3. Vybz Kartel – Come Home
4. Vybz Kartel – Undisputed Champion
5. Vybz Kartel – Me Tell You
6. Teejay – From Birth
7. Shenseea – Replaceable
8. Masicka – Humongous
9. Stylo G & Govana – Designer
10. Vybz Kartel & Afro B – Shape Nice
11. Vybz Kartel & Lolaa Smiles – Addi Right Size
12. Alkaline – Talk Truth
13. Masicka – Have It
14. Tommy Lee Sparta – Taboo
15. Jahvillani – Call Me
16. Popcaan – The Best
17. Vybz Kartel – Pandora
18. Popcaan – Heart String
19. Nefatari – No Rulez – Interlude
20. Vybz Kartel – Boom It Off
21. Masicka – Ride
22. Stylo G – Whoop Whoop
23. Vybz Kartel – Deso It Deh
24. Shenseea – Trending Gyal
25. Jayeleah – Controversy
26. Govana & Tarrus Riley – Unanswered
27. Nefatari – No Rulez – Interlude 2
28. Nefatari – Black Heart Contraction – Dubplate
29. Alkaline – Black Heart
30. Mavado – Gyalis For Life
31. Munga – Nah Mad
32. Starface – Haffi Mad Counteraction
33. Popcaan – Strong Woman
34. Pree – Midtown Party
35. Stylo G – No Rules – Interlude
36. Stylo G Ft Nicki Minaj & Vybz Kartel – Touch Down Remix
37. Govana – Shrimp Patty
38. Size 10 – Excellent Length
39. Dee Dre – Darker Days
40. Jayds – Smoke A Rise
41. Tanso – Mula
42. Aidonia – Don Perignon
43. Vybz Kartel – Wont Work
44. Vybz Kartel – Poco Whine
45. Popcaan – Louis Out
46. Vybz Kartel – Pretty Potion
47. Alkaline – Eva High
48. Vybz Kartel – Best Friend
49. Jayeleah – Side Chick
50. Rygin King – 3ZN
51. Popcaan – Body So Good
52. Vybz Kartel & Squash – Cant Be The Same
53. P Wave – Rum We Ah Deal
54. Popcaan – Trigga Play
55. Mavado – Enemies
56. Alkaline – Heartless Killaz
57. Masicka – Headshot
58. Popcaan – Unruly Law
59. Jayeleah – Slap It Up
60. Vybz Kartel – Do It
61. Govana – One N Move
62. Govana – Flavours
63. Tommy Lee Sparta – Habit
64. Tommy Lee Sparta – Like A Star
65. Tommy Lee Sparta – Badman Links
real deal