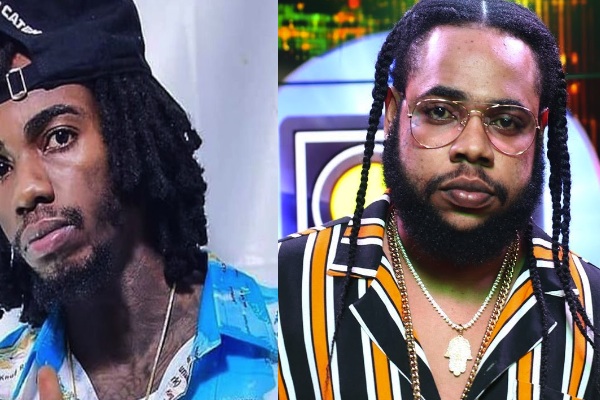 The two Jamaican dancehall artists released a crazy amount of back and forth diss tracks aimed at each others and clashing back and forth for the last few weeks. As always in this type of lyrical clashes fans are picking their side. Adding fire. Some fans online even took the beef too personal posting all sort of things online and threats.
In the beef between Alkaline and Squash were also involved more artist like Chronic Law from the 6IX, Jahvillani from Wileside and Gage. Jahmiel himself got involved, with a new song called 'Murderous' where he go in for a full frontal attack to Chronic Law.
Jahmiel goes in it making Chronic Law his target and throwing a line regarding incarcerated World Boss Vybz Kartel when he deejays "them teacha shouldn't left the students." That line did not got unheard and Vybz Kartel mede it known where he stands posting on his IG 
"#6IX out ere a weh dem feel like? @squash6iixboss @1law_chroniclaw357 a one link!" as a caption of a Chronic Law & Squash cartoon portrait.
But this is just the last chapter, if you lost the beginning you need to rewind.
[This is a long post full of clips, be patient and let it load so you can enjoy it to the fullest]
Listen To Jahmiel 'Murderous'[Chronic Law Diss]
The beef started when Alkaline,that has been gone from the scenes for a while, dropped his new track 'Depend Pan Nobody' which contained strong diss to the all 6IX posse members, with lines where he suggests since they cannot run the place they should run to a CrossFit, a clear reference to the two 6IX body sizes, with Alkaline suggesting them to hit the gym.
Listen To Alkaline 'Depend Pon Nobody' [Squash Diss]
Squash reply came in on The Super Hero Riddim from Kwaswana Records where he voiced "Bull Dog", going on with more diss to Alkaline via 'Slow Poison' the single voiced over Top Braff riddim, click here to play the whole Top Braff Riddim.
Squash 'Bull Dog' (Official Audio) [Alkaline Diss]
Alkaline fired back with the Tru Ambassador produced track "State Of Emergency', a war anthem aimed to destroy the 6IX bosses.
Listen To Alkaline 'State A Emergency' [Squash & Chronic Law Diss]
Squash was not impressed and came out with a new war banger titled 'Pinocchio' where he refers to the real State Of Emergency that is going on in Jamaica, in Squash own yard and called Alka an informer, clashing the Vendetta's deejay with his own title theme and with references to the fact that Alkaline has no kids yet, via the the lyrics "man dead already an no get no yute."
Well to all that Alkaline replied posting a short clip of a printed t-shirt that had print on it the name Squash on it being put to fire. Sending a clear message at this point that this lyrical clash could turn into a physical one with childish exchange via social media of shirts getting burned and fans of both faction insulting each others but so far not yet a Pinocchio's counteraction from Alkaline.
Many fans commeted over social medias that the power and the insight information in Pinocchio created a real State of Emergency in Alka's career. The emergency of dissing back with a song twice as powerful or be defeated. To all that add that Chronic Law would not just sit and look at Squash being dissed, so he weight in the war with the song 'One Talk'. Listen to both below.
Listen To Squash 'Pinocchio' [Alkaline Diss]
Listen To Squash 'Funeral Program' [Alkaline Diss]
The dancehall community has been anxiously awaiting a response from Alkaline, to Squash, the leader of the 6IX's because Squash has continued to take hits at Alkaline after releasing his own diss track, "Pinocchio" as a counteraction to Alkaline's "State Of Emergency" He has been posting videos ridiculing the artist and has even threatened to physically assault him. He also recently posted a video of Popcaan dissing Alkaline. after which everybody began to think that Squash had won the war and Alka had gone iagain.
A couple of weeks went by and fans of both sides kept wondering what happened to the Vendetta's deejay, and his Pinocchio counter action, until finally Alkaline declares Squash's death in new diss track "Death Announcement." Fact is that many of his own fans commented  that the single's  cover, which depicts a funeral with Squash and his decease brother on it, is actually harder than the song.
In what is been the hardest dancehall beef of the season,  taking it  away all the attention from the I-Octane & Konshens outgoing feud, Squash came back with "Funeral Program' ,listen below.  The clash is still getting heated and affecting the whole dancehall community with parties being shutting down early all over the island and cops involvement.
Squash 'Funeral Program' (Official Audio) [Alkaline Diss]
Listen To Alkaline 'Death Announcement' [Squash Diss]
If at this point you think the war was over you are wrong. The beef went on and on with Alkaline clapping back to Squash with a new diss song titled "Most Wanted' and so now it was up to Squash to come back with some fresh bars.
Listen To Alkaline 'Most Wanted' [Squash Diss]
It seems war was in a truce or over, until Squash come right back with the murderous 'One Shot' a song where he also aims at Gully God Mavado deejaying One thief style and one thief name (the watch name Mavado)
Squash 'One Shot' [Alkaline Mavado Diss] So far the last chapter of this war was written by Cornic Law and his gritty newest track 'Mass Murder'. Listen below. The feud is still ongoing. 
Listen To Chronic Law  'Mass Murder' (Official Audio)
real deal