Jacquees and his girlfriend Dreezy have both clapped back at Ella Mai.
On Tuesday, Ella Mai fired off some shots at Jacquees following his performance Tory Lanez at the O2 Arena. The R&B songstress shade the Atlanta singer after he performed his controversial version of "Trip" as the audience went wild. Dreezy left a comment on the Gram saying that her boyfriend Jacquees don't like to perform the single, but he was asked to, and he did.
"1st of all he hate performing that song," Dreezy wrote. "They put him on the spot and he did what he was sposed to do. Every single he dropped is gold or plat, humble yourself girl."
Jacquees responded to the fiasco saying that he and DJ Mustard have worked out their differences and are planning to make music together. "Me and @djmustard already cleared this up we plan on working we on the next page," he wrote. "I'm doing what I do. Much success to ya Ella Mai."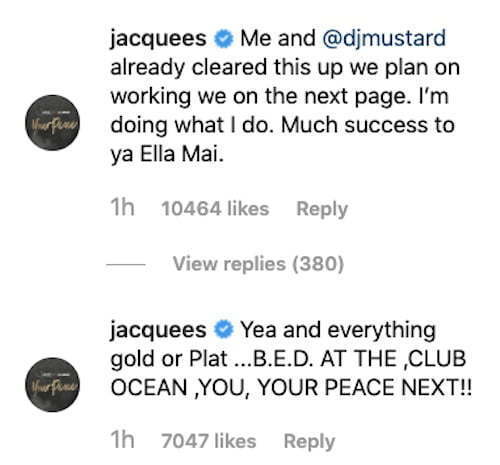 Jacquees continues, "Yea and everything gold or Plat …B.E.D. AT THE, CLUB OCEAN, YOU, YOUR PEACE NEXT!"
It appears that Jac was responding to the part where Ella Mai said nobody knows any of his songs, so he had to perform hers to get the crowd going. Let's hope these two singers can work out their differences and make music together because they're two talented artists.
i'd be so embarrassed if someone brung me on stage and the only thing i could sing was someone elses song because nobody knew my actual music. poor thing.

— Ella Mai (@ellamai) April 9, 2019