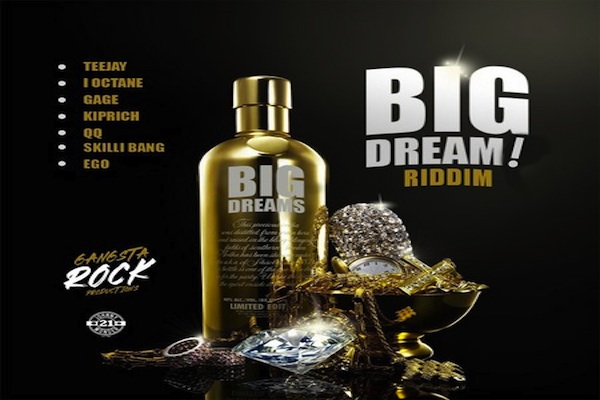 Check out a new dancehall reggae music riddim that came out at the end of last month called "Big Dream Riddim", produced by Gangsta Rock Productions.
As well expressed by its title, this is a riddim about motivation, inspiration, hope and action! Dream big but also work hard to achieve your dreams! If you put your will at it, nothing is impossible and while geography may impact your destiny and sometimes is easy to loose hope it is a positive attitude paired with good elate music that will help you achieve the harder goals, no matter the circumstances! Don't give up my youths!
Voicing on "Big Dream Riddim" a great line up of top Jamaican stars, veterans like I-Octane, Kiprich, Gage and new artists making their name known as Teejay and Ego and more all delivering great songs.
Check the full track listing for "Big Dream Riddim" and play the full mix below. For a limited time "Big Dream Riddim" Mix is available for free promo download posted after the mix.
Gangsta Rock Productions "Big Dream Riddim" is also available on all major music platforms, you can get the whole riddim or just your favorite song on it clicking on the iTunes banner on this page.
Listen To "Big Dream Riddim" Mix I-Octane, Teejay, Kiprich, Gage, Gangsta Rock Productions
"Big Dream Riddim" Track Listing Gangsta Rock Productions 2019
Ego – Gold Spoon

Ego – Gold Spoon

Gage – TBT

Gage – TBT

I Octane – Good For Me

I Octane – Good For Me

KipRich – Win

QQ – So Soon

QQ – So Soon

Skilli Bang – Real

TeeJay – Giant

TeeJay – Giant

Gangsta Rock Productions – Big Dream Riddim
real deal