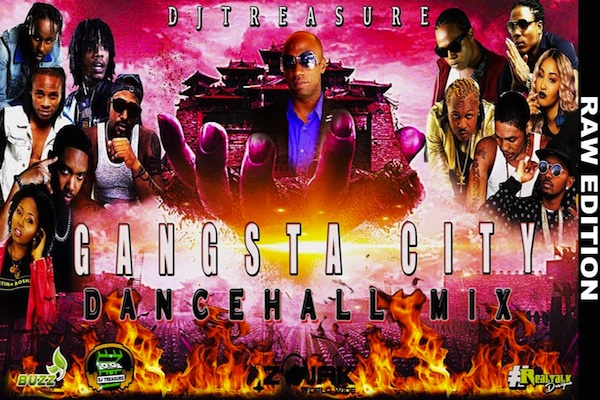 Get ready to vibe to a super packed free dancehall mix titled "Gangsta City" and brought to you by Jamaican mixtape Emperor Dj Treasure.
"Gangsta City"

mix features more than seventy songs from top Jamaican stars like Vybz Kartel, Masicka, Shenseea, Popccan, Quada, Jah Vinci,Mavado, Rdx, Spice , Tommy Lee, Munga and many many more..
This is a super loaded dancehall mix that will keep you dancing and singing for more than an hour featuring the biggest hits and artists and perfect for Spring Break.
Check the full track listing, play the full mix below and download Dj Treasure "Gangsta City" free dancehall mix following the links posted after the audio clip.
Dj Treasure "Gangsta City" Dancehall Mixtape

DWNLD DJ TREASURE GANSTA MIX 2019 MOBILE
DWNLD DJ TREASURE GANGSTA CITY 2019 MIX
Dj Treasure "Gangsta City" Dancehall Mixtape Track Listing
01 DJ ZEE K – DJ TREASURE GANGSTA CITY (INTRO)
02 MASICKA – HEADSHOT
03 DEXTA DAPS – SQUEEZE
04 CHRONIC LAW – FREN KILLA
05 POPCAAN – UNRULY LAW
06 QUADA – FASTER THAN FAST
07 JAFRASS – PROWL INA STREET
08 JAFRASS x JAH VINCI – IF THEY KNOW
09 SQUASH – LOCK DUNG DI PLACE
10 MASICKA – HUMONGOUS
11 SHENSEEA – REPLACEMENT
12 TEEJAY – FROM BIRTH
13 TEEJAY – ME AND YOU
14 SHENSEEA – HYPE AND BRUK
15 MAVADO GYALLIS FOR LIFE
16 TEEJAY x BEENIE MAN – UPTOP PARTY
17 SHENSEEA – BEAT CONGO
18 MARLON SAMUELS – SIDDUNG
19 RDX – DRUNK LOVE
20 DJ ZEE K – EARLY MORNING
21 VYBZ KARTEL – POCO WINE
22 VYBZ KARTEL – COME HOME
23 SPICE – BODY RIGHT
24 SPICE – COOL IT
25 STLO G – WHOOP WHOOP
26 SKILLIS – HAPPY NIGHT
27 J RILE – UP NORTH
28 CHRONIC LAW – SPORT MODE
29 CHRONIC LAW – MONEY MACHINE
30 SHANE O – QUESTION
31 JAHVILLANI – MURDER
32 JAFRASS – 51 50
33 BLAK RYNO – JUICY
34 MUNGA HONORABLE – HAPPY WE ARITE
35 MUNGA HONORABLE – FIERY
36 I OCTANE – PIMPING
37 TOMMY LEE SPARTA – LINK UP
38 TOMMY LEE SPARTA – BLESSINGS
39 CHRONIC LAW – BLESS UP
40 SQUASH – FIGHT
41 CHRISTINA – GUH FAH
42 DJ ZEE K – DJ TREASURE GANGSTA CITY (INTERLUDE)
43 TOMMY LEE SPARTA – BADMAN LINKS
44 ATOMIK – SHAKE UP THE PLANET
45 TEEJAY – OWNA LANE
46 MASICKA – DARKEST TIMES
47 SHENSEEA – SINNER'S PRAYER
48 POPCAAN – BEST BLESSED
49 SPICE – MINE MINE MINE
50 SPICE – ROMANTIC MOOD
51 JADA KINGDOM – ONE TIME
52 JAHVILLANI – WILESIDE GOVERNMENT
53 JAHVILLANI – ONE GOVERNMENT
54 JAHVILLANI – KILLING DISEASE
55 AIDONIA – DOM PERIGNON
56 AIDONIA – BIG BALLER
57 GOVANA – HOMBRE
58 GOVANA x EXTACY – STOP TELL LIE
59 GOVANA – FLAVOURS
60 ALKALINE – BLACK HEART
61 DEXTA DAPS – GWAN
62 MUNGA HONORABLE – NAH MAD (OVA NUH GYAL)
63 MISS CHIN – NAH MAD (OVA NUH MAN)
64 SKILLIS x LIL BABY – STREET SMART
65 SOL WEATHERMAN – INNA LIFE
66 TEEJAY x DING DONG – BRAFF
67 SHENSEEA – TRENDING GYAL
68 KOFFEE – TOAST
69 STYLO G x NICKI MINAJ x VYBZ KARTEL – TOUCH DOWN REMIX
70 AD V – TOUCH DOWN REMIX
71 VYBZ KARTEL – WONT WORK
72 VYBZ KARTEL – DESO IT DEH

real deal