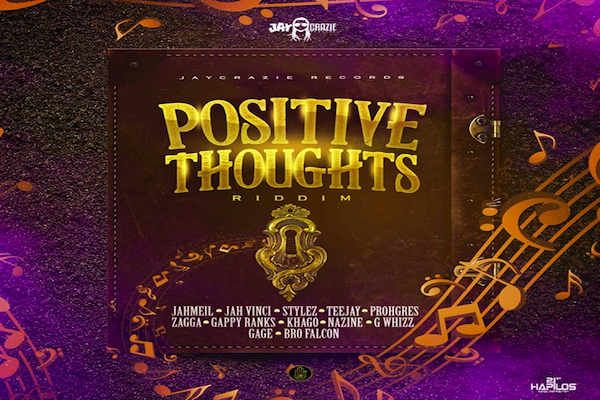 Tune in to a new dancehall riddim produced by JayCrazie Records, distributed by 21st Hapilos and called "Positive Thoughts Riddim".
A very good melody supported by A lister Jamaican dancehall reggae artists and a bag of good lyrics and positive thoughts voiced by G Whizz, Falcon, Gage, Gappy Ranks, Jah Vinci, Jahmiel, Khago, Nazine, Tj, Zagga and many more for a total of 12 tracks from 12 different Jamaican artists.
Play the full "Positive Thoughts Riddim" mix posted below and check the track listing that includes all the songs and artists names featured on the riddim.
This is a good new dancehall reggae riddim, full of melody and feelings to come out, that features some of the upcoming hits for 2019.
JayCrazie's "Positive Thoughts Riddim" is now available on all major music digital platforms, support the music and the full riddim  or just your favorite song on it clicking on the iTunes banner on this page.
Listen To "Positive Thoughts Riddim" Mix JayCrazie Records 2019
"POSITIVE THOUGHTS RIDDIM (DANCEHALL) – JAYCRAZIE RECORDS – 2019 TRACKLIST:
1. FALCON – LIFE ODYSSEY
2. G WHIZZ – HARDWORK PAYS
3. GAGE – WOMAN FOR MYSELF
4. GAPPY RANKS – END OF THE ROAD
5. IAMSTYLEZMUSIC – I WANT YOU
6. JAH VINCI – REALLY LOVE YOU
7. JAHMIEL – COLD FLOOR
8. KHAGO – CIRCLE SMALL
9. NAZINE – BREAKING NEWS
10.PROHGRES – LARGE LIFE
11.TEEJAY – HOLD THE FAITH
12.ZAGGA – HOPE AND I PRAYED
real deal