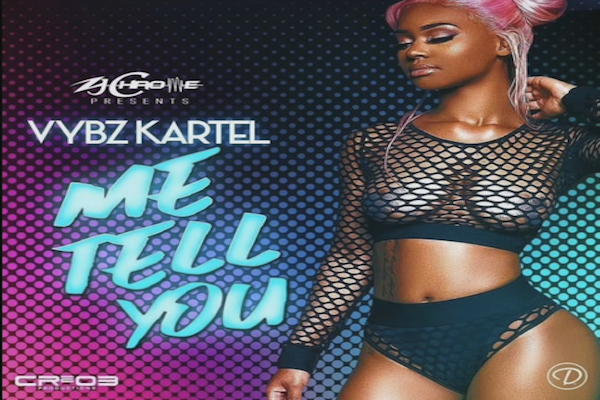 Jamaican dancehall star Vybz Kartel has been dismissed from the hospital this past Tuesday, following a thyroid crisis, read the full story here, and there is already a new music single flooding the airwaves, titled "Me Tell You" and produced by Cr203 Records for the month of March 2019.
The new single is another dancehall song that focus on the ladies, one of Vybz Kartel's favorite topic and theme, and the newest "Let Me Tell You" follows up Vybz Kartel's solid formula on a catchy riddim and sexy witty lyrics.
As usual paired with a nice cover the new World Boss single follows up to his latest smashing hit "Undisputed Champion", click here to listen, a song labeled as a Beenie Man diss and that has been released as soon as FOX TV New York shared a morning segment where the crown incarcerated superstar Vybz Kartel, once again the Undisputed King of Dancehall Music, provoking a reaction from fellow artist

Beenie Man,

that wants to hold on to his old title

.
Vybz Kartel, real name Adidja Azim Palmer, has been already taking the crown for the year 2019 in dancehall music and the new music single is already in heavy rotation on Youtube and in Jamaican radios as well as overseas, making splashes as usual!
Patiently awaiting for his Appeal's Trial Verdict since the beginning of July 2018 and behind bars since the end of September 2011, Kartel, that experienced an other health scare and was transported to the UWI Hospital, where he was treated, with the support of his legal team, maintains a positive outlook on the appeal's verdict, that should be reached in a matter of weeks now.
One thing for sure, not even police officers in Jamaica, are immune to his music, as a recent video clip that went viral on social medias last week emerged and put the officers that shared it in hot waters with the local authorities,

click here for the full story and the viral video of police spitting Kartel;s "Touch Dow" lyrics.
Listen to Vybz Kartel newest song "Me Tell You" produced by by Cr203 Records and support music producer and artist purchasing your copy on iTunes clicking on the banner on this page.
Vybz Kartel "Me Tell You" Cr203 Records [Jamaican Dancehall Music 2019]
real deal