DJ Frass says Vybz Kartel is no "King of Dancehall."
Frass, who produced a ton of hits for Alkaline and Mavado, added his voice to the debate this week when he made it clear that the incarcerated deejay is not the king of dancehall. Ever since a mainstream TV network referred to Kartel as the king of the genre, several stakeholders in dancehall have been giving their two cents, including Beenie Man who insists that the crown still belongs to him.
"King me Rass clath a Mussi , Peter king," DJ Frass tweeted. While he didn't tag Vybz Kartel in the post, it's clear who is he is reacting to. As expected, Frass has been getting a lot of hate mail from Kartel's fans since making the post.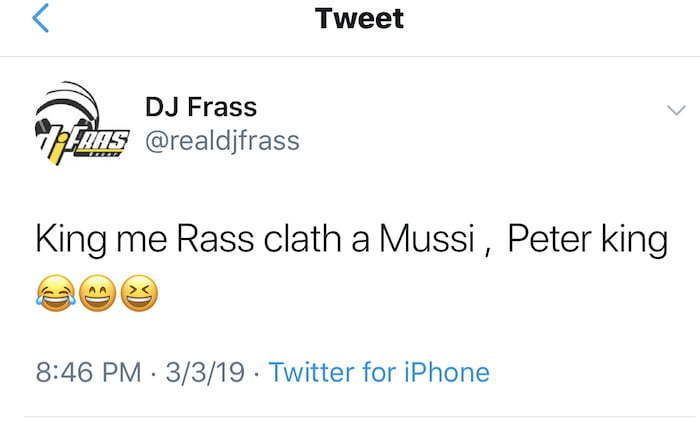 "Yuh ah "Producer" so long, ask @Rvssian fi teach yuh how fi Mek ah riddim. Unuh flop out stop look a hype," one fan wrote while another added, "And all now you can't build a riddim a joke dis. s*** yuh madda idiot producer bwoy and come off a the boss name. Whole a unnu badmind the don."
So far we've heard from Beenie Man and Bounty Killer who gave their take on the topic of who is the current King of Dancehall. We've yet to hear from the likes of Mavado and Alkaline, who are both huge artists in dancehall.
Perhaps this is the closest that you will get to hear from them.