Who knew Idris Elba could spit bars like this.
The famed British actor is a huge fan of dancehall music and even do some DJ gigs when he is not filming action movies. Idris Elba linked with Sean Paul, Stefflon Don, and Wiley on the new dancehall banger "Boasty." They also released an accompanied music video for the track. "I came to win battle me that's a sin / Disrespect man get a slap pon the chin / Man a King me no talk 'bout Larry / Man a big DJ, ask Meghan and Harry / Boast yeah, man a boasty / I make your girl melt like a toasty (Jheez) / I been this way from day / And I write for myself no ghosty," Elba raps.
After hearing his verse on the dancehall track, fans are already asking for a full length album. Let's see where he takes this music thing from here. Watch the fun filled video below.
Aaliyah Wax Figure Debuts At Madame Tussauds Museum, Brings Back 90s Vibe
A wax figure of the late singer Aaliyah made its debut in Las Vegas.
Fans have been petitioning that the Madame Tussauds Museum create a wax figure statue for late singer Aaliyah for many years, and Wednesday those calls became a reality. Aaliyah's statue was revealed 18 years after her tragic death after the museum finally opened discussions over a year and a half ago, according to Vibe. The statue replicates Aaliyah in her famous "Try Again" video from the year 2000. The singer is wearing a metallic bra and choker set with her signature leather pants.
"This set, rather than being a recreation of any one particular Aaliyah moment, was instead designed with a message to her fans in mind," said Adam Morey, Studios Manager at Madame Tussauds in Las Vegas "It's a message that hopefully reflects her everlasting legacy."
It was reported that Aaliyah's brother, Rashad Haughton, played a big role in making sure the wax figure really captured the "One in a Million" singer's essence, and was given "unprecedented access" to the creation process. The replica modeled the singer who died in a 2001 plane crash right down to her exact tattoos, details that Haughton made sure not to skip over.
One thing we made sure to include was all of my sister's tattoos," Haughton said in a statement obtained by Vibe. "They are all quite hidden because my sister chose strategic places for them due to her on-camera film work. We know how devout and knowledgeable her fans are and the great artists at Madame Tussauds have no limitations to their abilities when it comes to detail."
Fans were indeed appreciative on social media of the efforts the museum took to immortalize the fallen superstar.
The Aaliyah wax figure looks GOOD !! pic.twitter.com/UAJqvxdnA2

— Kiss it better, baby (@YeenEvenKnowIt_) August 22, 2019
Aaliyah's wax figure though!! I wasn't ready… I'm in tears ??????? @AaliyahHaughton #Aaliyah pic.twitter.com/YmJfpUHbeg

— CourtneyNicholle?? (@cnichollej1) August 22, 2019
Young Thug Announces He Is Dropping New Album "Punk"
Young Thug released an album a few days ago, and now he has another project coming.
The Atlanta trapper announced that his next album will be titled "Punk" and will arrive in a matter of months. Thugger's new album, So Much Fun, was released last week Friday and is projected to sell 150K copies in the first week. Young Thug is clearly having a lot of fun this week judging from media run over the past two days.
The Fader did a cover story on Young Thug which came out today, and one of the biggest takeaways from it is that Thugger has another album in his arsenal. He described his forthcoming album, Punk, as "touching" but he has yet to confirm if it will have a punk vibe or the sound that he has become famous.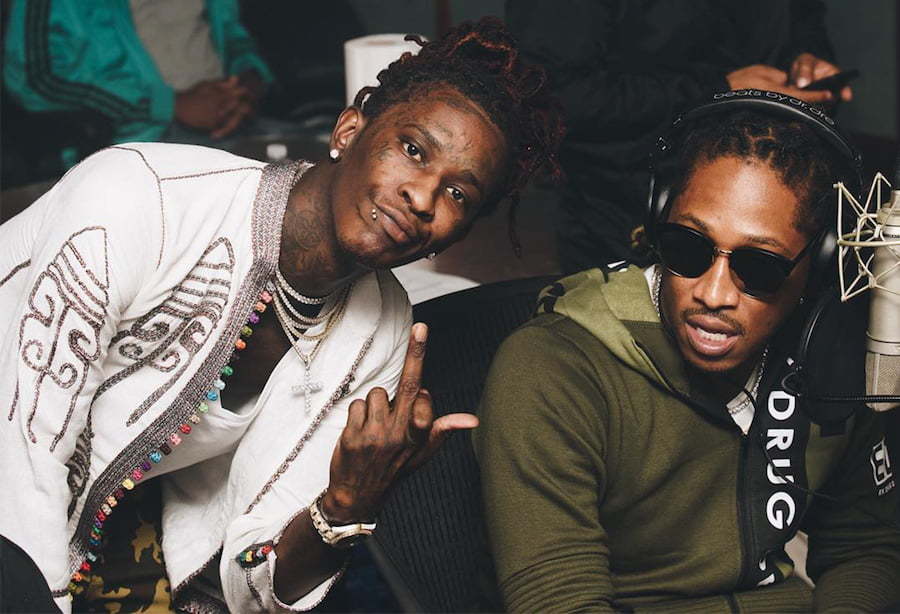 "It's music that the world is going to embrace," the "Good Times" rapper said. "[Punk] means brave, not self centered, conscious. Very, very neglected, very misunderstood. Very patient, very authentic."
He added that the pending project will features "real rap" that will also show some vulnerability. Judging from the frequency of Thugger's body of works, you can expect to hear this project by the end of this year. He also has his Super Slimey album on the way featuring Future, Lil Baby, and Gunna. A release date for that project is not yet known.
Teejay Dropping First Dancehall Project "Top Braff Riddim" On His Label
Dancehall powerhouse, Teejay has officially released his first instrumental from his new record label Top Braff Music. The beat which is entitled 'Top Braff' is Teejay's official debut as a producer and so the artiste has a lot riding on it.
The Uptop Boss has been having a great year, from his hit releases to his highly anticipated appearances. Just last month, he was left off of the Reggae Sumfest line-up but managed to redeem himself favorably at Montego Bay's Jerk Fest where patrons were beyond elated to witness the singjay's performance.
The first beat from Teejay's Top Braff Music label, "Top Braff Riddim," features the Uptop Boss himself and International Dancehall recording artiste, Shenseea on a track called "Car Seat." Also, acts like Ding Dong, Squash, and Vershon, among others were enlisted.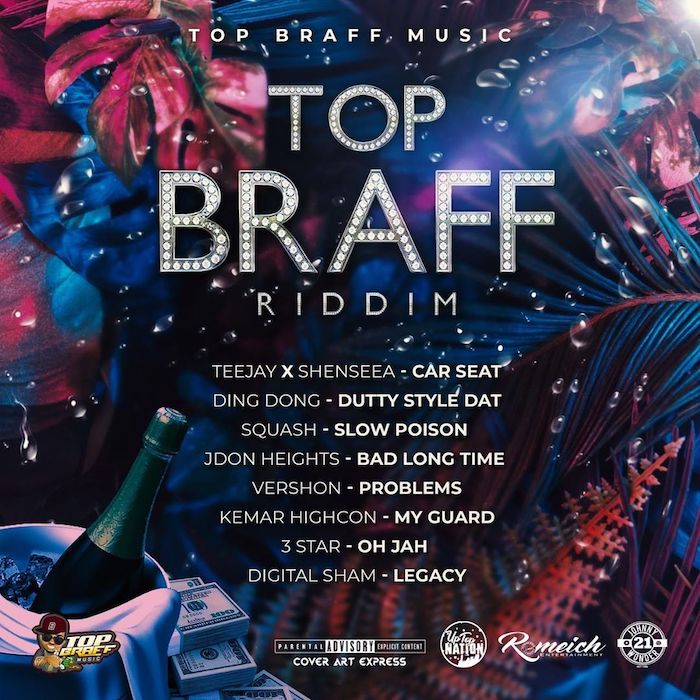 In a post shared to his Instagram, Teejay captioned the artwork for the official beat and tracklist, "New juggling out soon 'Top Braff' The first official juggling from @uptopboss_official label 'Top Braff Music' Powered by @romeichentertainment…" The image was also reposted by Shenseea herself, as well as Romeich, Ding Dong and other artistes.
One of the songs from Top Braff riddim, 'Slow Poison' by Squash is already being promoted and can be previewed on Teejay's official Instagram @uptopboss_official as well as Romeich's page @romeichentertainment and more. According to the Uptop Boss, this track will be out this Friday, August 23.
Teejay has always been an industrious talent with unparalleled perseverance and drive. The "Owna Lane" artiste was destined to be a producer himself eventually, and it is a proud moment indeed, not just for him but for the fans who have been with him from the jump. I personally cannot wait to hear all the tracks for Teejay's first riddim. Check out the preview of 'Slow Poison' below.