Lil Wayne's daughter Reginae Carter clapped back hard at Kodak Black.
It didn't take long for Reginae to issue a strong response to Kodak Black for dissing her father Lil Wayne during a performance at Liv nightclub in Miami last weekend. The Florida rapper wished death upon the rap legend while performing in front of a jam-packed crowd. He must've expected the backlash to be swift and decisive because he didn't show any care in the world when he was uttering the disrespectful words. Weezy fans on Twitter have been roasting him all day.
"You new lil rappers need to start giving props and respect to the Goat," Reginae Carter wrote on Instagram. "My father don't bother nobody. He won't even react to what was said. This man be in his own world so leave him tf alone. You pick the night he didn't go to LIV to say that."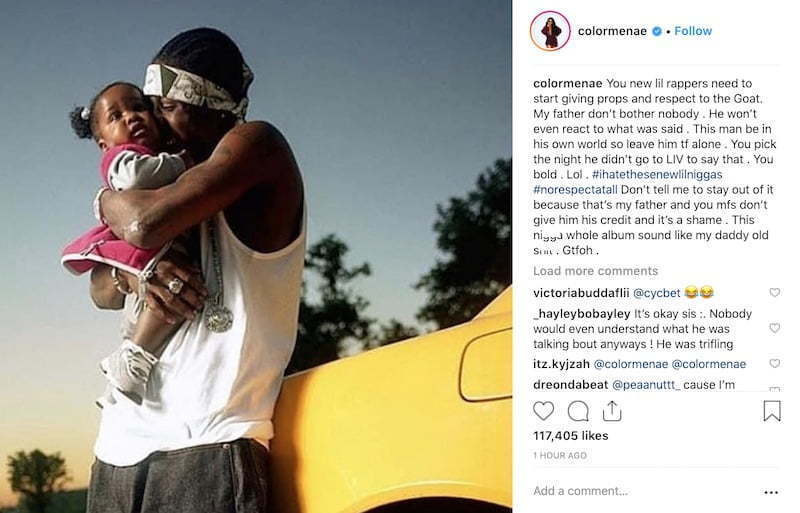 She continues, "You bold. Lol. #ihatethesenewlilni**as #norespectatall Don't tell me to stay out of it because that's my father and you mfs don't give him his credit and it's a shame. This ni**a whole album sound like my daddy old sh*t. Gtfoh."
Lil Wayne fans have also echoed the same sentiments that Kodak Black has been copying his songs. Perhaps he is an undercover fan or maybe he is still feeling salty from Wayne's old interview where he said he had no idea who Kodak Black and most of the new wave rappers.
It's highly unlikely Weezy will respond, but if he does, we all hope it's a diss track.