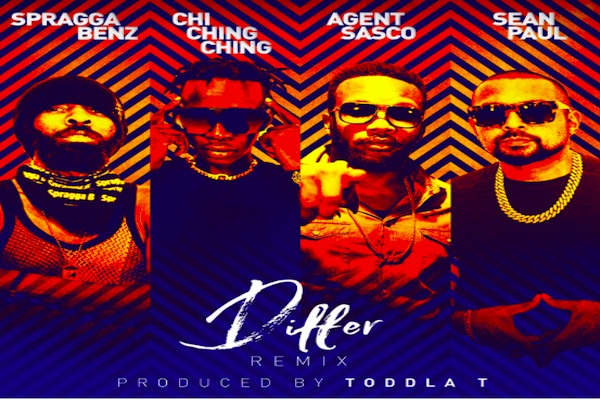 SPRAGGA BENZ RALLIES CHI CHING CHING, AGENT SASCO & SEAN PAUL  ON "DIFFER" REMIX PRODUCED BY TODDLA T  OUT THIS WEEK ON BUTTERCUTS RECORDS
Billboard Premieres Remix Video Today
Jamaican Legend is back with New Anthem from the U.K's Top Producer/DJ
Spragga Benz,

one of Jamaica's most iconic talents, has another hit on his hands with "Differ." Anchoring production on "Differ" is Toddla T, the revered genre-bending British DJ on BBC Radio 1, who is also a go-to producer for artists such as Artic Monkeys, Skepta, Roots Manuva and Stefflon Don. The track has been picking up steam since its release in November 2018, spawning an animated lyric video and music video and now a brand new remix with Jamaican powerhouses Sean Paul, Agent Sasco and Chi Ching Ching.
Today, Billboard premieres video for the remix, out Feb 19 on all digital platforms via Buttercuts Records. "Differ" will be included on Spragga's upcoming album Chiliagon, slated for release later in the year.
On the remix, the Afro-Caribbean percussion is a hypnotic loop with pulsating synth chords adding color for these lethal lyricists to flex their wordplay of what makes them different. Spragga Benz, Sean Paul, Agent Sasco and Chi Ching Ching stay in the pocket of the rolling drums performing his verse effortlessly. Spragga chose these specifc artists because of his close friendship with them over the years.
"When I proposed the idea to Andy of Buttercuts Records and Toddla they were totally ecstatic about it," he says.
With the release of "Differ" and its remix this year, long-time fans of Spragga are treated to his charisma. Spragga's smooth persona and clever lyrics have not missed a step since his 1994 debut album, Jack It Up.
"When we arrive nuff of dem get jitters because dem nervous a pure chat chitter," rants Spragga B.
BUTTERCUTS RECORDS
Buttercuts Records

, based out of London, has been bashing out buttery beats since 2000 been deep. It has released hip hop, reggae, breaks, funk and soul records by artists such as Kool Keith, Illaman, fbcfabric & reindeer, Joe Driscoll, MC Code:Breaker, Rebel ACA & French Monkey Wrench, and General Levy.
With upcoming albums coming from Spragga Benz, Hollow Point, and Hype and Fever. It's simply a matter of time you cast aside the musical margarine and discover the real ButterCuts "in a world of bullsh*t… music is all that matters."
Spragga Benz, Sean Paul, Agent Sasco & Chi Ching Ching Drop "Differ (Remix)"

real deal