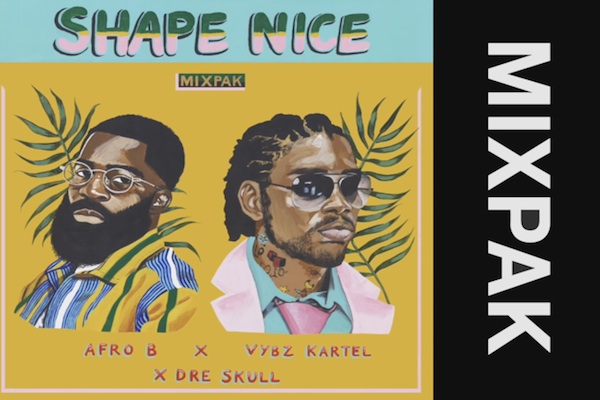 Listen to a new music single titled "Shape Nice" from Afro B, Vybz Kartel and New York's  music producer Dre Skull.
Bringing together the sounds & vocal styles of London, New York, Jamaica and Africa, "Shape Nice" is an encapsulation of the ever-present dialogue between afro-pop & dancehall.
Afro B is one of London's rising stars, with his hit song "Drogba (Joanna)", which took over London in 2018 and is now on playlist rotation on NY radio.
Meanwhile, Jamaican artist Vybz Kartel continues to dominate dancehall, with an impressive career spanning decades and more hit songs than you can count. Already crowned the King Of Dancehall for many years in recent times, he was finally crowned once again by main stream media FOXTV in the recent weeks with a morning segment dedicated to the incarcerated Jamaican star, Vybz Kartel remains behind bars since the end of September 2011 and he is now awaiting for his appeal trial results.
Afro B and Vybz Kartel are united by NY producer Dre Skull, known for his work with Popcaan, Kartel, Wizkid, Davido and more.
Released for Dre Skull's own imprinting, Mixpak Records, stream below the official audio for "Shape Nice" below.
Available on all major music platforms you can get Afro B Vybz Kartel Dre Skull "Shape Nice" clicking on the iTunes banner on this page.
Listen To Afro B Vybz Kartel Dre Skull "Shape Nice" Mixpak Records [Official Audio]
real deal