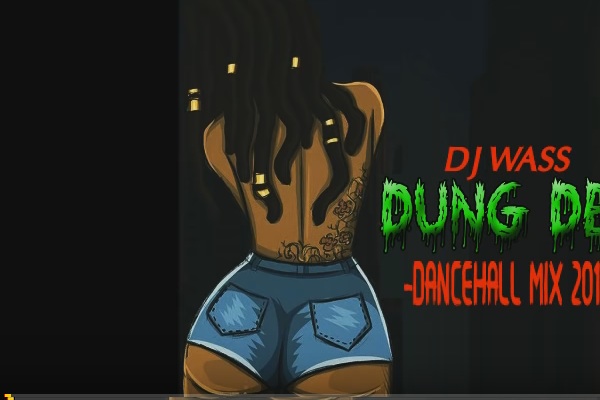 Download a new free dancehall mix brought to you by Dj Wass and titled "Dung Deh", this free mix includes more than 50 dancehall bangers and willl kepp you company more than our.
Featuring all the latest dancehall hit songs, starting with World Boss Vybz KArtel "Come Home" and going on with Paco General's song that give the mix the title, this mix goes on and on with Shenseaa, Teejay, Masicka, Dexta Daps,  Popcaan, Jah Villani, Chronic Law, Sparta, Koffee, Navino, and Squash, the Montego Bay artist that is making a buzz in dancehall music right now.
Including many more top recording Jamaican artists and their baddest songs, this is a wicked mix, very rich that includes songs from Jahmiel, Navino, Popcaan, I-Octane, Jada Kingdom, Koffee, Vershon and many more, check the full track list with all the artists and songs on it.
 Dj Wass "Dung Deh" DanceHall Mix  it's available for free streaming and download below.
Dj Wass "Dung Deh" DanceHall Mix Vybz Kartel, Popcaan, Alkaline, Paco General & More [February 2019]
DWNLD DJ WASS DUNG DEH MIX 2019 MOBILE
DWNLD DJ WASS DUNG DEH MIX 2019 EXPLICIT
DJ WASS "DUNG DEH" MIXTAPE TRACK LIST:
01 – VYBZ KARTEL – COME HOME
02 – PACO GENERAL – DUNG DEH
03 – NELLO VIBES – CHOKE (DUB)
04 – TEEJAY – FROM BIRTH
05 – SHENSEEA – REPLACEABLE
06 – MASICKA – HUMONGOUS
07 – MASICKA – HEADSHOT
08 – DEXTA DAPS – SQUEEZE
09 – JAFRASS – PROWL INA STREET
10 – QUADA – FASTER THAN FAST
11 – POPCAAN – UNRULY LAW
12 – JAHVILLANI – GAD
13 – RYGIN KING – STARLIFE
14 – DING DONG – GOOD TING
15 – CHRONIC LAW – SPORTS LAW
16 – J-RILE – UP NORTH
17 – DANE RAY – HATRICK (G NATION)
18 – MASICKA – GIFTED
19 – KOFFEE – TOAST
20 – TOMMY LEE SPARTA – BLESSINGS
21 – CHRONIC LAW – BLESS ME
22 – SQUASH – LOCK DOWN DI PLACE
23 – TEEJAY – OWNA LANE
24 – BAZZA T – PINCH A SALT
25 – MASICKA – DARKEST TIMES
26 – VERSHON – ON & OFF SWITCH (DUB)
27 – NAVINO – PROSPER
28 – CHARLY BLACK FT MUNGA – DOWNFALL
29 – JAHVILLANI – REFLECTION
30 – PROHGRES – MUMMY NUH WORRY
31 – RYGIN KING – POWERFUL
32 – CHRONIC LAW – CELEBRATE
33 – POPCAAN – BEST (BLESSED)
34 – VYBZ KARTEL – BOOM IT OFF
35 – SHANA S – UP IN DEH
36 – JADA KINGDOM – ONE TIME
37 – SWAZZ – CAH WULL ME
38 – ACE GAWD – MARK X & AXIO
39 – SQUASH – NO COMPLAIN
40 – SQUASH – HOLD THE FAITH
41 – MASICKA – I KNOW
42 – J-RILE – NO LIMIT
43 – ALKALINE – BLACK HEART
44 – MUNGA – NAH MAD
45 – MAVADO – GYALISS FOR LIFE
46 – I-OCTANE – SWAGGA LIKE MINE
47 – JAHMIEL – KARMA
48 – TEEJAY – ME AND YOU
49 – SHENSEEA – HYPE & BRUK
50 – SHENSEEA – TRENDING GYAL
51 – DING DONG FT TEEJAY – BRAFF
52 – STYLO G – WHOOP WHOOP
real deal