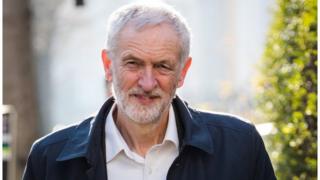 Labour has said it is prepared to back another EU referendum to prevent a "damaging Tory Brexit".
Jeremy Corbyn is to tell Labour MPs later that the party will move to back another vote if their own proposed Brexit deal is rejected on Wednesday.
The BBC's Vicky Young said it was highly "significant" development as Mr Corbyn has previously been "lukewarm" about the idea of another vote.
Theresa May is under growing pressure to delay the 29 March Brexit date.
Labour are not yet making clear what their proposed referendum would be on.
But the prime minister, who will update MPs on the latest negotiations on Tuesday, has insisted the UK can still leave next month as planned.
Ahead of a series of votes on Brexit on Wednesday, Labour has also said the party will support a cross-party amendment, proposed by Labour's Yvette Cooper and Tory MP Sir Oliver Letwin, designed to rule out the prospect of a no-deal exit.