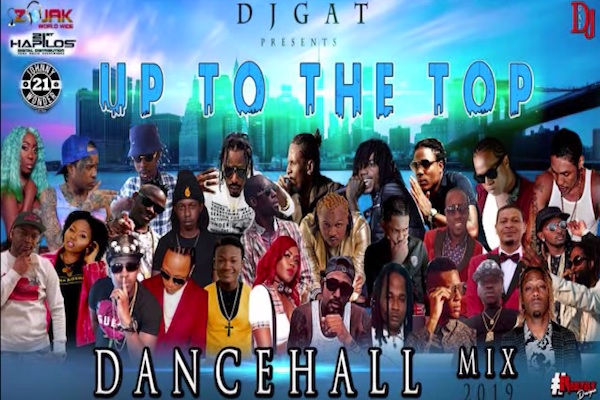 Stay in the loop with the latest dancehall hits coming out of Jamaica with a fresh new and free dancehall mix brought to you by Dj Gat and titled "Up To The Top".
Featuring a great line up of Jamaican dancehall stars and their newest songs including Mavado, Teejay, Shenseea, Vybz Kartel well represented with all his newest songs of 2019, Munga Honorable (that is going strong right now), Alkaline, Ding Dong, Chronic Law, Aidonia, Masicka, Navino, Spice, Shane O and more this a lit new dancehall mix to keep you up to date with all the new releases.
Featuring mad song this non stop dancehall mix will keep you company for more than an hour with the latest and freshest releases in dancehall music for 2019.
Stream  DJ Gat "Up To The Top", download it and check the full track listing with all the artists names and songs below.
DJ GAT "UP TO THE TOP" MIXTAPE VYBZ KARTEL,MAVADO, TEEJAY, ALKALINE, MUNGA



DWNLD DJ GAT UP TOP DANCEHALL MIX SPLIT
DWNLD DJ GAT UP TO THE TOP MOBILE STRIGHT LINK
"UP TO THE TOP" MIXTAPE TRACK LISTING
1.Mavado – Gyalis For Life
2.Teejay – Me And You
3.Shenseea – Hype & Bruk
4.Vybz Kartel – Come Home
5.Dexta Daps – Gwaan
6.MUNGA HONORABLE – NAH MAD (OVA NUH GYAL)
7.Alkaline x Black Shadow – Alkaline x Black Shadow
8.Ding Dong Teejay & – Braff
9.Shenseea – Trending Gyal
10.TeeJay – Owna Lane
11.Chronic Law – Touch Down Refix
12.Stylo G, The Fanatix, Nicki Minaj, Vybz Kartel – Touch Down (Remix)
13.KING iYAH – WORK IT BABY
14.VYBZ KARTEL-BOOM IT OFF
15.VYBZ KARTEL X LOLAA SMILES – ADDI RIGHT SIZE
16.Noah Poetik ft Vettron-The Buzz
17.AIDONIA – DOM PERIGNON
18.Clarkz – Hello
19.Fiyah Konchous – Work
20.MASICKA – DARKEST TIMES
21.SKILLIS FT- LIL BABY STREET SMART
22.RAS COREY – WAH CUM BLAME
23.RAS COREY – NEVER CARE
24.CHRONIC LAW – SPORT MODE
25.DANE RAY – G NATION
26.JRILE – NORTHSIDE (UP NORTH)
27.SHAY THE GREAT – GUH FAH
28.NAVINO – A NUH LUCK [
29.NAVINO (DJGAT) A NUH LUCK – DUB
30.Praj-X – Praj-X – Richness Come A Mi Foot
31.Vettron – no complaining
32.Squash – Ohh Lala La
33.Hyah Fyah 360-Si Wi Yah Now
34.Shane E & Chronic Law – The Dream
35.Navino Ft Rage Focus – Just Seh The Word
36.ALKALINE – HEARTLESS KILLAZ
37.ATOMIK – ATOMIK – SHAKE UP DI PLANET
38.BRUKOUT – Nah BEG
39.NOAH POWA – KEEP THE SAME ENERGY
40.Deizzle – Charge And Frass
41.SHENSEEA – BEAT ME CONGO
42.TEEJAY FT. BEENIEMAN – UPTOP PARTY
43.VYBZ KARTEL – POCO WHINE
44.Spice – Genie
45.Spice – Romantic Mood
46.Zee-k Cock It Up
47.TEEJAY – UP TOP BOSS
48.Rmz Keez Natas – Holy Duppy
49.Marissa Mcinnon – Like a Jamaican
50.Bramma – Enemy
51.Kibaki – Hold Out
52.Leosan – Testify
53.Preacha – Watch D link
54.Rally Banks – Wah Know Caah Know
real deal