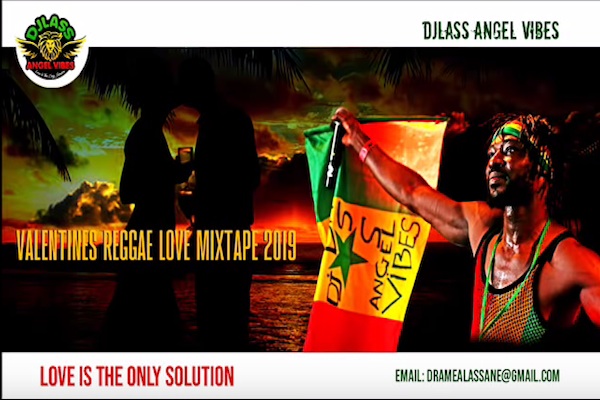 Vibe to a new free reggae dancehall mixtape brought to you by DJLassAngel Vibes and titled "Valentine Reggae Love Mixtape", just in time for lovers day and packed with some dope reggae love songs.
Featuring some of the freshest and classic love songs from top Jamaican stars like Chris Martin, D Major, Jah Cure, Lutan Fyah, Anthony B and many more top voices and sounds, this is a cool mix full of reggae serenades.
Check the full track listing and preview and stream DjLass "Valentines Reggae Love" Mixtape below.
Stream DJLass Angel Vibes "Valentines Reggae Love Mixtape 2019″ Jah Cure, Mavado, Chris Martin, Morgan Heritage
DWNLD DJ LASS ANGELS VIBES VALENTINE REGGAE LOVE MIX 2019
Valentines Reggae Love Mixtape Track List
Chris Martin – Sweet Khalessi
D Major – Guarantee
J Boog – Love Like This
I Octane – Can't Get Over
Jah Cure – Cant Have You
Lutan Fyah – O My Heart
Anthony B – Rainy Day
Contagious Riddim Instrumental
Mavado – Always On My Mind
Chino – They Don't Know
I Octane – Pretty Little Flower
Beres Hammond – Only One
Jah Cure – Good Morning Sunshine
Morgan Heritage – Where Do We Go From Here
Maxi Priest – Before It Goes Too Far
Beres Hammond Feat. Shaggy – Fight This Feeling
Stevie Face – I Want To Wake Up With You
Ghost – I Swear
Ghost – Do You Believe
Jason Marz,Jah Cure & Lil Wayne – I'm Yours
Freddie McGregor – I See It In You
Morgan Heritage – Down By The River
Morgan Heritage – Come Home
Brian & Tony Gold – My Baby
Beres Hammond – Love From A Distance
Morgan Heritage – She's Still Loving Me
real deal