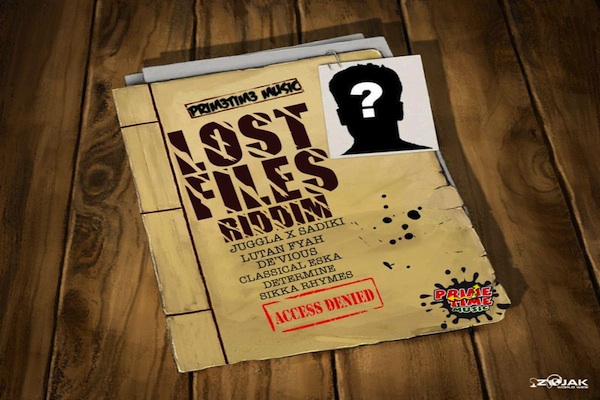 Vibe to a new dancehall music riddim coming out of Jamaica, called "The Lost Files Riddim" and produced by PrimeTime Music.
"The Lost Files Riddim" features Jamaican recording dancehall artists Sikka Rhymes, Lutan Fyah, Determine, and more, check the full track listing with all the songs titles and the names of the artists performing on it.
PrimeTime Music produced a militant dancehall beat with an epic strings and an awesome lineup of top Jamaican artists.
Sikka Rhymes is also Vybz Kartel's cousin and one of his best men, he often goes to visit World Boss in jail and brings him fresh cooked food. He has been appearing in all the latest jail photos for Family Day with Vybz Kartel, you can still see them clicking here and here.
On the "The Lost Files Riddim" Sikka Rhymes voices "Rice Ah Steam" in both raw and clean version.
Check out "The Lost Files Riddim" preview mix below, the track listing and get this riddim on iTunes clicking on the banner on this page.
Listen To "The Lost Files Riddim" Mix Sikka Rhymes, Lutan Fyah, Determine PrimeTime Music
THE LOST FILES RIDDIM TRACK LIST
CLASSICAL ESKA – WAH DEM BADMIND MI FAH
DETERMINE – DWEET
DE'VIOUS – NO CASE NO FACE NO FILE
JUGGLA, SADIKI – JINGAH
LUTAN FYAH – BETTER THAN PEOPLE
SIKKA RHYMES – RICE AH STEAM [CLEAN]
SIKKA RHYMES – RICE AH STEAM [RAW]
real deal