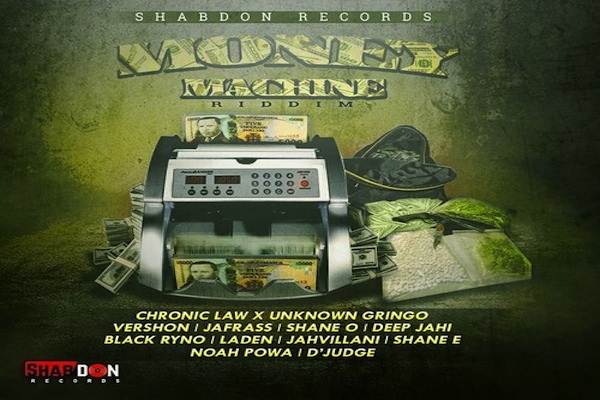 Shab Don Records presents Money Machine Riddim, anew dancehall reggae music riddim coming out for this beginning of February 2019.
Featuring a strong of popular Jamaican recording artists like Blak Ryno delivering "Juicy"; Laden with "Dominating", Chronic Law with "Money Machine", Vershon with "What U Think About Me", Shane O, Deep Jahi, Jahvillani with "Murder", and so many more, this is a must have in your collection!
This new juggling coming out of Jamaica will certainly resonate in the streets thanks to  its marked  trap notes and heavyweight performances from this awesome dancehall line up!
Reggae dancehall music lovers enjoy the full preview mix for "Money Machine Riddim" and check the full track listing posted below to always know the titles of the tunes and names of the artists performing on it.
"Money Machine Riddim" is produced by Shab Don Records and distributed by Zojak Worldwide, you can get the full riddim or just your favorite tune on it clicking on the iTunes banner posted on this page.
Scroll after the track list for promo download.
Listen To Money Machine Riddim Mix
Money Machine Riddim Track List
BLAK RYNO – JUICY
CHRONIC LAW FT. UKNOWN GINGO – MONEY MACHINE
DEEP JAHI – HUSTLER
D'JUDGE – LOOSE IT
JAFRASS – 51 50
JAHVILLANI – MURDER
LADEN – DOMINATING
NOAH POWA – SNITCH
SHANE E – MONEY DREAM
SHANE O – QUESTION


VERSHON – WEH YUH THINK BOUT MI
DWNLD MONEY MACHINE RIDDIM PROMO
real deal