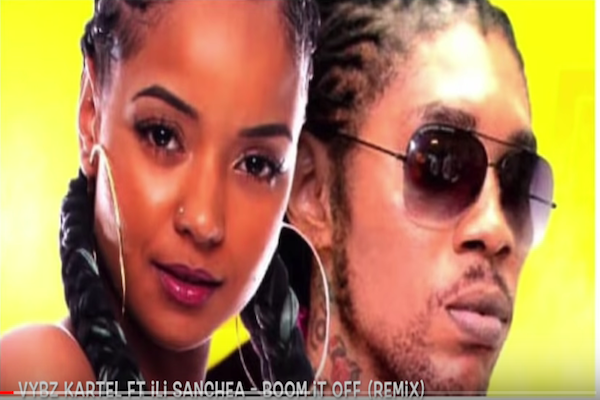 World Boss fans brace yourself because Vybz Kartel has new hot music hitting the airwaves hard right now!
The incarcerated Dancehall King started 2019 with a boom, as his usual fashion! Addi has been dropping hot collaborations on hot collaborations in the latest months and always featuring a female voice on his side. From

Loola Smiles,

passing from Nicky Minaj in the latest Stylo's G "Touch Down" remix currently taking over Europe and the Caribbean, to

Ili Sanceha "Ouchea"

, to Jody Couture in the raunchy "Backshot", that just dropped the official music video,click here to watch it,  Vybz Kartel has slowly but steady built a new army of female artists and has no intention to slow down in 2019.
After the super recent and explicit  with Loola Smiles in "

Addi Right Size

",

Vybz Kartel returns with a remix of another nuclear fresh single. "Boom It Off", featuring his new favorite and protege British Jamaican rapper Ili Sanchea, with whom he already collaborated in "Ouchea".
Vybz Kartel Ili Sanchea remix "Boom It Off" is a bouncy, sexy, catchy, and contagious tune and it's already available to all Vybz Kartel's fans and dancehall's lover, on all major music platforms, get it on iTunes clicking on the banner on top of this post.
Vybz Kartel, real name Adidja Palmer, is currently still behind bars awaiting for his appeal trial's verdict. In the past days one of Vybz Kartel's lawyer shared with the press the news that a verdict is mostly aspected around the month of March this year. While awaiting for Vybz Kartel to finally come out a road again in 2019, listen to his new remix below.
LISTEN TO VYBZ KARTEL ILI SANCHEA "BOOM IT OFF" REMIX

real deal