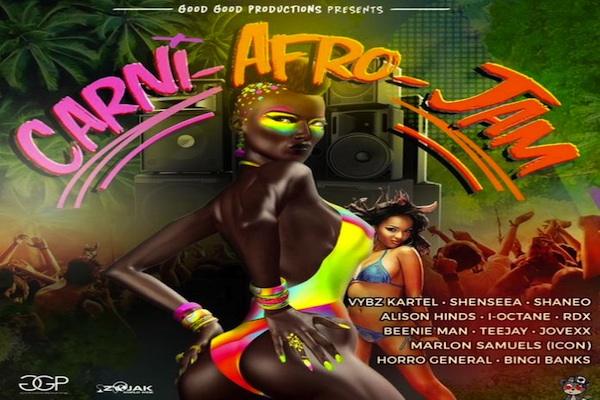 Let's start the new year with the best in Caribbean music featured in the "Carni-Afro-Jam Riddim", a huge promotion and super fresh music compilation featuring dancehall superstars like Vybz Kartel, Shenseea, Beenie Man, Teejay, I-Octane and so many more.
"Carni-Afro-Jam Riddim" has a crazy bounce to it and the line up alone lets you know the magnitude of this release. No Jokes! Prepare yourself for the Carni-Afro-Jam!
Put out by Jamaican popular music label Good Good Productions and featuring 22 top bangers in Jamaican dancehall music, the compilation also features Vybz Kartel "Poco Wine" single,  and an avalanche of dope tunes, all hits, check the full track listing for "Carni-Afro-Jam! Riddim" posted below and stream the full promo mix, also available for download.
Distributed by Zojak Worldwide "Carni-Afro-Jam! Riddim is available in all the major music platforms, you can get the full riddim or just your favorite song on it, clicking on the  iTunes banner on  top this page.
LISTEN TO CARNI AFRO JAM – RIDDIM [FULL PROMO MIX]
CARNI AFRO JAM RIDDIM TRACK LIST
ALLISON HINDS

– WUK UP YUH WAIST [CLEAN]
ALLISON HINDS – WUK UP YUH WAIST [RAW]
BINGIE BANKS – LOLLIPOP [CLEAN]
BINGIE BANKS – LOLLIPOP [RAW]
GOOD GOOD PRODUCTIONS – CARNI – AFRO – JAM [INSTRUMENTAL]
HORRO – HORROLELL [CLEAN]
HORRO – HORROLELL [RAW]
I-OCTANE – THE STAR LIFE [CLEAN]
I-OCTANE – THE STAR LIFE [RAW]
JAVEXX – HUSTLE HARD [CLEAN]
JAVEXX – HUSTLE HARD [RAW]
MARLON SAMUEL – SIDDUNG [CLEAN]
MARLON SAMUEL – SIDDUNG [RAW]
RDX – DRUNK LOVE [CLEAN]
RDX – DRUNK LOVE [RAW]
SHANE O – MAGICIAN [CLEAN]
SHANE O – MAGICIAN [RAW]
SHENSEEA – BEAT ME CONGO [CLEAN]
SHENSEEA – BEAT ME CONGO [RAW]
TEEJAY FT. BEENIE MAN – UPTOP PARTY [CLEAN]
TEEJAY FT. BEENIE MAN – UPTOP PARTY [RAW]
VYBZ KARTEL – POCO WHINE [CLEAN]
VYBZ KARTEL – POCO WHINE [RAW]
Carni Afro Jam Riddim Promo Mix
real deal