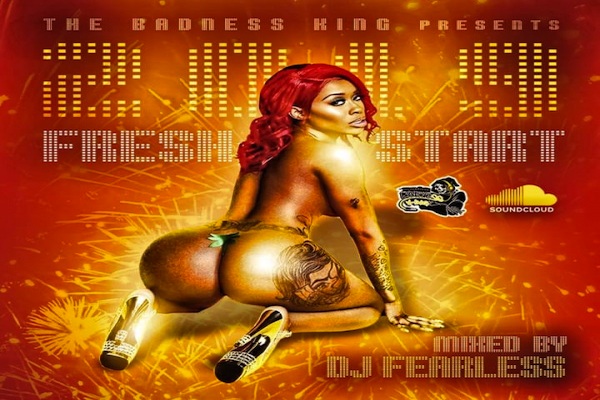 Check out a new fresh dancehall mix from Dj Fearless for January 2019 titled "Fresh New Start".
As usual paired with a bad ass cover and packed with mad dancehall hits and bangers coming out from Jamaica and featuring a great line up as well as a dope selection, vibe to another free dancehall mix from UK Badness King.
"Fresh New Starts" begins with the newest Vybz Kartel's tunes: "Boom It Off", "Back Shot" ft Jodi Couture and goes on with another Kartel's banger "Deso It Deh"  and keeps going with Alkaline new "Black Heart", Munga Honorable, I-Octane,  Govana "Shrimp Patty", Aidonia "Dom Perignon".  Newest songs and riddims for 2019  "Like A Star," "Habit" the latest Sparta and not forgetting Mavado's newest releases. this new dancehall mix goes on and on and has all the hits you need right now.
Available for free stream and free download via the SoundCloud player, check the full track listing for DJ Fearless latest mixtape "Fresh New Start" below.
Stream DJ FearLess – Fresh Start [Dancehall Mixtape 2019]
DJ FearLess – Fresh Start [Dancehall Mixtape 2019]
Boom It Off – Vybz Kartel
Backshot – Jodi Couture, Vybz Kartel
Deso It Deh – Vybz Kartel
Black Heart – Alkaline, Black Shadow
Nah Mad (Ova Nuh Gyal) – Munga Honorable
Nuff Love – I-Octane, Munga
Shrimp Patty – Govana
Dom Pérignon – Aidonia
Like a Star (Venvm) – Tommy Lee Sparta, Anju Blaxx
New Year – Masicka
Inna the Sky – Govana
Dutty Badmind – Alkaline
New Gal – Beenie Man
Won't Work – Vybz Kartel
Flavours – Govana
Me Alright – Mavado
Secret – Vybz Kartel, Shenseea
Touch Down (Remix) – Stylo G, The FaNaTiX
Addi Right Size – Vybz Kartel, Lolaa Smiles
Pretty Potion – Vybz Kartel
Make Up Sex (Urban Mix) – Cham
Under Water – Vybz Kartel
Father God – Mavado
Habit – Tommy Lee Sparta
Big Like Jesus – Mavado
Hot World – I-Octane
Load Up – Alkaline
Dress to Impress – Mavado
Diamond Body – Mavado, Stefflon Don
Yaadie Fiesta – Alkaline
My Girl (feat. Red Rat) – Chip
VVS (Dats a Trap) – Aidonia
Ouchea – Vybz Kartel, Ili Sanchea
She Say – Vybz Kartel
Do It (fingerprint only version) [clean] – Vybz Kartel
One N Move – Govana:
Hot Topic – Govana
Pick Unuh Side – Alkaline
Breeze – Aidonia, Govana
Richer And Richer – Alkaline
Finessing – Aidonia
MASICKA YEH BLOOD RAW MIX- – MASICKA YEH BLOOD RAW MIX
High Drive (Louis Out) – Popcaan
X (All Your Exes) – Vybz Kartel
ZN – Rygin King
Unfair Games – I-Octane
Rich Forever – Govana
Legacy – Rygin King
Champ – Govana
Changes – Masicka
real deal