WASHINGTON D.C., MARYLAND, VIRGINIA –(Omniwire – January 12, 2019) – J'Ou,vert Media Distribution Company unveils a new digital platform designed to make it easier for Caribbean & Africans to go global.
The new digital platform includes:
Up to the minute African & Caribbean news site
Enhanced sign up – Free profile creation, distribute your on news and content
Online chat
User-centric navigation that allows an individual to find the most relevant content based on "Quick View'.
End user Live / Pre-Recorded Pay Per View abilities. Promoters or, content owners can now broadcast a live stream and charge a 'pay per view' fee to access the content. Contact us to learn more.
Worldwide video and audio digital distribution directly on your favorite digital platforms: Amazon, Google Play, Roku, IGTV, Play Station, XBOX, Facebook live & Youtube TV
"JouvertRadio Station" heard in 169 countries and our app available on millions of phones which highlights our main focus, the Caribbean & African communities and the many benefits of brands concentrating their sponsorship's towards the various 'Brand Loyal' peoples in these communities.
Sheldon 'NKOSI' Gill, Owner of the company and head of Corporate Development, commented, "Our new platform should appeal not only to the experienced self-directed producer of content who is looking for a cost effective way to have their movies or shows seen worldwide, but also for those individuals from the middle of Trinidad or Jamaica or Ghana who want to earn a fare wage from their creation." Creators keep 80% of all sales, and 100% ownership. Furthermore, the many African & Caribbean businesses in the .#DMV area and abroad now has a way to market to their people.
About J'Ou.vert Media Distribution

J'Ou.vert Media is the country's leading independent providers of independent content distribution dedicated to the Caribbean & African markets. . For more information, visit www.JouvertRadio.com or call 1-240.353.1944
Bolivia crisis: Evo Morales says he fled as life was at risk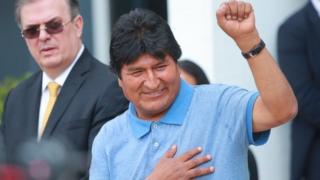 Former Bolivian President Evo Morales has arrived in Mexico City saying he asked for asylum because his life was in danger.
Mr Morales resigned on Sunday after weeks of protests over a disputed presidential election result.
The Mexican jet carrying him landed at an airport in Mexico City, where he gave a brief press conference.
Mr Morales said he was forced to stand down but did so willingly "so there would be no more bloodshed".
"While I have life I'll stay in politics, the fight continues, all of the people of the world have the right to free themselves from discrimination and humiliation," he said.
Mexico's Foreign Minister Marcelo Ebrard said Mr Morales had arrived "safely" in the country, tweeting a picture of the jet that carried him.
Estudiantes reopens stadium with flaming lion hologram
');$vidEndSlate.removeClass('video__end-slate–inactive').addClass('video__end-slate–active');}};CNN.autoPlayVideoExist = (CNN.autoPlayVideoExist === true) ? true : false;var configObj = {thumb: 'none',video: 'sports/2019/11/12/estudiantes-holographic-lion-league-of-legends-worlds-opening-ceremony-holograms-spt-intl-lon-orig.cnn',width: '100%',height: '100%',section: 'international',profile: 'expansion',network: 'cnn',markupId: 'large-media_0',adsection: 'const-article-carousel-pagetop',frameWidth: '100%',frameHeight: '100%',posterImageOverride: {"mini":{"width":220,"type":"jpg","uri":"//cdn.cnn.com/cnnnext/dam/assets/191112154009-lion-holograph-small-169.jpg","height":124},"xsmall":{"width":307,"type":"jpg","uri":"//cdn.cnn.com/cnnnext/dam/assets/191112154009-lion-holograph-medium-plus-169.jpg","height":173},"small":{"width":460,"type":"jpg","uri":"//cdn.cnn.com/cnnnext/dam/assets/191112154009-lion-holograph-large-169.jpg","height":259},"medium":{"width":780,"type":"jpg","uri":"//cdn.cnn.com/cnnnext/dam/assets/191112154009-lion-holograph-exlarge-169.jpg","height":438},"large":{"width":1100,"type":"jpg","uri":"//cdn.cnn.com/cnnnext/dam/assets/191112154009-lion-holograph-super-169.jpg","height":619},"full16x9″:{"width":1600,"type":"jpg","uri":"//cdn.cnn.com/cnnnext/dam/assets/191112154009-lion-holograph-full-169.jpg","height":900},"mini1x1″:{"width":120,"type":"jpg","uri":"//cdn.cnn.com/cnnnext/dam/assets/191112154009-lion-holograph-small-11.jpg","height":120}}},autoStartVideo = false,isVideoReplayClicked = false,callbackObj,containerEl,currentVideoCollection = [{"title":"Fiery lions and disappearing rappers: Holograms in sports events","duration":"01:19″,"sourceName":"CNN","sourceLink":"","videoCMSUrl":"/video/data/3.0/video/sports/2019/11/12/estudiantes-holographic-lion-league-of-legends-worlds-opening-ceremony-holograms-spt-intl-lon-orig.cnn/index.xml","videoId":"sports/2019/11/12/estudiantes-holographic-lion-league-of-legends-worlds-opening-ceremony-holograms-spt-intl-lon-orig.cnn","videoImage":"//cdn.cnn.com/cnnnext/dam/assets/191112154009-lion-holograph-large-169.jpg","videoUrl":"/videos/sports/2019/11/12/estudiantes-holographic-lion-league-of-legends-worlds-opening-ceremony-holograms-spt-intl-lon-orig.cnn/video/playlists/intl-sports-football/","description":"Argentinian soccer team Estudiantes de la Plata re-opened their stadium with a holographic lion to prowl the pitch. But they're only the latest to use holograms, from esports to concerts.","descriptionText":"Argentinian soccer team Estudiantes de la Plata re-opened their stadium with a holographic lion to prowl the pitch. But they're only the latest to use holograms, from esports to concerts."},{"title":"Joao Mario on racism and Cristiano Ronaldo","duration":"03:01″,"sourceName":"CNN","sourceLink":"","videoCMSUrl":"/video/data/3.0/video/sports/2019/11/05/joao-mario-lokomotiv-moscow-champions-league-racism-italy-cristiano-ronaldo-football-spt-intl.cnn/index.xml","videoId":"sports/2019/11/05/joao-mario-lokomotiv-moscow-champions-league-racism-italy-cristiano-ronaldo-football-spt-intl.cnn","videoImage":"//cdn.cnn.com/cnnnext/dam/assets/191105111747-joao-mario-ronaldo-large-169.jpg","videoUrl":"/videos/sports/2019/11/05/joao-mario-lokomotiv-moscow-champions-league-racism-italy-cristiano-ronaldo-football-spt-intl.cnn/video/playlists/intl-sports-football/","description":"Lokomotiv Moscow and Portugal midfielder Joao Mario speaks to Alex Thomas about racism in football and his relationship with superstar Cristiano Ronaldo.","descriptionText":"Lokomotiv Moscow and Portugal midfielder Joao Mario speaks to Alex Thomas about racism in football and his relationship with superstar Cristiano Ronaldo."},{"title":"Footballer was racially abused … then banned","duration":"03:48″,"sourceName":"CNN","sourceLink":"","videoCMSUrl":"/video/data/3.0/video/sports/2019/10/28/linford-harris-footballer-racially-abused-amateur-league-banned-spt-intl.cnn/index.xml","videoId":"sports/2019/10/28/linford-harris-footballer-racially-abused-amateur-league-banned-spt-intl.cnn","videoImage":"//cdn.cnn.com/cnnnext/dam/assets/191028164724-linford-harris-large-169.jpg","videoUrl":"/videos/sports/2019/10/28/linford-harris-footballer-racially-abused-amateur-league-banned-spt-intl.cnn/video/playlists/intl-sports-football/","description":"Last season, Linford Harris, a footballer in England's amateur leagues, was banned for six matches despite being the victim of alleged racist abuse.","descriptionText":"Last season, Linford Harris, a footballer in England's amateur leagues, was banned for six matches despite being the victim of alleged racist abuse."},{"title":"USWNT coach Vlatko Andonovski speaks to CNN","duration":"02:50″,"sourceName":"CNN","sourceLink":"","videoCMSUrl":"/video/data/3.0/video/sports/2019/10/30/vlatko-andonovski-us-womens-national-team-coach-football-spt-intl.cnn/index.xml","videoId":"sports/2019/10/30/vlatko-andonovski-us-womens-national-team-coach-football-spt-intl.cnn","videoImage":"//cdn.cnn.com/cnnnext/dam/assets/191030102104-vlatko-andonovski-tease-large-169.jpg","videoUrl":"/videos/sports/2019/10/30/vlatko-andonovski-us-womens-national-team-coach-football-spt-intl.cnn/video/playlists/intl-sports-football/","description":"New US Women's National Team head coach Vlatko Andonovski speaks to Don Riddell after his appointment to take over the World Cup winners from Jill Ellis.","descriptionText":"New US Women's National Team head coach Vlatko Andonovski speaks to Don Riddell after his appointment to take over the World Cup winners from Jill Ellis."},{"title":"Racism in football causes FA Cup qualifier to be rescheduled","duration":"02:35″,"sourceName":"CNN","sourceLink":"","videoCMSUrl":"/video/data/3.0/video/sports/2019/10/22/haringey-yeovil-town-racism-fa-cup-qualifier-football-england-explainer-spt-intl.cnn/index.xml","videoId":"sports/2019/10/22/haringey-yeovil-town-racism-fa-cup-qualifier-football-england-explainer-spt-intl.cnn","videoImage":"//cdn.cnn.com/cnnnext/dam/assets/191021110623-haringey-yeovil-racism-1-large-169.jpg","videoUrl":"/videos/sports/2019/10/22/haringey-yeovil-town-racism-fa-cup-qualifier-football-england-explainer-spt-intl.cnn/video/playlists/intl-sports-football/","description":"The FA Cup qualifier – between Haringey and Yeovil – has been rescheduled after alleged racism forced it to be abandoned over the weekend.","descriptionText":"The FA Cup qualifier – between Haringey and Yeovil – has been rescheduled after alleged racism forced it to be abandoned over the weekend."},{"title":"Concussion rule reviewed in football","duration":"02:37″,"sourceName":"CNN","sourceLink":"","videoCMSUrl":"/video/data/3.0/video/sports/2019/10/22/ifab-concussion-protocol-update-temporary-substitute-marco-van-basten-football-spt-intl-lon-orig.cnn/index.xml","videoId":"sports/2019/10/22/ifab-concussion-protocol-update-temporary-substitute-marco-van-basten-football-spt-intl-lon-orig.cnn","videoImage":"//cdn.cnn.com/cnnnext/dam/assets/191022170509-concussion-protocol-tease-large-169.jpg","videoUrl":"/videos/sports/2019/10/22/ifab-concussion-protocol-update-temporary-substitute-marco-van-basten-football-spt-intl-lon-orig.cnn/video/playlists/intl-sports-football/","description":"The IFAB is meeting to discuss rule changes, including assessing concussions. The Board is discussing introducing temporary substitutions in football.","descriptionText":"The IFAB is meeting to discuss rule changes, including assessing concussions. The Board is discussing introducing temporary substitutions in football."},{"title":"Should footballers walk off the pitch over racist abuse?","duration":"01:38″,"sourceName":"CNN","sourceLink":"","videoCMSUrl":"/video/data/3.0/video/sports/2019/10/18/should-players-walk-off-after-racist-abuse-zaha-odemwingie-aluko-rio-ferdinand-football-spt-intl.cnn/index.xml","videoId":"sports/2019/10/18/should-players-walk-off-after-racist-abuse-zaha-odemwingie-aluko-rio-ferdinand-football-spt-intl.cnn","videoImage":"//cdn.cnn.com/cnnnext/dam/assets/191015152445-england-racism-large-169.jpg","videoUrl":"/videos/sports/2019/10/18/should-players-walk-off-after-racist-abuse-zaha-odemwingie-aluko-rio-ferdinand-football-spt-intl.cnn/video/playlists/intl-sports-football/","description":"With racism in football in the spotlight, we asked players past and present at the recent Best of Africa Awards whether it's time for players to take matters in their own hands and walk off if they suffer racist abuse.","descriptionText":"With racism in football in the spotlight, we asked players past and present at the recent Best of Africa Awards whether it's time for players to take matters in their own hands and walk off if they suffer racist abuse."},{"title":"NYCFC making progress on and off the pitch","duration":"04:22″,"sourceName":"CNN","sourceLink":"","videoCMSUrl":"/video/data/3.0/video/sports/2019/10/16/nycfc-making-progress-on-and-off-the-pitch-spt-intl.cnn/index.xml","videoId":"sports/2019/10/16/nycfc-making-progress-on-and-off-the-pitch-spt-intl.cnn","videoImage":"//cdn.cnn.com/cnnnext/dam/assets/191016180436-nycfc-making-progress-on-and-off-the-pitch-spt-intl-00023423-large-169.jpg","videoUrl":"/videos/sports/2019/10/16/nycfc-making-progress-on-and-off-the-pitch-spt-intl.cnn/video/playlists/intl-sports-football/","description":"NYC FC has won the Eastern Conference for the first time in club history and now look to go one better by winning MLS Cup. Former U.S. soccer legend Claudio Reyna is the team's Sporting Director and has been telling CNN World Sport's Don Riddell about the club's successful season.","descriptionText":"NYC FC has won the Eastern Conference for the first time in club history and now look to go one better by winning MLS Cup. Former U.S. soccer legend Claudio Reyna is the team's Sporting Director and has been telling CNN World Sport's Don Riddell about the club's successful season."},{"title":"Palestinians vs. Saudi Arabia: Politics and football","duration":"02:28″,"sourceName":"CNN","sourceLink":"","videoCMSUrl":"/video/data/3.0/video/sports/2019/10/15/palestine-saudi-arabia-world-cup-qualifier-politics-football-spt-intl.cnn/index.xml","videoId":"sports/2019/10/15/palestine-saudi-arabia-world-cup-qualifier-politics-football-spt-intl.cnn","videoImage":"//cdn.cnn.com/cnnnext/dam/assets/191015122611-palestine-saudi-football-large-169.jpg","videoUrl":"/videos/sports/2019/10/15/palestine-saudi-arabia-world-cup-qualifier-politics-football-spt-intl.cnn/video/playlists/intl-sports-football/","description":"Palestine's World Cup qualifier against Saudi Arabia is a big deal. The chairman of the PFA said the Saudis were sending a message that even though the Palestinians are living under occupation, they are not alone.","descriptionText":"Palestine's World Cup qualifier against Saudi Arabia is a big deal. The chairman of the PFA said the Saudis were sending a message that even though the Palestinians are living under occupation, they are not alone."},{"title":"Darren Lewis on Bulgaria vs. England racism","duration":"02:14″,"sourceName":"CNN","sourceLink":"","videoCMSUrl":"/video/data/3.0/video/sports/2019/10/15/england-bulgaria-racism-euro-qualifiers-2019-darren-lewis-spt-intl.cnn/index.xml","videoId":"sports/2019/10/15/england-bulgaria-racism-euro-qualifiers-2019-darren-lewis-spt-intl.cnn","videoImage":"//cdn.cnn.com/cnnnext/dam/assets/191014163138-01-bulgaria-england-racist-chanting-large-169.jpg","videoUrl":"/videos/sports/2019/10/15/england-bulgaria-racism-euro-qualifiers-2019-darren-lewis-spt-intl.cnn/video/playlists/intl-sports-football/","description":"Darren Lewis tells says that the lack of black leaders in the Bulgaria FA and UEFA is a large reason for the racism in the Bulgaria v England Euro qualifier.","descriptionText":"Darren Lewis tells says that the lack of black leaders in the Bulgaria FA and UEFA is a large reason for the racism in the Bulgaria v England Euro qualifier."},{"title":"Real Madrid to launch women's team","duration":"01:25″,"sourceName":"CNN","sourceLink":"","videoCMSUrl":"/video/data/3.0/video/sports/2019/08/22/real-madrid-women-cd-tacon-football-spain-spt-intl-lon-orig.cnn/index.xml","videoId":"sports/2019/08/22/real-madrid-women-cd-tacon-football-spain-spt-intl-lon-orig.cnn","videoImage":"//cdn.cnn.com/cnnnext/dam/assets/190822152952-real-madrid-womens-cd-tacn-large-169.jpg","videoUrl":"/videos/sports/2019/08/22/real-madrid-women-cd-tacon-football-spain-spt-intl-lon-orig.cnn/video/playlists/intl-sports-football/","description":"Real Madrid will officially have a women's team after agreeing to buy recently promoted CD Tacón.","descriptionText":"Real Madrid will officially have a women's team after agreeing to buy recently promoted CD Tacón."},{"title":"Why Nicolas Pepe was destined for greatness","duration":"02:41″,"sourceName":"CNN","sourceLink":"","videoCMSUrl":"/video/data/3.0/video/sports/2019/09/13/nicolas-pepe-arsenal-losc-lille-jose-fonte-football-spt-intl-lon-orig.cnn/index.xml","videoId":"sports/2019/09/13/nicolas-pepe-arsenal-losc-lille-jose-fonte-football-spt-intl-lon-orig.cnn","videoImage":"//cdn.cnn.com/cnnnext/dam/assets/190913151642-nicolas-pepe-spurs-large-169.jpg","videoUrl":"/videos/sports/2019/09/13/nicolas-pepe-arsenal-losc-lille-jose-fonte-football-spt-intl-lon-orig.cnn/video/playlists/intl-sports-football/","description":"Former teammate José Fonte and LOSC Lille CEO Marc Ingla speak to CNN about what makes the Ivorian winger so special.","descriptionText":"Former teammate José Fonte and LOSC Lille CEO Marc Ingla speak to CNN about what makes the Ivorian winger so special."},{"title":"Michael Owen: Anfield key to Liverpool sucess","duration":"04:45″,"sourceName":"CNN","sourceLink":"","videoCMSUrl":"/video/data/3.0/video/sports/2019/09/17/michael-owen-interview-liverpool-champions-league-spt-intl-gbr.cnn/index.xml","videoId":"sports/2019/09/17/michael-owen-interview-liverpool-champions-league-spt-intl-gbr.cnn","videoImage":"//cdn.cnn.com/cnnnext/dam/assets/190917155151-michael-owen-large-169.jpg","videoUrl":"/videos/sports/2019/09/17/michael-owen-interview-liverpool-champions-league-spt-intl-gbr.cnn/video/playlists/intl-sports-football/","description":"Former Liverpool striker Michael Owen explains why his old club's home ground will be crucial if the Reds are to defend their Champions League title. ","descriptionText":"Former Liverpool striker Michael Owen explains why his old club's home ground will be crucial if the Reds are to defend their Champions League title. "},{"title":"Benfica's success story? Its legendary academy","duration":"03:12″,"sourceName":"CNN","sourceLink":"","videoCMSUrl":"/video/data/3.0/video/sports/2019/09/12/bruno-lage-benfica-academy-champions-league-joao-felix-football-portugal-spt-intl.cnn/index.xml","videoId":"sports/2019/09/12/bruno-lage-benfica-academy-champions-league-joao-felix-football-portugal-spt-intl.cnn","videoImage":"//cdn.cnn.com/cnnnext/dam/assets/190811214728-03-what-a-shot-0812-large-169.jpg","videoUrl":"/videos/sports/2019/09/12/bruno-lage-benfica-academy-champions-league-joao-felix-football-portugal-spt-intl.cnn/video/playlists/intl-sports-football/","description":"Portuguese giant Benfica is one of the best teams at producing talent in football. Their academy has churned out Bernardo Silva and Joao Felix among others.","descriptionText":"Portuguese giant Benfica is one of the best teams at producing talent in football. Their academy has churned out Bernardo Silva and Joao Felix among others."},{"title":"Fighting racism: Should players walk off?","duration":"03:13″,"sourceName":"CNN","sourceLink":"","videoCMSUrl":"/video/data/3.0/video/sports/2019/09/13/fighting-racism-in-football-roundtable-spt-intl.cnn/index.xml","videoId":"sports/2019/09/13/fighting-racism-in-football-roundtable-spt-intl.cnn","videoImage":"//cdn.cnn.com/cnnnext/dam/assets/190902232930-romelu-lukaku-inter-racism-cagliari-large-169.jpg","videoUrl":"/videos/sports/2019/09/13/fighting-racism-in-football-roundtable-spt-intl.cnn/video/playlists/intl-sports-football/","description":"Should players walk off the pitch if they're racially abused? Ex-player Paul Parker, anti-racism activist Troy Townsend and journalist Darren Lewis debate.","descriptionText":"Should players walk off the pitch if they're racially abused? Ex-player Paul Parker, anti-racism activist Troy Townsend and journalist Darren Lewis debate."},{"title":"Mohamed Salah's quickfire challenge","duration":"01:26″,"sourceName":"CNN","sourceLink":"","videoCMSUrl":"/video/data/3.0/video/sports/2019/08/19/mohamed-salah-liverpool-egypt-football-quickfire-challenge-spt-intl-lon-orig-gbr.cnn/index.xml","videoId":"sports/2019/08/19/mohamed-salah-liverpool-egypt-football-quickfire-challenge-spt-intl-lon-orig-gbr.cnn","videoImage":"//cdn.cnn.com/cnnnext/dam/assets/190501145802-mo-salah-large-169.jpg","videoUrl":"/videos/sports/2019/08/19/mohamed-salah-liverpool-egypt-football-quickfire-challenge-spt-intl-lon-orig-gbr.cnn/video/playlists/intl-sports-football/","description":"Liverpool superstar forward Mo Salah answers all of the hottest questions: favorite TV show? Favorite musician? Goal or assist? Funniest teammate?","descriptionText":"Liverpool superstar forward Mo Salah answers all of the hottest questions: favorite TV show? Favorite musician? Goal or assist? Funniest teammate?"}],currentVideoCollectionId = ",isLivePlayer = false,mediaMetadataCallbacks,mobilePinnedView = null,moveToNextTimeout,mutePlayerEnabled = false,nextVideoId = ",nextVideoUrl = ",turnOnFlashMessaging = false,videoPinner,videoEndSlateImpl;if (CNN.autoPlayVideoExist === false) {autoStartVideo = true;if (autoStartVideo === true) {if (turnOnFlashMessaging === true) {autoStartVideo = false;containerEl = jQuery(document.getElementById(configObj.markupId));CNN.VideoPlayer.showFlashSlate(containerEl);} else {CNN.autoPlayVideoExist = true;}}}configObj.autostart = CNN.Features.enableAutoplayBlock ? false : autoStartVideo;CNN.VideoPlayer.setPlayerProperties(configObj.markupId, autoStartVideo, isLivePlayer, isVideoReplayClicked, mutePlayerEnabled);CNN.VideoPlayer.setFirstVideoInCollection(currentVideoCollection, configObj.markupId);var videoHandler = {},isFeaturedVideoCollectionHandlerAvailable = (CNN !== undefined &&CNN.VIDEOCLIENT !== undefined &&CNN.VIDEOCLIENT.FeaturedVideoCollectionHandler !== undefined);if (!isFeaturedVideoCollectionHandlerAvailable) {CNN.INJECTOR.executeFeature('videx').done(function () {jQuery.ajax({dataType: 'script',cache: true,url: '//edition.i.cdn.cnn.com/.a/2.173.7/js/featured-video-collection-player.min.js'}).done(function () {initializeVideoAndCollection();}).fail(function () {throw 'Unable to fetch /js/featured-video-collection-player.min.js';});}).fail(function () {throw 'Unable to fetch the videx bundle';});}function initializeVideoAndCollection() {videoHandler = new CNN.VIDEOCLIENT.FeaturedVideoCollectionHandler(configObj.markupId,"cn-featured-1mr2m08″,'js-video_description-featured-1mr2m08′,[{"title":"Fiery lions and disappearing rappers: Holograms in sports events","duration":"01:19″,"sourceName":"CNN","sourceLink":"","videoCMSUrl":"/video/data/3.0/video/sports/2019/11/12/estudiantes-holographic-lion-league-of-legends-worlds-opening-ceremony-holograms-spt-intl-lon-orig.cnn/index.xml","videoId":"sports/2019/11/12/estudiantes-holographic-lion-league-of-legends-worlds-opening-ceremony-holograms-spt-intl-lon-orig.cnn","videoImage":"//cdn.cnn.com/cnnnext/dam/assets/191112154009-lion-holograph-large-169.jpg","videoUrl":"/videos/sports/2019/11/12/estudiantes-holographic-lion-league-of-legends-worlds-opening-ceremony-holograms-spt-intl-lon-orig.cnn/video/playlists/intl-sports-football/","description":"Argentinian soccer team Estudiantes de la Plata re-opened their stadium with a holographic lion to prowl the pitch. But they're only the latest to use holograms, from esports to concerts.","descriptionText":"Argentinian soccer team Estudiantes de la Plata re-opened their stadium with a holographic lion to prowl the pitch. But they're only the latest to use holograms, from esports to concerts."},{"title":"Joao Mario on racism and Cristiano Ronaldo","duration":"03:01″,"sourceName":"CNN","sourceLink":"","videoCMSUrl":"/video/data/3.0/video/sports/2019/11/05/joao-mario-lokomotiv-moscow-champions-league-racism-italy-cristiano-ronaldo-football-spt-intl.cnn/index.xml","videoId":"sports/2019/11/05/joao-mario-lokomotiv-moscow-champions-league-racism-italy-cristiano-ronaldo-football-spt-intl.cnn","videoImage":"//cdn.cnn.com/cnnnext/dam/assets/191105111747-joao-mario-ronaldo-large-169.jpg","videoUrl":"/videos/sports/2019/11/05/joao-mario-lokomotiv-moscow-champions-league-racism-italy-cristiano-ronaldo-football-spt-intl.cnn/video/playlists/intl-sports-football/","description":"Lokomotiv Moscow and Portugal midfielder Joao Mario speaks to Alex Thomas about racism in football and his relationship with superstar Cristiano Ronaldo.","descriptionText":"Lokomotiv Moscow and Portugal midfielder Joao Mario speaks to Alex Thomas about racism in football and his relationship with superstar Cristiano Ronaldo."},{"title":"Footballer was racially abused … then banned","duration":"03:48″,"sourceName":"CNN","sourceLink":"","videoCMSUrl":"/video/data/3.0/video/sports/2019/10/28/linford-harris-footballer-racially-abused-amateur-league-banned-spt-intl.cnn/index.xml","videoId":"sports/2019/10/28/linford-harris-footballer-racially-abused-amateur-league-banned-spt-intl.cnn","videoImage":"//cdn.cnn.com/cnnnext/dam/assets/191028164724-linford-harris-large-169.jpg","videoUrl":"/videos/sports/2019/10/28/linford-harris-footballer-racially-abused-amateur-league-banned-spt-intl.cnn/video/playlists/intl-sports-football/","description":"Last season, Linford Harris, a footballer in England's amateur leagues, was banned for six matches despite being the victim of alleged racist abuse.","descriptionText":"Last season, Linford Harris, a footballer in England's amateur leagues, was banned for six matches despite being the victim of alleged racist abuse."},{"title":"USWNT coach Vlatko Andonovski speaks to CNN","duration":"02:50″,"sourceName":"CNN","sourceLink":"","videoCMSUrl":"/video/data/3.0/video/sports/2019/10/30/vlatko-andonovski-us-womens-national-team-coach-football-spt-intl.cnn/index.xml","videoId":"sports/2019/10/30/vlatko-andonovski-us-womens-national-team-coach-football-spt-intl.cnn","videoImage":"//cdn.cnn.com/cnnnext/dam/assets/191030102104-vlatko-andonovski-tease-large-169.jpg","videoUrl":"/videos/sports/2019/10/30/vlatko-andonovski-us-womens-national-team-coach-football-spt-intl.cnn/video/playlists/intl-sports-football/","description":"New US Women's National Team head coach Vlatko Andonovski speaks to Don Riddell after his appointment to take over the World Cup winners from Jill Ellis.","descriptionText":"New US Women's National Team head coach Vlatko Andonovski speaks to Don Riddell after his appointment to take over the World Cup winners from Jill Ellis."},{"title":"Racism in football causes FA Cup qualifier to be rescheduled","duration":"02:35″,"sourceName":"CNN","sourceLink":"","videoCMSUrl":"/video/data/3.0/video/sports/2019/10/22/haringey-yeovil-town-racism-fa-cup-qualifier-football-england-explainer-spt-intl.cnn/index.xml","videoId":"sports/2019/10/22/haringey-yeovil-town-racism-fa-cup-qualifier-football-england-explainer-spt-intl.cnn","videoImage":"//cdn.cnn.com/cnnnext/dam/assets/191021110623-haringey-yeovil-racism-1-large-169.jpg","videoUrl":"/videos/sports/2019/10/22/haringey-yeovil-town-racism-fa-cup-qualifier-football-england-explainer-spt-intl.cnn/video/playlists/intl-sports-football/","description":"The FA Cup qualifier – between Haringey and Yeovil – has been rescheduled after alleged racism forced it to be abandoned over the weekend.","descriptionText":"The FA Cup qualifier – between Haringey and Yeovil – has been rescheduled after alleged racism forced it to be abandoned over the weekend."},{"title":"Concussion rule reviewed in football","duration":"02:37″,"sourceName":"CNN","sourceLink":"","videoCMSUrl":"/video/data/3.0/video/sports/2019/10/22/ifab-concussion-protocol-update-temporary-substitute-marco-van-basten-football-spt-intl-lon-orig.cnn/index.xml","videoId":"sports/2019/10/22/ifab-concussion-protocol-update-temporary-substitute-marco-van-basten-football-spt-intl-lon-orig.cnn","videoImage":"//cdn.cnn.com/cnnnext/dam/assets/191022170509-concussion-protocol-tease-large-169.jpg","videoUrl":"/videos/sports/2019/10/22/ifab-concussion-protocol-update-temporary-substitute-marco-van-basten-football-spt-intl-lon-orig.cnn/video/playlists/intl-sports-football/","description":"The IFAB is meeting to discuss rule changes, including assessing concussions. The Board is discussing introducing temporary substitutions in football.","descriptionText":"The IFAB is meeting to discuss rule changes, including assessing concussions. The Board is discussing introducing temporary substitutions in football."},{"title":"Should footballers walk off the pitch over racist abuse?","duration":"01:38″,"sourceName":"CNN","sourceLink":"","videoCMSUrl":"/video/data/3.0/video/sports/2019/10/18/should-players-walk-off-after-racist-abuse-zaha-odemwingie-aluko-rio-ferdinand-football-spt-intl.cnn/index.xml","videoId":"sports/2019/10/18/should-players-walk-off-after-racist-abuse-zaha-odemwingie-aluko-rio-ferdinand-football-spt-intl.cnn","videoImage":"//cdn.cnn.com/cnnnext/dam/assets/191015152445-england-racism-large-169.jpg","videoUrl":"/videos/sports/2019/10/18/should-players-walk-off-after-racist-abuse-zaha-odemwingie-aluko-rio-ferdinand-football-spt-intl.cnn/video/playlists/intl-sports-football/","description":"With racism in football in the spotlight, we asked players past and present at the recent Best of Africa Awards whether it's time for players to take matters in their own hands and walk off if they suffer racist abuse.","descriptionText":"With racism in football in the spotlight, we asked players past and present at the recent Best of Africa Awards whether it's time for players to take matters in their own hands and walk off if they suffer racist abuse."},{"title":"NYCFC making progress on and off the pitch","duration":"04:22″,"sourceName":"CNN","sourceLink":"","videoCMSUrl":"/video/data/3.0/video/sports/2019/10/16/nycfc-making-progress-on-and-off-the-pitch-spt-intl.cnn/index.xml","videoId":"sports/2019/10/16/nycfc-making-progress-on-and-off-the-pitch-spt-intl.cnn","videoImage":"//cdn.cnn.com/cnnnext/dam/assets/191016180436-nycfc-making-progress-on-and-off-the-pitch-spt-intl-00023423-large-169.jpg","videoUrl":"/videos/sports/2019/10/16/nycfc-making-progress-on-and-off-the-pitch-spt-intl.cnn/video/playlists/intl-sports-football/","description":"NYC FC has won the Eastern Conference for the first time in club history and now look to go one better by winning MLS Cup. Former U.S. soccer legend Claudio Reyna is the team's Sporting Director and has been telling CNN World Sport's Don Riddell about the club's successful season.","descriptionText":"NYC FC has won the Eastern Conference for the first time in club history and now look to go one better by winning MLS Cup. Former U.S. soccer legend Claudio Reyna is the team's Sporting Director and has been telling CNN World Sport's Don Riddell about the club's successful season."},{"title":"Palestinians vs. Saudi Arabia: Politics and football","duration":"02:28″,"sourceName":"CNN","sourceLink":"","videoCMSUrl":"/video/data/3.0/video/sports/2019/10/15/palestine-saudi-arabia-world-cup-qualifier-politics-football-spt-intl.cnn/index.xml","videoId":"sports/2019/10/15/palestine-saudi-arabia-world-cup-qualifier-politics-football-spt-intl.cnn","videoImage":"//cdn.cnn.com/cnnnext/dam/assets/191015122611-palestine-saudi-football-large-169.jpg","videoUrl":"/videos/sports/2019/10/15/palestine-saudi-arabia-world-cup-qualifier-politics-football-spt-intl.cnn/video/playlists/intl-sports-football/","description":"Palestine's World Cup qualifier against Saudi Arabia is a big deal. The chairman of the PFA said the Saudis were sending a message that even though the Palestinians are living under occupation, they are not alone.","descriptionText":"Palestine's World Cup qualifier against Saudi Arabia is a big deal. The chairman of the PFA said the Saudis were sending a message that even though the Palestinians are living under occupation, they are not alone."},{"title":"Darren Lewis on Bulgaria vs. England racism","duration":"02:14″,"sourceName":"CNN","sourceLink":"","videoCMSUrl":"/video/data/3.0/video/sports/2019/10/15/england-bulgaria-racism-euro-qualifiers-2019-darren-lewis-spt-intl.cnn/index.xml","videoId":"sports/2019/10/15/england-bulgaria-racism-euro-qualifiers-2019-darren-lewis-spt-intl.cnn","videoImage":"//cdn.cnn.com/cnnnext/dam/assets/191014163138-01-bulgaria-england-racist-chanting-large-169.jpg","videoUrl":"/videos/sports/2019/10/15/england-bulgaria-racism-euro-qualifiers-2019-darren-lewis-spt-intl.cnn/video/playlists/intl-sports-football/","description":"Darren Lewis tells says that the lack of black leaders in the Bulgaria FA and UEFA is a large reason for the racism in the Bulgaria v England Euro qualifier.","descriptionText":"Darren Lewis tells says that the lack of black leaders in the Bulgaria FA and UEFA is a large reason for the racism in the Bulgaria v England Euro qualifier."},{"title":"Real Madrid to launch women's team","duration":"01:25″,"sourceName":"CNN","sourceLink":"","videoCMSUrl":"/video/data/3.0/video/sports/2019/08/22/real-madrid-women-cd-tacon-football-spain-spt-intl-lon-orig.cnn/index.xml","videoId":"sports/2019/08/22/real-madrid-women-cd-tacon-football-spain-spt-intl-lon-orig.cnn","videoImage":"//cdn.cnn.com/cnnnext/dam/assets/190822152952-real-madrid-womens-cd-tacn-large-169.jpg","videoUrl":"/videos/sports/2019/08/22/real-madrid-women-cd-tacon-football-spain-spt-intl-lon-orig.cnn/video/playlists/intl-sports-football/","description":"Real Madrid will officially have a women's team after agreeing to buy recently promoted CD Tacón.","descriptionText":"Real Madrid will officially have a women's team after agreeing to buy recently promoted CD Tacón."},{"title":"Why Nicolas Pepe was destined for greatness","duration":"02:41″,"sourceName":"CNN","sourceLink":"","videoCMSUrl":"/video/data/3.0/video/sports/2019/09/13/nicolas-pepe-arsenal-losc-lille-jose-fonte-football-spt-intl-lon-orig.cnn/index.xml","videoId":"sports/2019/09/13/nicolas-pepe-arsenal-losc-lille-jose-fonte-football-spt-intl-lon-orig.cnn","videoImage":"//cdn.cnn.com/cnnnext/dam/assets/190913151642-nicolas-pepe-spurs-large-169.jpg","videoUrl":"/videos/sports/2019/09/13/nicolas-pepe-arsenal-losc-lille-jose-fonte-football-spt-intl-lon-orig.cnn/video/playlists/intl-sports-football/","description":"Former teammate José Fonte and LOSC Lille CEO Marc Ingla speak to CNN about what makes the Ivorian winger so special.","descriptionText":"Former teammate José Fonte and LOSC Lille CEO Marc Ingla speak to CNN about what makes the Ivorian winger so special."},{"title":"Michael Owen: Anfield key to Liverpool sucess","duration":"04:45″,"sourceName":"CNN","sourceLink":"","videoCMSUrl":"/video/data/3.0/video/sports/2019/09/17/michael-owen-interview-liverpool-champions-league-spt-intl-gbr.cnn/index.xml","videoId":"sports/2019/09/17/michael-owen-interview-liverpool-champions-league-spt-intl-gbr.cnn","videoImage":"//cdn.cnn.com/cnnnext/dam/assets/190917155151-michael-owen-large-169.jpg","videoUrl":"/videos/sports/2019/09/17/michael-owen-interview-liverpool-champions-league-spt-intl-gbr.cnn/video/playlists/intl-sports-football/","description":"Former Liverpool striker Michael Owen explains why his old club's home ground will be crucial if the Reds are to defend their Champions League title. ","descriptionText":"Former Liverpool striker Michael Owen explains why his old club's home ground will be crucial if the Reds are to defend their Champions League title. "},{"title":"Benfica's success story? Its legendary academy","duration":"03:12″,"sourceName":"CNN","sourceLink":"","videoCMSUrl":"/video/data/3.0/video/sports/2019/09/12/bruno-lage-benfica-academy-champions-league-joao-felix-football-portugal-spt-intl.cnn/index.xml","videoId":"sports/2019/09/12/bruno-lage-benfica-academy-champions-league-joao-felix-football-portugal-spt-intl.cnn","videoImage":"//cdn.cnn.com/cnnnext/dam/assets/190811214728-03-what-a-shot-0812-large-169.jpg","videoUrl":"/videos/sports/2019/09/12/bruno-lage-benfica-academy-champions-league-joao-felix-football-portugal-spt-intl.cnn/video/playlists/intl-sports-football/","description":"Portuguese giant Benfica is one of the best teams at producing talent in football. Their academy has churned out Bernardo Silva and Joao Felix among others.","descriptionText":"Portuguese giant Benfica is one of the best teams at producing talent in football. Their academy has churned out Bernardo Silva and Joao Felix among others."},{"title":"Fighting racism: Should players walk off?","duration":"03:13″,"sourceName":"CNN","sourceLink":"","videoCMSUrl":"/video/data/3.0/video/sports/2019/09/13/fighting-racism-in-football-roundtable-spt-intl.cnn/index.xml","videoId":"sports/2019/09/13/fighting-racism-in-football-roundtable-spt-intl.cnn","videoImage":"//cdn.cnn.com/cnnnext/dam/assets/190902232930-romelu-lukaku-inter-racism-cagliari-large-169.jpg","videoUrl":"/videos/sports/2019/09/13/fighting-racism-in-football-roundtable-spt-intl.cnn/video/playlists/intl-sports-football/","description":"Should players walk off the pitch if they're racially abused? Ex-player Paul Parker, anti-racism activist Troy Townsend and journalist Darren Lewis debate.","descriptionText":"Should players walk off the pitch if they're racially abused? Ex-player Paul Parker, anti-racism activist Troy Townsend and journalist Darren Lewis debate."},{"title":"Mohamed Salah's quickfire challenge","duration":"01:26″,"sourceName":"CNN","sourceLink":"","videoCMSUrl":"/video/data/3.0/video/sports/2019/08/19/mohamed-salah-liverpool-egypt-football-quickfire-challenge-spt-intl-lon-orig-gbr.cnn/index.xml","videoId":"sports/2019/08/19/mohamed-salah-liverpool-egypt-football-quickfire-challenge-spt-intl-lon-orig-gbr.cnn","videoImage":"//cdn.cnn.com/cnnnext/dam/assets/190501145802-mo-salah-large-169.jpg","videoUrl":"/videos/sports/2019/08/19/mohamed-salah-liverpool-egypt-football-quickfire-challenge-spt-intl-lon-orig-gbr.cnn/video/playlists/intl-sports-football/","description":"Liverpool superstar forward Mo Salah answers all of the hottest questions: favorite TV show? Favorite musician? Goal or assist? Funniest teammate?","descriptionText":"Liverpool superstar forward Mo Salah answers all of the hottest questions: favorite TV show? Favorite musician? Goal or assist? Funniest teammate?"}],'js-video_headline-featured-1mr2m08′,","js-video_source-featured-1mr2m08″,true,true,'intl-sports-football');if (typeof configObj.context !== 'string' || configObj.context.length
League of Legends: Millions catch a glimpse of the 'future' at Worlds
');$vidEndSlate.removeClass('video__end-slate–inactive').addClass('video__end-slate–active');}};CNN.autoPlayVideoExist = (CNN.autoPlayVideoExist === true) ? true : false;var configObj = {thumb: 'none',video: 'sports/2019/11/12/estudiantes-holographic-lion-league-of-legends-worlds-opening-ceremony-holograms-spt-intl-lon-orig.cnn',width: '100%',height: '100%',section: 'international',profile: 'expansion',network: 'cnn',markupId: 'large-media_0',adsection: 'const-article-carousel-pagetop',frameWidth: '100%',frameHeight: '100%',posterImageOverride: {"mini":{"width":220,"type":"jpg","uri":"//cdn.cnn.com/cnnnext/dam/assets/191112154009-lion-holograph-small-169.jpg","height":124},"xsmall":{"width":307,"type":"jpg","uri":"//cdn.cnn.com/cnnnext/dam/assets/191112154009-lion-holograph-medium-plus-169.jpg","height":173},"small":{"width":460,"type":"jpg","uri":"//cdn.cnn.com/cnnnext/dam/assets/191112154009-lion-holograph-large-169.jpg","height":259},"medium":{"width":780,"type":"jpg","uri":"//cdn.cnn.com/cnnnext/dam/assets/191112154009-lion-holograph-exlarge-169.jpg","height":438},"large":{"width":1100,"type":"jpg","uri":"//cdn.cnn.com/cnnnext/dam/assets/191112154009-lion-holograph-super-169.jpg","height":619},"full16x9″:{"width":1600,"type":"jpg","uri":"//cdn.cnn.com/cnnnext/dam/assets/191112154009-lion-holograph-full-169.jpg","height":900},"mini1x1″:{"width":120,"type":"jpg","uri":"//cdn.cnn.com/cnnnext/dam/assets/191112154009-lion-holograph-small-11.jpg","height":120}}},autoStartVideo = false,isVideoReplayClicked = false,callbackObj,containerEl,currentVideoCollection = [{"title":"Fiery lions and disappearing rappers: Holograms in sports events","duration":"01:19″,"sourceName":"CNN","sourceLink":"","videoCMSUrl":"/video/data/3.0/video/sports/2019/11/12/estudiantes-holographic-lion-league-of-legends-worlds-opening-ceremony-holograms-spt-intl-lon-orig.cnn/index.xml","videoId":"sports/2019/11/12/estudiantes-holographic-lion-league-of-legends-worlds-opening-ceremony-holograms-spt-intl-lon-orig.cnn","videoImage":"//cdn.cnn.com/cnnnext/dam/assets/191112154009-lion-holograph-large-169.jpg","videoUrl":"/videos/sports/2019/11/12/estudiantes-holographic-lion-league-of-legends-worlds-opening-ceremony-holograms-spt-intl-lon-orig.cnn/video/playlists/international-sport-playlist-general-videos/","description":"Argentinian soccer team Estudiantes de la Plata re-opened their stadium with a holographic lion to prowl the pitch. But they're only the latest to use holograms, from esports to concerts.","descriptionText":"Argentinian soccer team Estudiantes de la Plata re-opened their stadium with a holographic lion to prowl the pitch. But they're only the latest to use holograms, from esports to concerts."},{"title":"Siya Kolisi: It's a privilege to fight for the people back home","duration":"03:28″,"sourceName":"CNN","sourceLink":"","videoCMSUrl":"/video/data/3.0/video/sports/2019/11/05/siya-kolisi-south-africa-rugby-world-cup-champions-2019-japan-england-spt-intl.cnn/index.xml","videoId":"sports/2019/11/05/siya-kolisi-south-africa-rugby-world-cup-champions-2019-japan-england-spt-intl.cnn","videoImage":"//cdn.cnn.com/cnnnext/dam/assets/191104121752-siya-kolisi-rugby-world-cup-final-large-169.jpg","videoUrl":"/videos/sports/2019/11/05/siya-kolisi-south-africa-rugby-world-cup-champions-2019-japan-england-spt-intl.cnn/video/playlists/international-sport-playlist-general-videos/","description":"Christina Macfarlane speaks to Rugby World Cup-winning South Africa captain Siya Kolisi about the historic victory and how much it means for South Africa.","descriptionText":"Christina Macfarlane speaks to Rugby World Cup-winning South Africa captain Siya Kolisi about the historic victory and how much it means for South Africa."},{"title":"James Blake on tennis helping hurricane relief","duration":"03:27″,"sourceName":"CNN","sourceLink":"","videoCMSUrl":"/video/data/3.0/video/tv/2019/11/06/james-blake-the-bahamas-spt-intl.cnn/index.xml","videoId":"tv/2019/11/06/james-blake-the-bahamas-spt-intl.cnn","videoImage":"//cdn.cnn.com/cnnnext/dam/assets/191106180455-james-blake-the-bahamas-spt-intl-00010219-large-169.jpg","videoUrl":"/videos/tv/2019/11/06/james-blake-the-bahamas-spt-intl.cnn/video/playlists/international-sport-playlist-general-videos/","description":"The former American tennis star will take to the court this weekend to benefit victims of Hurricane Dorian across The Abacos and Grand Bahama islands.","descriptionText":"The former American tennis star will take to the court this weekend to benefit victims of Hurricane Dorian across The Abacos and Grand Bahama islands."},{"title":"Meet the Paralympic swimmer changing perceptions one stroke at a time","duration":"03:32″,"sourceName":"CNN","sourceLink":"","videoCMSUrl":"/video/data/3.0/video/sports/2019/10/31/theo-curin-paralympic-french-swimmer-disability-spt-intl-lon-orig.cnn/index.xml","videoId":"sports/2019/10/31/theo-curin-paralympic-french-swimmer-disability-spt-intl-lon-orig.cnn","videoImage":"//cdn.cnn.com/cnnnext/dam/assets/191029104155-theo-curin-02-large-169.jpg","videoUrl":"/videos/sports/2019/10/31/theo-curin-paralympic-french-swimmer-disability-spt-intl-lon-orig.cnn/video/playlists/international-sport-playlist-general-videos/","description":"Théo Curin has been on a mission to change the way people look at disability. Now a world class swimmer, the teenager is looking to expand his portfolio. ","descriptionText":"Théo Curin has been on a mission to change the way people look at disability. Now a world class swimmer, the teenager is looking to expand his portfolio. "},{"title":"KSI and Logan Paul box in 'fight to legitimize' YouTube bouts","duration":"02:15″,"sourceName":"CNN","sourceLink":"","videoCMSUrl":"/video/data/3.0/video/sports/2019/11/04/ksi-logan-paul-boxing-rematch-youtube-los-angeles-criticism-spt-intl-lon-orig.cnn/index.xml","videoId":"sports/2019/11/04/ksi-logan-paul-boxing-rematch-youtube-los-angeles-criticism-spt-intl-lon-orig.cnn","videoImage":"//cdn.cnn.com/cnnnext/dam/assets/191104081208-01-ksi-logan-paul-boxing-restricted-large-169.jpg","videoUrl":"/videos/sports/2019/11/04/ksi-logan-paul-boxing-rematch-youtube-los-angeles-criticism-spt-intl-lon-orig.cnn/video/playlists/international-sport-playlist-general-videos/","description":"The two YouTubers face off in a professional boxing match at the Staples Center in Los Angeles on November 9 in a rematch of their 2018 fight in Manchester which ended in a draw.","descriptionText":"The two YouTubers face off in a professional boxing match at the Staples Center in Los Angeles on November 9 in a rematch of their 2018 fight in Manchester which ended in a draw."},{"title":"Joao Mario on racism and Cristiano Ronaldo","duration":"03:01″,"sourceName":"CNN","sourceLink":"","videoCMSUrl":"/video/data/3.0/video/sports/2019/11/05/joao-mario-lokomotiv-moscow-champions-league-racism-italy-cristiano-ronaldo-football-spt-intl.cnn/index.xml","videoId":"sports/2019/11/05/joao-mario-lokomotiv-moscow-champions-league-racism-italy-cristiano-ronaldo-football-spt-intl.cnn","videoImage":"//cdn.cnn.com/cnnnext/dam/assets/191105111747-joao-mario-ronaldo-large-169.jpg","videoUrl":"/videos/sports/2019/11/05/joao-mario-lokomotiv-moscow-champions-league-racism-italy-cristiano-ronaldo-football-spt-intl.cnn/video/playlists/international-sport-playlist-general-videos/","description":"Lokomotiv Moscow and Portugal midfielder Joao Mario speaks to Alex Thomas about racism in football and his relationship with superstar Cristiano Ronaldo.","descriptionText":"Lokomotiv Moscow and Portugal midfielder Joao Mario speaks to Alex Thomas about racism in football and his relationship with superstar Cristiano Ronaldo."},{"title":"Rugby World Cup: Memorable moments from Japan","duration":"01:54″,"sourceName":"CNN","sourceLink":"","videoCMSUrl":"/video/data/3.0/video/sports/2019/10/16/rugby-world-cup-2019-best-off-field-moments-japan-spt-intl-lon-orig.cnn/index.xml","videoId":"sports/2019/10/16/rugby-world-cup-2019-best-off-field-moments-japan-spt-intl-lon-orig.cnn","videoImage":"//cdn.cnn.com/cnnnext/dam/assets/191013124611-japan-large-169.jpg","videoUrl":"/videos/sports/2019/10/16/rugby-world-cup-2019-best-off-field-moments-japan-spt-intl-lon-orig.cnn/video/playlists/international-sport-playlist-general-videos/","description":"The 2019 Rugby World Cup in Japan has been filled with memorable plays and unforgettable off-the-pitch events.","descriptionText":"The 2019 Rugby World Cup in Japan has been filled with memorable plays and unforgettable off-the-pitch events."},{"title":"Wingsuit daredevil breaks two world records in a single day","duration":"02:41″,"sourceName":"CNN","sourceLink":"","videoCMSUrl":"/video/data/3.0/video/sports/2019/08/22/anton-squeezer-andersson-wingsuit-sweden-world-record-spt-intl-lon-orig.cnn/index.xml","videoId":"sports/2019/08/22/anton-squeezer-andersson-wingsuit-sweden-world-record-spt-intl-lon-orig.cnn","videoImage":"//cdn.cnn.com/cnnnext/dam/assets/190821143532-squeezer-wingsuit-spt-intl-large-169.jpeg","videoUrl":"/videos/sports/2019/08/22/anton-squeezer-andersson-wingsuit-sweden-world-record-spt-intl-lon-orig.cnn/video/playlists/international-sport-playlist-general-videos/","description":"Meet the 25-year-old Swedish superman who claims he broke two Guinness World Records for wingsuit piloting in a single day – Anton "Squeezer" Andersson.","descriptionText":"Meet the 25-year-old Swedish superman who claims he broke two Guinness World Records for wingsuit piloting in a single day – Anton "Squeezer" Andersson."},{"title":"Should footballers walk off the pitch over racist abuse?","duration":"01:38″,"sourceName":"CNN","sourceLink":"","videoCMSUrl":"/video/data/3.0/video/sports/2019/10/18/should-players-walk-off-after-racist-abuse-zaha-odemwingie-aluko-rio-ferdinand-football-spt-intl.cnn/index.xml","videoId":"sports/2019/10/18/should-players-walk-off-after-racist-abuse-zaha-odemwingie-aluko-rio-ferdinand-football-spt-intl.cnn","videoImage":"//cdn.cnn.com/cnnnext/dam/assets/191015152445-england-racism-large-169.jpg","videoUrl":"/videos/sports/2019/10/18/should-players-walk-off-after-racist-abuse-zaha-odemwingie-aluko-rio-ferdinand-football-spt-intl.cnn/video/playlists/international-sport-playlist-general-videos/","description":"With racism in football in the spotlight, we asked players past and present at the recent Best of Africa Awards whether it's time for players to take matters in their own hands and walk off if they suffer racist abuse.","descriptionText":"With racism in football in the spotlight, we asked players past and present at the recent Best of Africa Awards whether it's time for players to take matters in their own hands and walk off if they suffer racist abuse."},{"title":"Roger Federer talks Olympics and Rugby World Cup","duration":"04:08″,"sourceName":"CNN","sourceLink":"","videoCMSUrl":"/video/data/3.0/video/sports/2019/10/15/roger-federer-olympics-tokyo-2020-rugby-world-cup-spt-intl.cnn/index.xml","videoId":"sports/2019/10/15/roger-federer-olympics-tokyo-2020-rugby-world-cup-spt-intl.cnn","videoImage":"//cdn.cnn.com/cnnnext/dam/assets/191016122827-roger-federer-olympics-large-169.jpg","videoUrl":"/videos/sports/2019/10/15/roger-federer-olympics-tokyo-2020-rugby-world-cup-spt-intl.cnn/video/playlists/international-sport-playlist-general-videos/","description":"Roger Federer reflects on the Tokyo 2020 Olympics — where he has a shot at winning his first gold medal — and gets quizzed on his rugby knowledge. ","descriptionText":"Roger Federer reflects on the Tokyo 2020 Olympics — where he has a shot at winning his first gold medal — and gets quizzed on his rugby knowledge. "},{"title":"South Africa captain Siya Kolisi on Japan and Roger Federer","duration":"03:36″,"sourceName":"CNN","sourceLink":"","videoCMSUrl":"/video/data/3.0/video/sports/2019/10/18/siya-kolisi-south-africa-captain-rugby-world-cup-japan-roger-federer-spt-intl.cnn/index.xml","videoId":"sports/2019/10/18/siya-kolisi-south-africa-captain-rugby-world-cup-japan-roger-federer-spt-intl.cnn","videoImage":"//cdn.cnn.com/cnnnext/dam/assets/191018101213-siya-kolisi-tease-large-169.jpg","videoUrl":"/videos/sports/2019/10/18/siya-kolisi-south-africa-captain-rugby-world-cup-japan-roger-federer-spt-intl.cnn/video/playlists/international-sport-playlist-general-videos/","description":"Christina Macfarlane sits down with South Africa captain Siya Kolisi ahead of their Rugby World Cup quarterfinal clash against home nation Japan.","descriptionText":"Christina Macfarlane sits down with South Africa captain Siya Kolisi ahead of their Rugby World Cup quarterfinal clash against home nation Japan."}],currentVideoCollectionId = ",isLivePlayer = false,mediaMetadataCallbacks,mobilePinnedView = null,moveToNextTimeout,mutePlayerEnabled = false,nextVideoId = ",nextVideoUrl = ",turnOnFlashMessaging = false,videoPinner,videoEndSlateImpl;if (CNN.autoPlayVideoExist === false) {autoStartVideo = true;if (autoStartVideo === true) {if (turnOnFlashMessaging === true) {autoStartVideo = false;containerEl = jQuery(document.getElementById(configObj.markupId));CNN.VideoPlayer.showFlashSlate(containerEl);} else {CNN.autoPlayVideoExist = true;}}}configObj.autostart = CNN.Features.enableAutoplayBlock ? false : autoStartVideo;CNN.VideoPlayer.setPlayerProperties(configObj.markupId, autoStartVideo, isLivePlayer, isVideoReplayClicked, mutePlayerEnabled);CNN.VideoPlayer.setFirstVideoInCollection(currentVideoCollection, configObj.markupId);var videoHandler = {},isFeaturedVideoCollectionHandlerAvailable = (CNN !== undefined &&CNN.VIDEOCLIENT !== undefined &&CNN.VIDEOCLIENT.FeaturedVideoCollectionHandler !== undefined);if (!isFeaturedVideoCollectionHandlerAvailable) {CNN.INJECTOR.executeFeature('videx').done(function () {jQuery.ajax({dataType: 'script',cache: true,url: '//edition.i.cdn.cnn.com/.a/2.173.7/js/featured-video-collection-player.min.js'}).done(function () {initializeVideoAndCollection();}).fail(function () {throw 'Unable to fetch /js/featured-video-collection-player.min.js';});}).fail(function () {throw 'Unable to fetch the videx bundle';});}function initializeVideoAndCollection() {videoHandler = new CNN.VIDEOCLIENT.FeaturedVideoCollectionHandler(configObj.markupId,"cn-featured-1khs2fd",'js-video_description-featured-1khs2fd',[{"title":"Fiery lions and disappearing rappers: Holograms in sports events","duration":"01:19″,"sourceName":"CNN","sourceLink":"","videoCMSUrl":"/video/data/3.0/video/sports/2019/11/12/estudiantes-holographic-lion-league-of-legends-worlds-opening-ceremony-holograms-spt-intl-lon-orig.cnn/index.xml","videoId":"sports/2019/11/12/estudiantes-holographic-lion-league-of-legends-worlds-opening-ceremony-holograms-spt-intl-lon-orig.cnn","videoImage":"//cdn.cnn.com/cnnnext/dam/assets/191112154009-lion-holograph-large-169.jpg","videoUrl":"/videos/sports/2019/11/12/estudiantes-holographic-lion-league-of-legends-worlds-opening-ceremony-holograms-spt-intl-lon-orig.cnn/video/playlists/international-sport-playlist-general-videos/","description":"Argentinian soccer team Estudiantes de la Plata re-opened their stadium with a holographic lion to prowl the pitch. But they're only the latest to use holograms, from esports to concerts.","descriptionText":"Argentinian soccer team Estudiantes de la Plata re-opened their stadium with a holographic lion to prowl the pitch. But they're only the latest to use holograms, from esports to concerts."},{"title":"Siya Kolisi: It's a privilege to fight for the people back home","duration":"03:28″,"sourceName":"CNN","sourceLink":"","videoCMSUrl":"/video/data/3.0/video/sports/2019/11/05/siya-kolisi-south-africa-rugby-world-cup-champions-2019-japan-england-spt-intl.cnn/index.xml","videoId":"sports/2019/11/05/siya-kolisi-south-africa-rugby-world-cup-champions-2019-japan-england-spt-intl.cnn","videoImage":"//cdn.cnn.com/cnnnext/dam/assets/191104121752-siya-kolisi-rugby-world-cup-final-large-169.jpg","videoUrl":"/videos/sports/2019/11/05/siya-kolisi-south-africa-rugby-world-cup-champions-2019-japan-england-spt-intl.cnn/video/playlists/international-sport-playlist-general-videos/","description":"Christina Macfarlane speaks to Rugby World Cup-winning South Africa captain Siya Kolisi about the historic victory and how much it means for South Africa.","descriptionText":"Christina Macfarlane speaks to Rugby World Cup-winning South Africa captain Siya Kolisi about the historic victory and how much it means for South Africa."},{"title":"James Blake on tennis helping hurricane relief","duration":"03:27″,"sourceName":"CNN","sourceLink":"","videoCMSUrl":"/video/data/3.0/video/tv/2019/11/06/james-blake-the-bahamas-spt-intl.cnn/index.xml","videoId":"tv/2019/11/06/james-blake-the-bahamas-spt-intl.cnn","videoImage":"//cdn.cnn.com/cnnnext/dam/assets/191106180455-james-blake-the-bahamas-spt-intl-00010219-large-169.jpg","videoUrl":"/videos/tv/2019/11/06/james-blake-the-bahamas-spt-intl.cnn/video/playlists/international-sport-playlist-general-videos/","description":"The former American tennis star will take to the court this weekend to benefit victims of Hurricane Dorian across The Abacos and Grand Bahama islands.","descriptionText":"The former American tennis star will take to the court this weekend to benefit victims of Hurricane Dorian across The Abacos and Grand Bahama islands."},{"title":"Meet the Paralympic swimmer changing perceptions one stroke at a time","duration":"03:32″,"sourceName":"CNN","sourceLink":"","videoCMSUrl":"/video/data/3.0/video/sports/2019/10/31/theo-curin-paralympic-french-swimmer-disability-spt-intl-lon-orig.cnn/index.xml","videoId":"sports/2019/10/31/theo-curin-paralympic-french-swimmer-disability-spt-intl-lon-orig.cnn","videoImage":"//cdn.cnn.com/cnnnext/dam/assets/191029104155-theo-curin-02-large-169.jpg","videoUrl":"/videos/sports/2019/10/31/theo-curin-paralympic-french-swimmer-disability-spt-intl-lon-orig.cnn/video/playlists/international-sport-playlist-general-videos/","description":"Théo Curin has been on a mission to change the way people look at disability. Now a world class swimmer, the teenager is looking to expand his portfolio. ","descriptionText":"Théo Curin has been on a mission to change the way people look at disability. Now a world class swimmer, the teenager is looking to expand his portfolio. "},{"title":"KSI and Logan Paul box in 'fight to legitimize' YouTube bouts","duration":"02:15″,"sourceName":"CNN","sourceLink":"","videoCMSUrl":"/video/data/3.0/video/sports/2019/11/04/ksi-logan-paul-boxing-rematch-youtube-los-angeles-criticism-spt-intl-lon-orig.cnn/index.xml","videoId":"sports/2019/11/04/ksi-logan-paul-boxing-rematch-youtube-los-angeles-criticism-spt-intl-lon-orig.cnn","videoImage":"//cdn.cnn.com/cnnnext/dam/assets/191104081208-01-ksi-logan-paul-boxing-restricted-large-169.jpg","videoUrl":"/videos/sports/2019/11/04/ksi-logan-paul-boxing-rematch-youtube-los-angeles-criticism-spt-intl-lon-orig.cnn/video/playlists/international-sport-playlist-general-videos/","description":"The two YouTubers face off in a professional boxing match at the Staples Center in Los Angeles on November 9 in a rematch of their 2018 fight in Manchester which ended in a draw.","descriptionText":"The two YouTubers face off in a professional boxing match at the Staples Center in Los Angeles on November 9 in a rematch of their 2018 fight in Manchester which ended in a draw."},{"title":"Joao Mario on racism and Cristiano Ronaldo","duration":"03:01″,"sourceName":"CNN","sourceLink":"","videoCMSUrl":"/video/data/3.0/video/sports/2019/11/05/joao-mario-lokomotiv-moscow-champions-league-racism-italy-cristiano-ronaldo-football-spt-intl.cnn/index.xml","videoId":"sports/2019/11/05/joao-mario-lokomotiv-moscow-champions-league-racism-italy-cristiano-ronaldo-football-spt-intl.cnn","videoImage":"//cdn.cnn.com/cnnnext/dam/assets/191105111747-joao-mario-ronaldo-large-169.jpg","videoUrl":"/videos/sports/2019/11/05/joao-mario-lokomotiv-moscow-champions-league-racism-italy-cristiano-ronaldo-football-spt-intl.cnn/video/playlists/international-sport-playlist-general-videos/","description":"Lokomotiv Moscow and Portugal midfielder Joao Mario speaks to Alex Thomas about racism in football and his relationship with superstar Cristiano Ronaldo.","descriptionText":"Lokomotiv Moscow and Portugal midfielder Joao Mario speaks to Alex Thomas about racism in football and his relationship with superstar Cristiano Ronaldo."},{"title":"Rugby World Cup: Memorable moments from Japan","duration":"01:54″,"sourceName":"CNN","sourceLink":"","videoCMSUrl":"/video/data/3.0/video/sports/2019/10/16/rugby-world-cup-2019-best-off-field-moments-japan-spt-intl-lon-orig.cnn/index.xml","videoId":"sports/2019/10/16/rugby-world-cup-2019-best-off-field-moments-japan-spt-intl-lon-orig.cnn","videoImage":"//cdn.cnn.com/cnnnext/dam/assets/191013124611-japan-large-169.jpg","videoUrl":"/videos/sports/2019/10/16/rugby-world-cup-2019-best-off-field-moments-japan-spt-intl-lon-orig.cnn/video/playlists/international-sport-playlist-general-videos/","description":"The 2019 Rugby World Cup in Japan has been filled with memorable plays and unforgettable off-the-pitch events.","descriptionText":"The 2019 Rugby World Cup in Japan has been filled with memorable plays and unforgettable off-the-pitch events."},{"title":"Wingsuit daredevil breaks two world records in a single day","duration":"02:41″,"sourceName":"CNN","sourceLink":"","videoCMSUrl":"/video/data/3.0/video/sports/2019/08/22/anton-squeezer-andersson-wingsuit-sweden-world-record-spt-intl-lon-orig.cnn/index.xml","videoId":"sports/2019/08/22/anton-squeezer-andersson-wingsuit-sweden-world-record-spt-intl-lon-orig.cnn","videoImage":"//cdn.cnn.com/cnnnext/dam/assets/190821143532-squeezer-wingsuit-spt-intl-large-169.jpeg","videoUrl":"/videos/sports/2019/08/22/anton-squeezer-andersson-wingsuit-sweden-world-record-spt-intl-lon-orig.cnn/video/playlists/international-sport-playlist-general-videos/","description":"Meet the 25-year-old Swedish superman who claims he broke two Guinness World Records for wingsuit piloting in a single day – Anton "Squeezer" Andersson.","descriptionText":"Meet the 25-year-old Swedish superman who claims he broke two Guinness World Records for wingsuit piloting in a single day – Anton "Squeezer" Andersson."},{"title":"Should footballers walk off the pitch over racist abuse?","duration":"01:38″,"sourceName":"CNN","sourceLink":"","videoCMSUrl":"/video/data/3.0/video/sports/2019/10/18/should-players-walk-off-after-racist-abuse-zaha-odemwingie-aluko-rio-ferdinand-football-spt-intl.cnn/index.xml","videoId":"sports/2019/10/18/should-players-walk-off-after-racist-abuse-zaha-odemwingie-aluko-rio-ferdinand-football-spt-intl.cnn","videoImage":"//cdn.cnn.com/cnnnext/dam/assets/191015152445-england-racism-large-169.jpg","videoUrl":"/videos/sports/2019/10/18/should-players-walk-off-after-racist-abuse-zaha-odemwingie-aluko-rio-ferdinand-football-spt-intl.cnn/video/playlists/international-sport-playlist-general-videos/","description":"With racism in football in the spotlight, we asked players past and present at the recent Best of Africa Awards whether it's time for players to take matters in their own hands and walk off if they suffer racist abuse.","descriptionText":"With racism in football in the spotlight, we asked players past and present at the recent Best of Africa Awards whether it's time for players to take matters in their own hands and walk off if they suffer racist abuse."},{"title":"Roger Federer talks Olympics and Rugby World Cup","duration":"04:08″,"sourceName":"CNN","sourceLink":"","videoCMSUrl":"/video/data/3.0/video/sports/2019/10/15/roger-federer-olympics-tokyo-2020-rugby-world-cup-spt-intl.cnn/index.xml","videoId":"sports/2019/10/15/roger-federer-olympics-tokyo-2020-rugby-world-cup-spt-intl.cnn","videoImage":"//cdn.cnn.com/cnnnext/dam/assets/191016122827-roger-federer-olympics-large-169.jpg","videoUrl":"/videos/sports/2019/10/15/roger-federer-olympics-tokyo-2020-rugby-world-cup-spt-intl.cnn/video/playlists/international-sport-playlist-general-videos/","description":"Roger Federer reflects on the Tokyo 2020 Olympics — where he has a shot at winning his first gold medal — and gets quizzed on his rugby knowledge. ","descriptionText":"Roger Federer reflects on the Tokyo 2020 Olympics — where he has a shot at winning his first gold medal — and gets quizzed on his rugby knowledge. "},{"title":"South Africa captain Siya Kolisi on Japan and Roger Federer","duration":"03:36″,"sourceName":"CNN","sourceLink":"","videoCMSUrl":"/video/data/3.0/video/sports/2019/10/18/siya-kolisi-south-africa-captain-rugby-world-cup-japan-roger-federer-spt-intl.cnn/index.xml","videoId":"sports/2019/10/18/siya-kolisi-south-africa-captain-rugby-world-cup-japan-roger-federer-spt-intl.cnn","videoImage":"//cdn.cnn.com/cnnnext/dam/assets/191018101213-siya-kolisi-tease-large-169.jpg","videoUrl":"/videos/sports/2019/10/18/siya-kolisi-south-africa-captain-rugby-world-cup-japan-roger-federer-spt-intl.cnn/video/playlists/international-sport-playlist-general-videos/","description":"Christina Macfarlane sits down with South Africa captain Siya Kolisi ahead of their Rugby World Cup quarterfinal clash against home nation Japan.","descriptionText":"Christina Macfarlane sits down with South Africa captain Siya Kolisi ahead of their Rugby World Cup quarterfinal clash against home nation Japan."}],'js-video_headline-featured-1khs2fd',","js-video_source-featured-1khs2fd",true,true,'international-sport-playlist-general-videos');if (typeof configObj.context !== 'string' || configObj.context.length