Popcaan brought out Drake at Unruly Fest last night to a lit crowd.
Popcaan's Unruly Fest at Lyssons Park in St Thomas was a huge success. We're told that some 15,000 fans turned out for the event. Some Unruly sources told us that it could even be closer to 20,000 fans strong packed inside the venue. Whatever the number was, Lyssons park was packed to capacity, and it was lit. We knew that Drake and Tory Lanez arrived in Jamaica on Friday, but we didn't know for sure if any of them would be performing at the show.
Around midway his performance, Popcaan surprised the crowd when he called out Drake on stage. The crowd instantly went wild when the OVO rapper touched the stage to perform the original version of "Controlla" which featured Popcaan.
Drake and Tory Lanez also reinforced their peace treaty when they both showed up for the event together. The two rappers also hosted a private party at a villa in Portland on Friday night. The Unruly Boss was at the event, as well as, a few other dancehall stars and a bunch of ladies.
YG Brings Stormy Daniels On Stage To Perform "F**k Donald Trump"
YG is keeping his foot on the president's neck.
It's no secret that the sitting president of the United States isn't exactly popular with the hip-hop community … well unless we are talking about Kanye West. Nonetheless, one MC in particular who has made his political stance very clear is west coast hitmaker YG who put his disdain for the man in the White House on wax with his song "F*ck Donald Trump." YG has been performing this song for over a year and has found a way to keep his message going by bringing out someone who has made it their own mission to take Trump down.
During a performance Sunday Night, YG invited adult film star Stormy Daniels to the stage, who is currently in a legal battle with President Trump. Daniels alleged that she was paid off by Trump's personal lawyer Michael Cohen to keep quiet about an affair she had with the president before he took office. In a new video circulating online Monday, YG brings her onto the stage and asks her to introducer herself to the crowd, pretending to not know who she was. "I want you to state your name, and I want you to yell out f*ck Donald Trump," he said. "My name is Stormy f**king Daniels," she said as the crowd let out cheers. "And I am the reason that Donald Trump is f**ked."
YG continued to act surprised as footage of Stormy's headlines played on the background projector. "You the one that f*cked Donald Trump?" he asked. After Daniels told him she "just laid there," YG embraced her with a huge hug and went right into his song. The viral video actually prompted a response from the White House. "Another example of the tolerant left," said Press Secretary Stephanie Grisham with sarcasm. It looks like YG's move got the attention he was aiming for.
Travis Scott Brought Out kanye West At ASTROWORLD Festival
Travis Scott and Kanye West made their first-ever appearance on stage together since their little family dispute last year.
Travis Scott invited Kanye West out on stage at ASTROWORLD, which was held at the Houston NRG Park. Ye surprised fans with a performance of his new single "Follow God" off of his "Jesus Is King" album and his hit song "Can't Tell Me Nothing." Fans went ballistic when they saw the "Jesus Is King IMAX" filmmaker take the stage at the popular annual event that was introduced by Houston rapper, Travis Scott.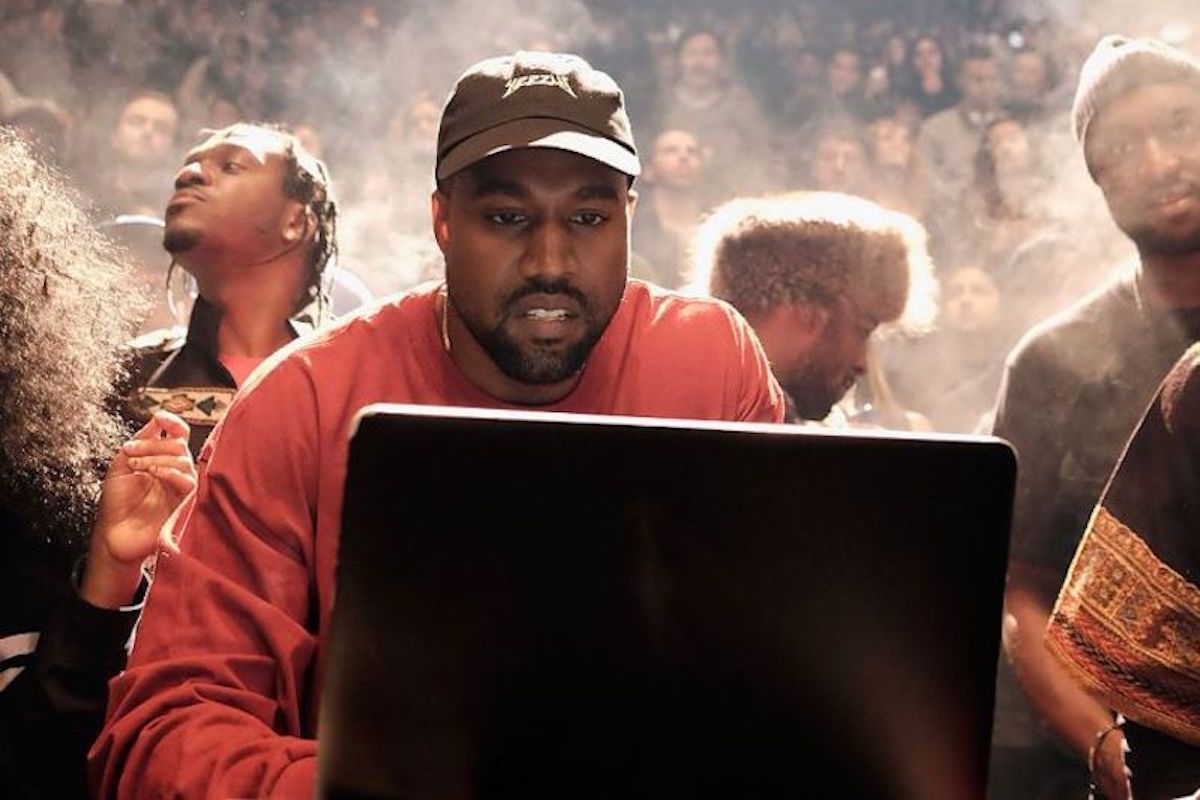 Travis joined in during Kanye's performance and kept the energy going throughout. At the end of Kanye's short time on stage, before he exited, Ye and Travis held each other in a relatively long embrace as they communicated close ear in the thick of the loud crowd's cheering.
Travis, who is still limping from his knee injury some weeks ago, seemed to be doing most of the talking as he hugged Kanye prior to his departure. Last year the "Butterfly Effect" rapper sent Kanye on a Twitter rant when he and Drake created the hit track "SICKO MODE" on which Drake allegedly sneak dissed Kanye. The lyric: "Checks over stripes" went viral as soon as Kanye acknowledged it as Drizzy denouncing his Yeezy brand. This second staging of ASTROWORLD marks Scott and West's first time showing a united front since the infamous public spat.
Earlier in the day, Travis posted a video to Instagram of his fans breaking down the barricade and trampling each other to get inside the venue that housed the Astroworld experience. Fans were ecstatic as they sprinted towards the stage area to see the talented and energetic Travis Scott perform live. The rapper captioned the IG post, "Da youth dem control da frequency, " Scott wrote in maybe his best patois. "Everyone have fun. Ragers set tone when I come out tonight." 50,000 fans attended the festival and watched both Travis and Kanye live.
Tyler The Creator Calls Drake Getting Booed At Camp Flog Gnaw "Cancel Culture"
Tyler The Creator has addressed Drake getting booed off stage at his Camp Flog Gnaw Carnival last night.
Arguably the biggest name in the rap game may not be as popular as we think he is. That was made clear when fans attending Tyler, The Creator's Camp Flog Gnaw Festival in Los Angeles Sunday night booed Drake off the stage and made him cut his set short. You read that correctly — Drake got booed off the stage. According to reports, Tyler didn't disclose to fans who the headliner would be, and they were expecting his Odd Future partner Frank Ocean to perform.
Instead, they got the biggest hip-hop superstar of the past decade, but apparently, Drizzy wasn't good enough. After a few songs, Drake was not feeling the crowd's energy, and video circulating social media shows him politely asking the crowd if they would like him to continue. "Like I said, I'm here for you tonight, if you want to keep going, I will keep going tonight. What's up?" the "Controlla" rapper said. "If you want to keep going, I will keep going tonight." But the crowd continued to boo, and Drake excused himself from the stage. "It's been love, I love y'all, I go by the name of Drake." You can hear a fan in the crowd scream that they wanted to see Frank Ocean instead of the Canadian MC.
By Monday morning Drake and Frank Ocean were both trending on social media. Many fans were in disbelief that a crowd could be unsatisfied with a performance from Aubrey Graham himself. Other MCs like Dreamville's JID and TDE's Reason gave Drake props for handling the situation so professionally.
Camp Flog Gnaw boo'd Drake off the stage ???? pic.twitter.com/zPxdNKCTUw

— VERSACEBOYENT (@versaceboyent2) November 11, 2019
DJ Akademiks claimed he spoke to Drizzy after the incident, and he seemed to have called it a humbling experience. "[It was a] moment of humility which is always welcomed." He also told Akademiks it "was just not my night. Wasn't who they wanted to see."
Drake is taking it in stride tho… he told me personally regarding the camp flog gnaw performance it's a "moment of humility which is always welcomed". He also added "was just not my night. Wasn't who they wanted to see".

— DJ Akademiks (@Akademiks) November 11, 2019
Drake cuts show short after Tyler The Creator Fans boo him off stage. Tyler has since addressed the issue on Twitter while chewing out his fans for what happened.
"I THOUGHT BRINGING ONE OF THE BIGGEST ARTIST ON THE F***ING PLANET TO A MUSIC FESTIVAL WAS FIRE! BUT FLIPSIDE, A LIL TONE DEAF KNOWING THE SPECIFIC CROWD IT DREW," he tweeted. "SOME CREATED A NARRATIVE IN THEIR HEAD AND ACTED OUT LIKE A**HOLES WHEN IT DIDNT COME TRUE AND I DONT F**K WITH THAT."
I THOUGHT BRINGING ONE OF THE BIGGEST ARTIST ON THE FUCKING PLANET TO A MUSIC FESTIVAL WAS FIRE! BUT FLIPSIDE, A LIL TONE DEAF KNOWING THE SPECIFIC CROWD IT DREW. SOME CREATED A NARRATIVE IN THEIR HEAD AND ACTED OUT LIKE ASSHOLES WHEN IT DIDNT COME TRUE AND I DONT FUCK WITH THAT

— Tyler, The Creator (@tylerthecreator) November 11, 2019
THIS NIGGA DID FEEL NO WAYS! SONG IS BEAUTIFUL. ALSO, MOSTLY EVERYONE WAS HAVING A GREAT TIME, THOSE SHITS IN THE FRONT AREA WERE THE ONES BEING MAD RUDE, WHICH, I CAN SEE WHY, BUT, NAH, FUCK THAT, YALL REPRESENTED ME AND FLOG TO MY GUEST AND MADE US LOOK SOOO ENTITLED AND TRASH

— Tyler, The Creator (@tylerthecreator) November 11, 2019
LIKE, I LOVE THAT SONG AND THOUGHT THAT WOULD NEVER HAPPEN…….HE REALLY DID THAT FOR ME AND I APPRECIATE IT BECAUSE HE DID NOT HAVE TO COME AT ALL, SEE OUR WORLDS COME TOGETHER WAS SO GREAT IN THEORY

— Tyler, The Creator (@tylerthecreator) November 11, 2019
AGAIN, THANK YOU DRAKE! ( IM FUCKING PISSED HOTLINE BLING WAS NEXT THATS MY FUCKING SHIT IM GONNA PLAY THAT IN THE SHOWER RIGHT NOW) <3

— Tyler, The Creator (@tylerthecreator) November 11, 2019