Vybz Kartel and Shawn Storm are growing impatient over their appeal case, and the layers are feeling it.
The dancehall stars and their co-convicts have been waiting on a decision from the Court of Appeal for almost a year. The court has not indicated when the verdict will be reached and now Vybz Kartel and Shawn 'Storm' Campbell are stepping up pressure on their attorneys over the lengthy wait. Attorney Bert Samuels, who represented Campbell in the case, says he is under severe pressure from his client, but at the same time want the court to thoroughly review the case and reach a good conclusion.
"We are under so much pressure from the client, but we want the court to give us a good judgment, so we do not take on the court," Samuels said.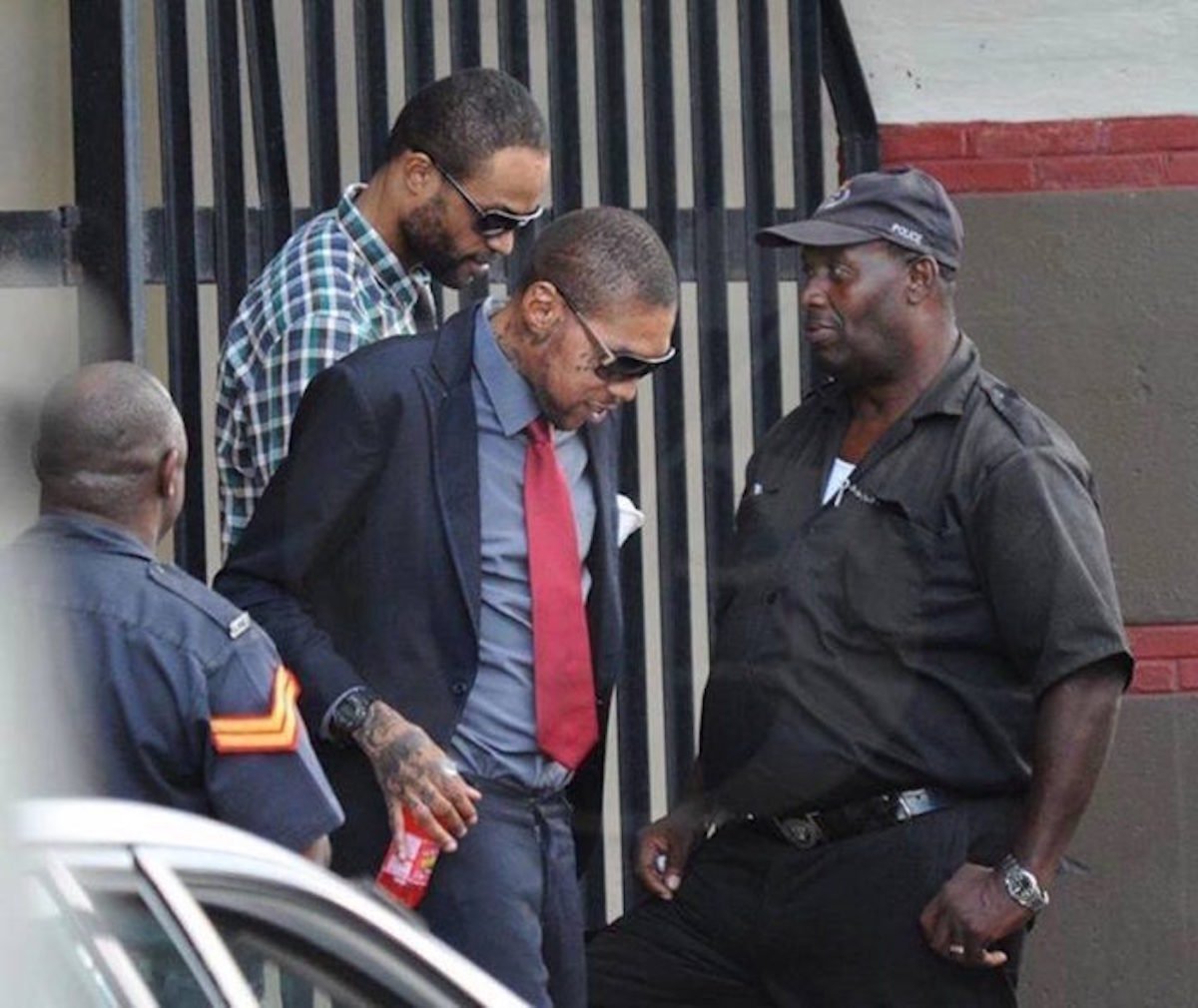 Vybz Kartel's attorney, Valerie Neita-Robertson, has indicated that she would be inquiring with the Court of Appeal sometime this week for an update. "I plan to go and enquire next week," Neita-Robertson said.
Vybz Kartel and Shawn Storm are hoping that the court will give them full acquittal and not a retrial where they could be convicted again. "He is hoping that his appeal will be allowed, and there will be no order for retrial," Samuels continues.
The attorneys argued in the Court of Appeal last year July that a retrial would give the prosecution a second try to correct all the wrongs they did in the original murder trial in 2014. The defense argued that there were numerous things wrong with the case that prevented their client from getting a fair trial.
Vybz Kartel, born Adidja Palmer, Shawn 'Storm' Campbell, Kahira Jones, and Andre St John, are all serving life in prison for the beating death of Clive 'Lizard' Williams who police said was killed over two missing guns belonging to Kartel.
Munga Honorable Drops Visuals For His "Stars" Single
Munga Honorable drops the visuals for his new single "Stars."
Munga Honorable continues his comeback to mainstream dancehall with an afro inspired tune. The song "Stars" shows the Deejays versatility as it differs in style from anything I've heard from him before. Released with a high-quality music video, its clear Munga expects further success with this track. The song alludes to a party environment and extravagant spending ( braffing) consistent with the vibe of the summer season. His experience is evident as he plays with melodies and flows all throughout the song.
It definitely seems the game was missing Munga over the years as his recent tracks have all hit the mark with the monster hit "Nah mad" accompanied by "Fiery" and the ambiance blazing the trail "Stars" hopes to continue. It's a song I highly recommend, be sure to give it a listen.
Bounty Killer Aging Like Fine Wine "47 fit me better than 27"
Bounty Killer is really feeling himself right now and rightfully so.
The dancehall kingpin says he is proud of the fact that three years shy of 50, and after more than 27 years in Jamaica's music industry, he is aging like fine wine. "Gyal dem say mi aging gracefully; handsome dem wah hold mi ransom and 47 fit me better than 27," the Killa declared recently in an Instagram post, which attracted more than 10,000 and hundreds of comments from adoring female fans.
Bounty Killer, born Rodney Pryce in Kingston in 1972, grew up in the battle-hardened community of Seaview Gardens in Jamaica's capital, Kingston. He celebrated his 47th birthday two weeks ago on June 12, 2019.
The artiste, who stands at six feet two inches tall, has credited the practicing of good eating habits learned from his late mother Miss Ivy, as well as doing push-ups, for his sleek form and youthful appearance.
His tendency to spend copious amounts of time with his own children, as well as chilling with, and mentoring other youngsters through his foundation, may also be having some impact on the Killer maintaining his youthful looks.
Less than two weeks ago, he was in the company of several at-risk boys in Kingston, providing motivational talks as a part of #OurSons – an interactive session for boys and young men under the Bounty Killer Foundation.
The doting dad was also recently captured in a photo, sitting in the stands at one of his younger daughter's school's sports day where he took time out to give her his undivided support.
The self-proclaimed Poor People Governor shot to prominence in 1992 and became a household name following the legendary clash with arch-rival Dancehall artiste Beenie Man a year later at the Sting 1993 show, at Jamworld in St. Catherine.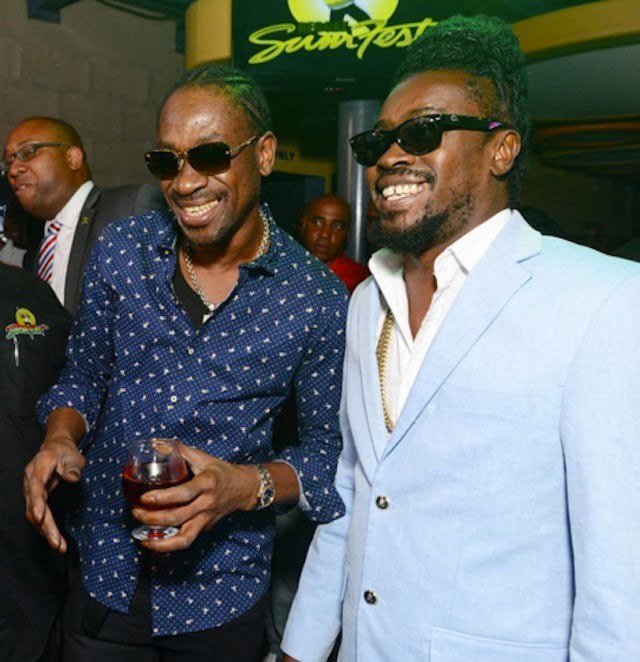 This year at Reggae Sumfest, Bounty will square off with Beenie Man, in a much-anticipated friendly musical rivalry stint on Friday night, July 19, at the Catherine Hall venue in a segment dubbed 'One night, one stage, two legends,' a performance the artiste has predicted will be explosive.
His almost three-decade musical span has seen the release of iconic tracks such as the sound-system clash classic, Dub Fi Dub, Copper Shot and Spy Fi Die in his early Dancehall days, appearances on Multi-platinum discs, recording with some of the biggest names in world music, a joint Grammy and a plethora of other accolades.
H.E.R. and YBN Cardae Are All About "Racks" Of Cash This Summer
H.E.R. and YBN Cordae are all about their "Racks" of cash this summer.
The pair performed the single "Lord Is Coming" on Sunday night at the 2019 BET Awards in Los Angeles. The R&B singer showcases her vocals over a midtempo beat while singing about the dangerous nature of material things. YBN Cordae, on the other hand, raps about his hunger to find love. The rapper recently dropped off his new single "Bad Idea" which is doing very well.
"Honey, help me get by, it don't matter if I / Caught myself expensive things, buy myself a diamond ring / Married to the mula, still ain't got no lover / Lookin' all I see is green, wonder can you buy me these?" H.E.R. sings.