A mother has donated her kidney to a firefighter after he saved her two-year-old's life.
Becca Bundy, from Minnesota in the US, called paramedics in August 2016 when her daughter, Hadley, was having a seizure, Daily Mail reports.
Volunteer firefighter Bill Cox (66), who has first-aid training, responded to the call and managed to stabilise the tot before the ambulance service arrived.
"He seemed to care. It wasn't just another call to him," the mom told Kare11.
Two years later Becca spotted Bill at the Viking Bar, where he's been working for 16 years. The barman was wearing a bright green T-shirt with a plea for a kidney donor.
"My name is Bill. I'm in end-stage kidney failure and in need of a kidney," the T-shirt said. Bill was born with only one kidney that was failing and he was placed on a transplant list in 2017.
"I couldn't get it out of my head," Becca said. She got herself tested and believed she was the one even before she was confirmed as a match.
The kidney transplant took place in February this year at the University of Minnesota Medical centre.
Bill is now dialysis-free and lives with his wife, Terry.
Both Bill and Becca are recovering from the surgery. They've become very close and view each other as family, Metro reports.
"I feel pretty blessed to be chosen to be on his journey with him," Becca said. "It's that lifetime bond that'll never go away."
Sources: Daily Mail, Metro, CNN 
Image credit: Facebook
HMP Birmingham: Scanner funding failure 'inexplicable'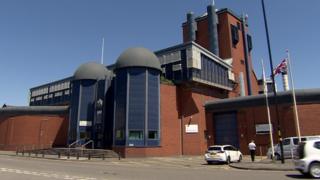 A troubled jail's failure to secure funding for a body scanner to help stop drugs being smuggled in is "inexplicable", the chief inspector of prisons has said.
A progress review inspection has found a "mixed overall picture" at crisis-hit HMP Birmingham.
The prison was taken back into public ownership after private company G4S had its contract terminated.
The latest inspection said the prison faces a "long journey of recovery".
In August 2018 Peter Clarke, chief inspector of prisons, said the Winson Green jail was the worst he had come across.
Mr Clarke said the scale of the task to improve the treatment and conditions for prisoners was "huge".
The independent review of progress carried out by HM Inspectorate of Prisons in May followed up nine of 59 recommendations.
HM Inspectorate of Prisons findings:
The prison had worked "exceptionally hard" to address violence. Levels had decreased but remained considerably higher than average for similar prisons
There was no meaningful progress in work to support the large number of sex offenders to address their offending behaviour
There was insufficient progress in tackling anti-social behaviour and in improving work, training and education for most prisoners
Reasonable progress was made in tackling violence, drug use and squalor evident in an inspection last summer
The report said that while inspectors no longer observed overt drug use on the wings, one in four prisoners were still testing positive for drugs.
It added a good range of actions had been implemented, including a new team to carry out "suspicion-based searching".
However, it added: "The need for electronic body scanners to identify contraband concealed by prisoners on entry to the prison and additional mail scanning equipment to detect letters impregnated with illegal substances had been identified.
"However, to date the prison's bids for funding for this equipment had been unsuccessful."
Mr Clarke said: "I found it inexplicable that the prison had been unable to secure funding for equipment such as a body scanner to help them stop drugs entering the prison."
'Likely to fail'
Last year's inspection found the prison was "fundamentally unsafe", with many prisoners and staff living and working in fear.
But following the latest visit, Mr Clarke said relationships between staff and prisoners had improved and the prison felt "more ordered and controlled".
Of the nine recommendations looked at, inspectors found reasonable progress had been made in five and insufficient progress in three.
It also found no meaningful progress had been made over a recommendation to implement a strategy to help sex offenders address their behaviour.
Mr Clarke warned its sex offenders strategy was "unrealistic and likely to fail" as it had no support from the wider HM Prison and Probation Service.
He said: "There is no doubt that the prison faces a long journey of recovery. It is very clear that the governor, through his vision and very visible leadership, has energised the staff and undoubted pride and optimism are emerging around the prison."
Roger Swindells, chair of the prison's independent monitoring board, said plans put in place to support sex offenders, needed to be "monitored and challenged".
He said there had been "significant improvement in the way in which acts of violence are now investigated" and added the board could see "visible and tangible efforts to both disrupt the supply of drugs into the prison".
Follow BBC West Midlands on Facebook, on Twitter, and sign up for local news updates direct to your phone.
Big tech is under fire. Could that mean it's time to bu…
The big tech companies nicknamed FAANGs (Facebook, Apple, Amazon, Netflix and Alphabet's Google) are in the crosshairs of policymakers and regulators, now more so now than ever. As ever, the issues are tax avoidance, data privacy issues or concerns around concentration risk. In the past, they rewarded investors despite the regulatory pressure. But could it be different this time? Or does the recent dip mean its time to buy?
When word leaked about possible antitrust investigations by the American Justice Department and the Federal Trade Commission, stock prices of Facebook, Amazon , Apple , Netflix and Alphabet – the parent company of Google – were crushed.  The so-called FAANG stocks lost nearly $140 billion in value on the day.
Activists say that Big Tech has too much power and needs to be broken up. Senator and Democratic Party presidential candidate Elizabeth Warren tweeted that "…they're using that power to hurt small businesses, stifle innovation, and tilt the playing field against everyone else."
But Victor Mupunga, Research Analyst at Old Mutual Wealth Private Client Securities, says the so-called network effects could make splitting off parts of Facebook an ineffective avenue for spurring innovation.
Part of the reason Facebook is so powerful is that everyone is already using it, making it hard for small incumbents to compete. Even if Instagram or Whatsapp were to be split off, they might simply become the new dominant network, barely changing the status quo.
"Breaking up Facebook without doing anything else probably isn't going to solve that problem," he says. "Because you might have a new monopoly just re-emerge through that network effect."
Another issue is that antitrust laws are intended to address competition problems, not some of the other concerning practices of big tech companies, like how they handle consumer data, he adds.
Experts say the latest onslaught, however, could be a blessing in disguise for investors as it presents a massive buying opportunity.
This after the FANG stocks were already bleeding money from the fallout from the US-China trade war.
The friction is posing a great risk to these companies, says Kyle Hulette, head of asset allocation at Sygnia who heads up the asset manager's FAANG Plus Equity Fund –  a high-risk dynamically-managed fund, which was launched last year. He says the performance of shares came off significantly.
He says tariffs are the least of the corporate economy's problems, it is tech carnage that they should be concerned about.
According to a recent JP Morgan Report, the US tech sector has a revenue exposure of 27%to the Chinese market – the highest portion of the S&P 500. To put that into perspective, the second largest allocation in the index is consumer discretionary, which stands at 4%.
But it is not only Washington that is looking to draw blood.
Digital music application, Spotify, has managed to convince EU regulators to investigate the business practices of Apple's app store, which they allege is uncompetitive, by being able to control and participate in the distribution pipeline. Spotify has stated that Apple is gaining an unfair advantage by being both the playing field and a competing participant with apps like Apple music.
No formal announcement has been made but the Financial Times has reported that a public announcement on the matter will be made in the next month or two.
Amazon is already under investigation for similar behaviour by EU competition authorities, which are in the process of studying the retail behemoth's dual role as a seller of its own wares and platform for rivals.
Furthermore, Apple is facing a consumer class action back home, where users are contesting the 30% commission charged by Apple on revenue generated from apps hosted on their platform. The Supreme Court has recently that the plaintiff group's case holds water and the case is allowed to go forward.
If this comes to fruition, together with the investigation in Europe, Apple will be fighting legal battles on both sides of the Atlantic Seaboard.
Meanwhile, experts say the chances of these companies being broken up are slim and their fundamentals point to further long-term growth. So cheaper trading levels could be a good entry point for investors looking for exposure to some of the best-performing stocks in recent years.
Analyst consensus for Amazon and Apple is a buy, stating the latter is particularly attractive at current levels trading at just 15 times their annual earnings.
The market also likes Facebook's value proposition. Consensus expectations are for the stock to hit $221.5 a share this year, which would see a 32% upside on the current price.
But if history is anything to go by, and even if state agencies aren't successful in their bids to break up company structures, their efforts can still cost investors. Antitrust lawsuits create massive distractions, enormous legal bills and cast a shadow over companies.
The thee most well-known examples of antitrust lawsuits: IBM, AT&T and Microsoft, stock valuations deteriorated during years-long periods of litigation — and sales growth decelerated even after the cases were decided.
"Similarities among historical outcomes suggest that investors should reduce exposure to any stock that becomes subject to an antitrust lawsuit," Goldman Sachs writes.
AT&T, which controlled more than 70% of sales among public US telecom companies between 1950 and 1980, according to Goldman Sachs.
In 1974, the United States sued to break up Ma Bell. The case took eight years to be decided — and dealt a sizable blow to AT&T's valuation along the way.
AT&T's relative price-to-book multiple tumbled from 1.3 in 1974 to 0.7 after the breakup was ordered, Goldman found.
Like AT&T, Microsoft's once-lofty valuation shrank to more pedestrian levels during the time of a similar lawsuit.
Microsoft faced an antitrust lawsuit in 1998 due in part to the commanding position of its Windows operating system.
And Goldman Sachs found that Microsoft's valuation continued to rapidly decline — even slipping out of the S&P 500 — until 2011 when the settlement with the government expired.
And there is much more room for these big tech companies to fall. Big Tech may have become too successful for its own good, especially in today's shrinking stock market.
Google and Facebook laid claim to 87% of last year's sales within the interactive media & services space, the firm found. Google alone accounted for 63% of the sales.
And while Amazon makes up just a small slice of the massive retail industry, it generated 72% of last year's revenue in the internet & direct marketing retail space, Goldman found.
In many ways, this dominance fueled the rise of these superstar stocks, enabling them to wrack up monster sales growth, enviable margins and lofty valuations.
So exposure to this sector remains a risky one, and Hulett says he does not advocate a significant portion of your portfolio be invested in this offshore sector.
Want to watch Richard Poplak's audition for SA's Got Talent?
Who doesn't? Alas, it was removed by the host site for prolific swearing*… Now that we've got your attention, we thought we'd take the opportunity to talk to you about the small matter of book burning and freedom of speech.
Since its release, Pieter-Louis Myburgh's book Gangster State, has sparked numerous fascist-like behavior from certain members of the public (and the State). There have been planned book burnings, disrupted launches and Ace Magashule has openly called him a liar. And just to say thanks, a R10m defamation suit has been lodged against the author.
Pieter-Louis Myburgh is our latest Scorpio Investigative journalist recruit and we're not going to let him and his crucial book be silenced. When the Cape Town launch was postponed, Maverick Insider stepped in and relocated it to a secure location so that Pieter-Louis' revelations could be heard by the public. If we've learnt one thing over the past ten years it is this: when anyone tries to infringe on our constitutional rights, we have to fight back. Every day, our journalists are uncovering more details and evidence of State Capture and its various reincarnations. The rot is deep and the threats, like this recent one to freedom of speech, are real. You can support the cause by becoming an Insider and help free the speech that can make a difference.
*No video of Richard Poplak auditioning for SA's Got Talent actually exists. Unless it does and we don't know about it please send it through.
---
Comments – share your knowledge and experience
Please note you must be a Maverick Insider to comment. Sign up here or if you are already an Insider.
Nuro's Pizza Robot Will Bring You a Domino's Pie
Nuro, the self-driving delivery company started in 2016 by a trio of Google veterans, is moving into the pizza game. Later this year, Nuro's robot will start delivering Domino's pies and cheesy breads to customers in the Houston area.
The robot in question is the R2, the yet-to-be-revealed version of Nuro's R1 vehicle, which is about half the size of a sedan and resembles an avant-garde handbag. It's made exclusively for carrying goods—there's nowhere for a human to fit, let alone drive. Since last year, it has been moving groceries for Kroger in Scottsdale, Arizona, and in Houston. For this Domino's deal, hungry robophobes can opt for a human delivery. Those OK with the robot will be issued a code to enter into a screen on the bot that opens one of its two compartments so they can collect their melted cheese and whatnot.
Alex Davies covers autonomous vehicles and other transportation machines for WIRED.
For Domino's, the Nuro deal is just the latest in a long string of tech-enabled delivery tactics. In 2017, it ran a short pilot with Ford's autonomous vehicles in Ann Arbor, Michigan, and worked with Starship Technologies to greet its customers with sidewalk delivery robots in Europe. The year before that, in New Zealand, it used drones to move its pies through the skies. Because while you may think of it as the joint that kept you from starving after the college cafeteria closed, Domino's is in fact an international logistics giant—one facing a driver shortage, with about 10,000 positions open in the US. It's hoping robots, drones, or whatever else scoots out of Silicon Valley can help.
Nuro declined to share the financial details of the deal, but considering it raised $940 million from Softbank in February, it's likely not too worried about what it can make from the pilot project. The bigger point is to continue exploring new options for how autonomous vehicles can become actual businesses that take humans off the street. Given that Waymo is running a ride-hail service in Arizona, May Mobility is operating shuttles in Detroit and Rhode Island, and sundry robo-truck companies are hauling goods in Florida and the southwest, Nuro's is just the latest deal in an autonomous vehicle industry that is slowly moving away from the R&D stage. Companies that are spending hundreds of millions or even billions of dollars to take the human out of the loop are eager to start bringing in a little cash.
This new partnership will start small, says Nuro chief of strategy and partnerships, Cosimo Leipold. Likely kicking off in the fourth quarter, a single R2 vehicle will handle some deliveries for one Domino's location in Houston. The R2 doesn't have room for a safety driver inside, so the company will send a chase vehicle along to keep an eye on the bot and intervene if it gets into trouble.
As it goes along, Nuro will study how moving 'za changes its model—whether its robots will require heated compartments, or special trays, or a different dispatch system. Nuro's grocery customers select an hourlong delivery window when they place their order, so it can orchestrate its deliveries throughout the day. "Everything is much more on-demand," Leipold says. "With grocery, it's a little bit more scheduled, less peaky." One goal of this partnership is to figure out how to deliver a product that customers usually expect in the next half hour, even when half the neighborhood is ordering at the same (dinner) time.
Whatever it learns, Nuro will eventually look to deploy a proper fleet of slice-slinging robots, serving several stores. (The startup will start with a corporate-owned location before looking to work with franchisees, so any early tech or operational troubles won't risk hurting a small business owner.) And it will work to take away that chase vehicle, Leipold says. Otherwise, the economics just won't work—and Nuro's business will go down faster than Domino's best pepperoni pie.
---
More Great WIRED Stories