Tokyo Energy & Systems Switches to Rimini Street for SAP Application Support (Photo: Business Wire).
Rimini Street, Inc. (Nasdaq: RMNI), a global provider of enterprise software products and services, the leading third-party support provider for Oracle and SAP software products and a Salesforce partner, today announced that Tokyo Energy & Systems Inc., a leading construction company in Japan that installs and maintains equipment for power plants and substations, has switched to Rimini Street for support of its SAP application. By switching to Rimini Street, Tokyo Energy & Systems immediately realized savings of 50 percent in annual support fees, plus saved time, cost and resources previously used for their ERP operations, and has utilized these cost savings to improve their mail system, groupware and security system. Tokyo Energy & Systems is also planning to apply the savings toward the implementation of IoT devices that collect environmental data and maintenance needs from the company's electrical facilities.
This press release features multimedia. View the full release here: https://www.businesswire.com/news/home/20190516005014/en/
ERP Cost Analysis Leads to Operational Efficiency
Tokyo Energy & Systems has deployed nearly 1,500 SAP licenses since 2014 for accounting, inventory control, payroll processing and work management. The initial purpose of the ERP implementation was to centrally manage codes that are used to run and maintain construction sites nationwide. The company planned to start operating its ERP system one year after implementation, however it took two years to get the system fully operational because of the time required for user training which in turn caused delays in customizing their SAP system.
Although the system has been operating steadily since that time, the cost of running the hardware had become a long-standing issue and they decided to begin migrating to an Infrastructure as a Service provider in 2018. Additionally, the company conducted a review of their SAP platform, and the high maintenance costs were identified as a priority to address. During this process of examining their support costs, third-party support was raised as an option and, as a result, Rimini Street was selected.
"We were able to centrally manage construction sites by implementing the SAP platform, however the delay in getting the system operational greatly exceeded our planned schedule and the enormous costs to operate the system became a problem," said Kotaro Matsuhashi, manager of ICT Promotion Department, Tokyo Energy & Systems. "Switching to Rimini Street, and migrating to the cloud, has allowed us to save substantial budget that has been used for updating our IT environment for construction sites across the country as well as improving our internal operational efficiency."
Enhanced Support Model Accelerates Improvements for IT Environment
Tokyo Energy & Systems now receives an ultra-responsive, premium-level support for its current, stable SAP system for a minimum of 15 years from the time they transitioned to Rimini Street. The company was assigned a senior level Rimini Street Primary Support Engineer (PSE) – PSEs have an average 15 years' experience – and receives Rimini Street's industry-leading service level agreement (SLA) guaranteeing access to a team of local engineers 24/7/365 to address support issues and a 15-minute response time for Priority 1 critical cases.
"In the past, it took substantial time for the vendor to respond to our numerous IT service requests, which became a glaring problem," said Masato Douzono, chief of the ICT Promotion Group, Tokyo Energy & Systems. "Now we receive rapid and precise support from Rimini Street, and the time we spend on system issues has been significantly reduced. Our team is able to concentrate on improving and advancing our IT environment instead of having to constantly manage our support issues with the vendor."
Taking Back Control with a Business-Driven Roadmap
Tokyo Energy & Systems was able to successfully redirect their resources into updating and modernizing the organization's IT infrastructure while taking back control of their IT roadmap by choosing a business-driven roadmap powered by Rimini Street designed around their business objectives.
"We renamed the Information System Department to ICT Promotion Department in 2018 and modernized our IT infrastructure," said Yukihiro Kurihara, executive officer and general manager of the ICT Promotion Department, Tokyo Energy & Systems. "Leveraging Rimini Street services, our support costs were cut in half and we were able to free up internal resources which was a welcomed change. This allowed us the opportunity to take on new IT challenges, and work toward the actualization of our own business-driven IT roadmap versus following the roadmap of the vendor. Part of our future plans include extending our business to post-construction operation management of power facilities."
"Tokyo Energy & Systems realized that to remain competitive and agile, they needed to advance their IT infrastructure to stay at the forefront of digital innovation," said Yorio Wakisaka, general manager, Japan, Rimini Street. "By moving to Rimini Street, the organization was able to quickly transform their IT environment, which enabled the IT department to become more efficient, driving business growth and competitive advantage in a transforming energy market. The company regained control of their IT roadmap by freeing themselves from vender lock-in, and now they can maintain their current, stable SAP application while planning for the future on their terms."
Puerto Rico governor refuses to resign as island braces for big protest
(Reuters) – Puerto Rico's governor on Sunday said he would not seek re-election next year but refused to resign as the island braced for more protests by demonstrators demanding he step down over leaked chat messages.
A day before a planned general strike and street demonstrations in the bankrupt U.S. territory, Ricardo Rossello, 40, said he respected the wishes of Puerto Ricans and would not seek a second term in November 2020 elections.
He also said he would resign as head of the New Progressive Party (PNP) but would remain as governor until the end of his term in January, 2021.
"I know that apologizing is not enough," Rossello said in a video posted on Facebook. "A significant sector of the population has been protesting for days. I'm aware of the dissatisfaction and discomfort they feel. Only my work will help restore the trust of these sectors and lead the way to real reconciliation."
His comments drew outrage from the many Puerto Ricans, with videos on social media showing San Juan residents leaning out of apartment windows banging pots and pans in a third day of so-called "cacerolazo" protests.
The July 13 publication of offensive chat messages between Rossello and top aides has unleashed simmering resentment over his handling of devastating 2017 hurricanes, alleged corruption in his administration and the island's bankruptcy process.
"'#Resign Ricky isn't just a call for him to resign from the party, but from his seat as the top official," tweeted Linda Michelle, an industrial engineer and Puerto Rico radio personality. "Whoever wasn't sure about going to the march tomorrow has now made up their mind to go."
Puerto Rico's non-voting representative to the U.S. Congress, as well as Democratic presidential candidates and lawmakers have called for the governor to step aside after nine days of sometimes violent protests.
"Once again: Rosselló must resign," tweeted U.S. Representative Alexandria Ocasio-Cortez in response to his video.
But Puerto Rico's Senate President Thomas Rivera Schatz, a member of the pro-statehood PNP, said Rossello's actions "put an end to part of the controversies and trauma hitting our people" and his ruling party now had to rebuild confidence in their leadership.
In the online chats revealed by Puerto Rico's Center for Investigative Journalism, the center-right governor and his top allies referred to politicians, celebrities and ordinary Puerto Ricans in misogynistic, homophobic and offensive terms.
The speaker of Puerto Rico's house of representatives appointed an independent panel on Friday to investigate whether the chats warranted impeachment and gave it 10 days to deliver a report.
Slideshow

(8 Images)
"I have to respect the constitutional order and welcome the process started by the legislative assembly," Rossello said in the video.
The latest unrest comes at a critical stage in the U.S. territory's bankruptcy process as it tries to restructure around $120 billion in debt and pension obligations.
It has also raised concerns among U.S. lawmakers who are weighing the island's requests for billions of federal dollars for healthcare and work to recover from Hurricane Maria, which led to nearly 3,000 deaths.
Reporting by Andrew Hay in Taos, New Mexico; Additional reporting by Luis Valentin Ortiz in San Juan and Karen Pierog in Chicago; Editing by Peter Cooney, Dan Grebler and Daniel Wallis
Mexico says dodges bullet on 'safe third country' talks with U.S. after stemming migrant flows
MEXICO CITY/SAN SALVADOR (Reuters) – Mexico said on Sunday it averted the so-called "safe third country" negotiations with the United States it desperately wanted to avoid after U.S. Secretary of State Mike Pompeo praised Mexican efforts in reducing U.S.-bound migrant flows.
But Pompeo, while praising Mexico's efforts, said there was still "more work to do."
Pompeo met with Mexican Foreign Minister Marcelo Ebrard on Sunday in Mexico City amid heightened bilateral tension ahead of a July 22 deadline on a deal that removed tariff threats on Mexican exports.
An agreement reached in June laid out that if the United States deems that Mexico has not done enough to thwart migrants by the deadline, the two countries would begin talks over changing rules to make most asylum seekers apply for refuge in Mexico, not the United States.
Ebrard said considering the advances Mexico had made, it was not necessary to "initiate any type of negotiation on a safe third country agreement between Mexico and the United States."
Pompeo, however, was less definitive. He praised the progress made by Mexico in helping cut apprehensions on the U.S. southern border by a almost a third last month, but added: "We've got a long way to go yet. There's still much more work to do.
"As for the next set of actions, I'll talk with the president and the teams back in Washington and we'll decide exactly which tools and exactly how to proceed," Pompeo said at a news conference in San Salvador, the last leg of a short Latin American tour.
Mexico argues it has followed through on its commitment to reduce migration from Central America, underscoring that apprehensions of migrants on the southern U.S. border dropped roughly a third to about 100,000 in June. Mexico has deployed some 21,000 militarized National Guard police to decrease the flow of people.
Under the agreement, Mexico averted punitive tariffs on U.S.-bound Mexican shipments threatened by President Donald Trump by promising to cut the number of illegal migrants traveling from Central America to the U.S. border.
The meeting between the nations' two top diplomats came a day before the end of the 45-day period and as U.S lawmakers wrangle over a regional trade deal meant to replace the current North American Free Trade Agreement (NAFTA).
The Mexican ambassador to Washington, Martha Barcena, on Thursday said "we have said once and again that we are not ready to sign" any such safe third country agreement.
Slideshow

(6 Images)
Trump has made immigration a cornerstone of his presidency and pledged to build a wall on the southern border with Mexico in his 2016 run for office. He has since fought with Congress and in the courts for funding to pay for it.
His administration announced sweeping new asylum rules last Monday that bar almost all immigrants from applying for asylum at the U.S.-Mexico border by requiring them first to pursue safe haven in a third country through which they had traveled on the way to the United States.
However, Mexico has long resisted U.S. pressure to formally accept the safe third country status.
Reporting by Anthony Esposito in Mexico City and Nelson Renteria in San Salvador; Editing by Nick Macfie and Dan Grebler
Imran Khan: Pakistan PM to meet Trump in bid to mend ties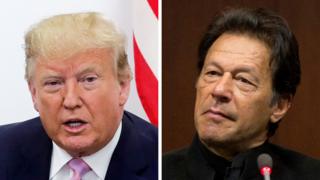 Pakistani Prime Minister Imran Khan is due to visit the White House for his first face-to-face talks with US President Donald Trump.
The meeting is part of a push to mend relations, which have been strained by the Afghan conflict.
Mr Trump reduced security aid to Pakistan early last year, accusing the country of "lies and deceit".
Mr Khan said US assistance was "miniscule" compared with what the US-led "war on terror" had cost Pakistan.
Since he won Pakistan's general election just under a year ago, he has called for "mutually beneficial" ties with America, while remaining an outspoken critic of US anti-terrorist tactics such as drone strikes.
The Trump administration is trying to negotiate its military withdrawal from Afghanistan with the Taliban, a militant group it has long accused Pakistan of supporting.
As well as counter-terrorism and defence, the two leaders are likely to discuss trade and investment as Mr Khan battles to fend off a balance of payments crisis after a bailout from the International Monetary Fund.
How did relations fray last year?
Since Donald Trump took office in 2017, his administration has adopted a hard line against Pakistan, accusing it of supporting Islamist militants and misleading the US over the issue – charges Islamabad denies.
Mr Trump began 2018 by promising on Twitter to end "foolish" aid to the country.
As much as $2bn (£1.6bn) in US security assistance has been suspended.
After Mr Trump tweeted again in November to remind Pakistan that 9/11 mastermind Osama Bin Laden had lived there before finally being hunted down by US forces, Imran Khan shot back to "put the record straight" on which country had paid more to defeat terrorism.
However, a couple of months before that Twitter clash, US Secretary of State Mike Pompeo had already raised the prospect of a reset with the new government of Mr Khan.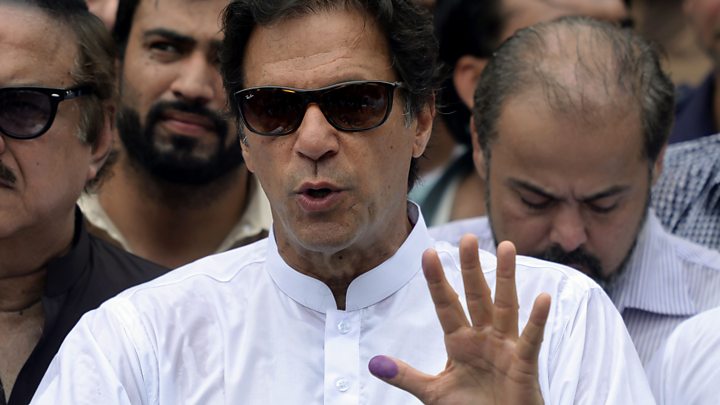 According to Pakistan's foreign office, Mr Khan's visit "will help renew and reinvigorate long-standing ties between Pakistan" and the US.
Adding to the positive mood music came a new tweet from Mr Trump on Wednesday, announcing that Pakistan had arrested the "mastermind" of the 2008 terror attacks in the Indian city of Mumbai, after a search lasting two years.
In actual fact, the man arrested, Hafiz Saeed, has been arrested and freed several times by the Pakistani authorities over the past two decades. Far from hiding, he has even addressed rallies and campaigned in recent Pakistani elections.
Pakistan will hope the arrest will help persuade the Financial Action Task Force (FATF), a global watchdog against money laundering and terrorism financing, not to blacklist it in the coming months.
Khan and Trump basics
How crucial is Afghanistan to the relationship?
Writing in Foreign Policy, Sherry Rehman, Pakistan's ambassador to the US between 2011 and 2013, argues that "stabilizing Afghanistan is Pakistan's only real trump card" in its dealings with the US.
Pakistan has always denied it was the architect of the Taliban. It was one of only three countries to recognise them after they took power in Afghanistan in 1996 and the last to break diplomatic ties when US-led forces ousted the movement after the 9/11 attacks in 2001.
Few observers doubt that Pakistan has been instrumental in getting the Taliban to the table for direct talks with members of the Afghan government this month, a negotiation praised by US lead negotiator Zalmay Khalilzad as a "big success".
The Trump administration is keen to end a war which, according to US officials, costs about $45bn annually, and to withdraw most or all of the 14,000 American soldiers deployed there.
In the opinion of Ms Rehman, Pakistan has already "received some muted recognition of its unprecedented efforts to facilitate these delicate negotiations" in two respects this month:
"Pakistan has been facilitating the US-Taliban talks in good faith, underscoring that it remains a shared responsibility," Foreign Minister Shah Mehmood Qureshi said recently.
"It will therefore be appropriate to work for broader engagement from Afghanistan to bilateral issues, economic and trade co-operation, to peace and stability in South Asia."
What are Khan's economic aims?
The US, a major source of foreign investment in Pakistan, remains its largest export market, so trade is very much on the agenda in Washington.
However, financial pressures have led Pakistan to go further afield in search of aid and it attracted Saudi pledges of investment deals worth $20bn this year.
Given that Pakistan is so strapped for cash, Mr Khan has been keen to portray an image of austerity. He used to be known as a celebrity playboy but now styles himself as a pious, anti-poverty reformer.
Reports say he plans to stay at the Pakistan ambassador's residence in Washington, rather than waste money in an expensive hotel.
Pakistan has also been seeking new assistance from China, its biggest foreign investor and also a major aid donor.
So Imran Khan must tread a delicate path between Mr Trump's America and its economic arch-rival, Beijing.