Cardi B has pulled the plug on a major performance set for Memorial Day Weekend due to complications from plastic surgery.
The Bardi Gang leader was billed as a headlining act at the 2019 92Q Spring Bling Festival set for Friday, May 24, in Baltimore, Maryland. Fans who were hoping to see her perform are in for some bad news because she had canceled the performance due to complications from her recent liposuction and breast augmentation. Cardi B recently revealed that she had done liposuction the same day she had a concert.
The exact nature of the complications are not yet known, but sources say she is experiencing some swelling. The "Money" rapper doctor advised her to take a few weeks off work to allow her body to heal. TMZ reported that her complications became so bad that she can't even perform on stage.
It's no secret that Cardi B has been working hard the past couple of weeks with major performances at festivals like Rolling Loud and Coachella. She also launched her Fashion Nova collection, where she performed for her fans. While she is happy raking in millions, the workload appears to be taking a toll on her health.
Cardi B has never been shy about her plastic surgery to get her body to where she wants it to be. On May 5, she performed at the Beale Street Music Festival in Memphis where she told the crowd that she almost canceled the performance due to her liposuction.
#CardiB says her Doctor didn't want her to perform last night bc she's "gonna f*** up her lipo"??? Are y'all here for her keeping it ??!? pic.twitter.com/JjAx4RvUHG

— Power 106 (@Power106LA) May 6, 2019
"I shouldn't really be performing," Cardi said on stage. "I should have canceled today because moving too much is gonna f**k up my lipo. But bitch I'm still gonna get this motherfu**ing money bag, let's go!"
Drake Shares "PAPA" Art From His Son Adonis On Father's Day
Drake shares a piece of art from his son on Father's Day.
The 6 God sends Father's Day shout-outs to all his fans and friends on Sunday, and while at it, he shared a piece of painting on cardboard. You can see the word "PAPA" spelled out in the art. Drake has yet to post a photo of his son, Adonis Graham on Instagram, and it shouldn't come as a surprise since he clearly rapped about hiding the world from his son.
Time is really flying fast. Adonis will be two years old in October this year, and it's been a year since Pusha T told the world that Drake has a secret son on his infamous diss track, "Story Of Adidon." The song forced the Toronto rapper to revamp parts of his Scorpion album to address the controversies surrounding his secret son with porn star Sophie Brussaux. Adonis mother is also a painter, so it's in his DNA.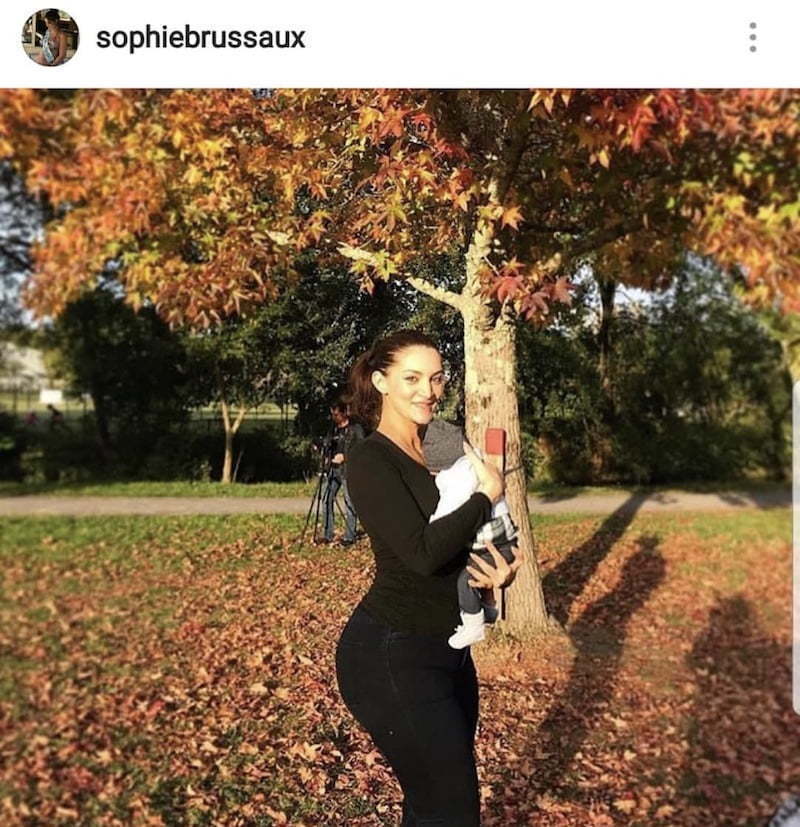 Back in December, Drizzy shared another piece of artwork from his son that he called a Picasso.
Drake appears to still be in a celebratory mood after the Toronto Raptors pulled off a massive upset to defeat the Golden State Warriors in this season of the NBA finals. The championship win echoed all over the world as the franchise take home their first-ever NBA title.
Amber Rose Praises Baby Daddies Wiz Khalifa & Alexander Edwards On Father's Day
Amber Rose praises her baby daddies Wiz Khalifa and Alexander Edwards on Father's Day.
Rose and Wiz Khalifa found a way to peacefully co-parent their son Sebastian Taylor Thomaz, leaving everyone else baffled about how they did it. The blonde bombshell is now expecting baby number two for her new boyfriend Alexander Edwards, who is an executive at Def Jam. It appears that he and Wiz are cool with each other also because she shared a photo of the two of them hanging out and having a good time.
"When y' all both have the coolest Baby Mama Ever!" Amber Rose wrote. "Happy Father's Day to these 2 Incredible Fathers. @wizkhalifa you are an Amazing Father to Sebastian! You're his Super Hero! I feel so lucky that we are always able to coparent and do what's best for Sebastian by any means necessary. Thank you for always making it so easy and seamless."
Amber continues, "@ae4president you Came into our lives and made our World a million times more fun! Ur the coolest Stepdad Sebastian could ask for whether ur getting up early and making him breakfast before school or taking him to Disney Land just to see a smile on his face. Welcome to our Family and Thank you for our New Blessing growing in my belly. #happyfathersday"
Amber Rose and Alexander, aka A.E., have been dating for almost a year now. The pair started seeing each other in the fall of last year, a couple of months after her split from 21 Savage.
Shenseea Pens Heartfelt Letter To Romeich On Father's Day
Shenseea is showing Romeich Major some love on Father's Day.
The "Blessed" dancehall deejay praised her manager for stepping up to help her with her son when she started her music career. "I started working with @romeichentertainment when my boy was 3 months," Shenseea wrote. "Sometimes I wouldn't have anyone to watch him even though I had work but Romeich or his secretaries would always keep an eye on him when I'm in the next room working my ass off recording and writing my songs til he deadass went and buy a play pen and put in his office so whenever Raj would have to come to work with me, he'd be occupied and happy!"
Sine breaking onto the dancehall scene in 2016, Shenseea has always balance being a single mother and following her dreams of becoming a global superstar. She recognized that it wouldn't be possible with Romeich's help especially when it comes to her son.
"I've been through alot but God knew I was always a fighter up to this day! I fought hard to elevate and He #BLESSED me but to all #SingleMoms out there who playing both rolls, u gotta just do what must be done and nuh watch nuh face, I know its hard!" She continues. "I BEEN THROUGH IT! God will elevate u too! TRUST ME! Help me wish Happy Father's Day to @rajeiro__lee 's Father Figure @romeichentertainment he calls him Daddy as well as @xtramajorr do cuz he a great father HAPPY FATHER's DAY to all the committed and loving fathers out there!"