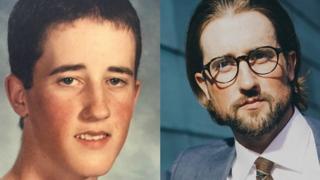 A survivor of the Columbine High School shooting who later became a prominent advocate for fighting addiction has been found dead at his Colorado home.
Austin Eubanks, 37, was shot in the hand and knee in the 1999 Columbine attack, in which 12 of his classmates and a teacher were killed.
He became addicted to drugs after taking pain medication while recovering from his injuries.
Officials say there were no signs of foul play in his death.
Eubanks's body was discovered on Saturday at his home in Steamboats Springs, Colorado, Routt County Coroner Robert Ryg said.
A post-mortem examination to establish the cause of death was planned for Monday.
His family said he had "lost the battle with the very disease he fought so hard to help others face".
"As you can imagine, we are beyond shocked and saddened and request that our privacy is respected at this time," they added in a statement reported by local TV station KMGH.
Eubanks told the BBC in 2017 of how the attack, which killed his best friend, led him to addiction.
"I was medicated on a variety of substances that were intended to sedate and to relieve pain," he said.
"I became addicted before I even knew what was happening."
Eubanks later worked at an addiction treatment centre and travelled the US telling his story and working to improve addiction recovery and prevention.
The Columbine High School shooting took place on 20 April, 1999 when two students killed 12 fellow pupils and a teacher. They then killed themselves.
It was, at the time, the deadliest school shooting in US history.
Mexico says dodges bullet on 'safe third country' talks with U.S. after stemming migrant flows
MEXICO CITY/SAN SALVADOR (Reuters) – Mexico said on Sunday it averted the so-called "safe third country" negotiations with the United States it desperately wanted to avoid after U.S. Secretary of State Mike Pompeo praised Mexican efforts in reducing U.S.-bound migrant flows.
But Pompeo, while praising Mexico's efforts, said there was still "more work to do."
Pompeo met with Mexican Foreign Minister Marcelo Ebrard on Sunday in Mexico City amid heightened bilateral tension ahead of a July 22 deadline on a deal that removed tariff threats on Mexican exports.
An agreement reached in June laid out that if the United States deems that Mexico has not done enough to thwart migrants by the deadline, the two countries would begin talks over changing rules to make most asylum seekers apply for refuge in Mexico, not the United States.
Ebrard said considering the advances Mexico had made, it was not necessary to "initiate any type of negotiation on a safe third country agreement between Mexico and the United States."
Pompeo, however, was less definitive. He praised the progress made by Mexico in helping cut apprehensions on the U.S. southern border by a almost a third last month, but added: "We've got a long way to go yet. There's still much more work to do.
"As for the next set of actions, I'll talk with the president and the teams back in Washington and we'll decide exactly which tools and exactly how to proceed," Pompeo said at a news conference in San Salvador, the last leg of a short Latin American tour.
Mexico argues it has followed through on its commitment to reduce migration from Central America, underscoring that apprehensions of migrants on the southern U.S. border dropped roughly a third to about 100,000 in June. Mexico has deployed some 21,000 militarized National Guard police to decrease the flow of people.
Under the agreement, Mexico averted punitive tariffs on U.S.-bound Mexican shipments threatened by President Donald Trump by promising to cut the number of illegal migrants traveling from Central America to the U.S. border.
The meeting between the nations' two top diplomats came a day before the end of the 45-day period and as U.S lawmakers wrangle over a regional trade deal meant to replace the current North American Free Trade Agreement (NAFTA).
The Mexican ambassador to Washington, Martha Barcena, on Thursday said "we have said once and again that we are not ready to sign" any such safe third country agreement.
Slideshow

(6 Images)
Trump has made immigration a cornerstone of his presidency and pledged to build a wall on the southern border with Mexico in his 2016 run for office. He has since fought with Congress and in the courts for funding to pay for it.
His administration announced sweeping new asylum rules last Monday that bar almost all immigrants from applying for asylum at the U.S.-Mexico border by requiring them first to pursue safe haven in a third country through which they had traveled on the way to the United States.
However, Mexico has long resisted U.S. pressure to formally accept the safe third country status.
Reporting by Anthony Esposito in Mexico City and Nelson Renteria in San Salvador; Editing by Nick Macfie and Dan Grebler
Imran Khan: Pakistan PM to meet Trump in bid to mend ties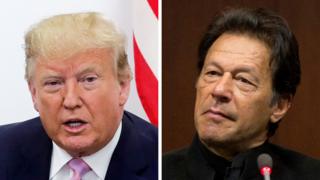 Pakistani Prime Minister Imran Khan is due to visit the White House for his first face-to-face talks with US President Donald Trump.
The meeting is part of a push to mend relations, which have been strained by the Afghan conflict.
Mr Trump reduced security aid to Pakistan early last year, accusing the country of "lies and deceit".
Mr Khan said US assistance was "miniscule" compared with what the US-led "war on terror" had cost Pakistan.
Since he won Pakistan's general election just under a year ago, he has called for "mutually beneficial" ties with America, while remaining an outspoken critic of US anti-terrorist tactics such as drone strikes.
The Trump administration is trying to negotiate its military withdrawal from Afghanistan with the Taliban, a militant group it has long accused Pakistan of supporting.
As well as counter-terrorism and defence, the two leaders are likely to discuss trade and investment as Mr Khan battles to fend off a balance of payments crisis after a bailout from the International Monetary Fund.
How did relations fray last year?
Since Donald Trump took office in 2017, his administration has adopted a hard line against Pakistan, accusing it of supporting Islamist militants and misleading the US over the issue – charges Islamabad denies.
Mr Trump began 2018 by promising on Twitter to end "foolish" aid to the country.
As much as $2bn (£1.6bn) in US security assistance has been suspended.
After Mr Trump tweeted again in November to remind Pakistan that 9/11 mastermind Osama Bin Laden had lived there before finally being hunted down by US forces, Imran Khan shot back to "put the record straight" on which country had paid more to defeat terrorism.
However, a couple of months before that Twitter clash, US Secretary of State Mike Pompeo had already raised the prospect of a reset with the new government of Mr Khan.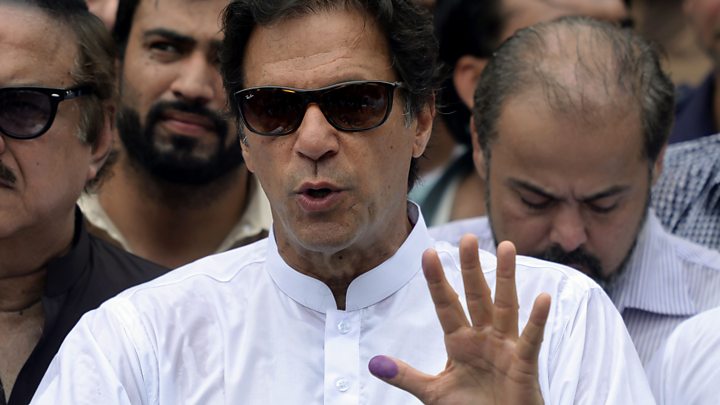 According to Pakistan's foreign office, Mr Khan's visit "will help renew and reinvigorate long-standing ties between Pakistan" and the US.
Adding to the positive mood music came a new tweet from Mr Trump on Wednesday, announcing that Pakistan had arrested the "mastermind" of the 2008 terror attacks in the Indian city of Mumbai, after a search lasting two years.
In actual fact, the man arrested, Hafiz Saeed, has been arrested and freed several times by the Pakistani authorities over the past two decades. Far from hiding, he has even addressed rallies and campaigned in recent Pakistani elections.
Pakistan will hope the arrest will help persuade the Financial Action Task Force (FATF), a global watchdog against money laundering and terrorism financing, not to blacklist it in the coming months.
Khan and Trump basics
How crucial is Afghanistan to the relationship?
Writing in Foreign Policy, Sherry Rehman, Pakistan's ambassador to the US between 2011 and 2013, argues that "stabilizing Afghanistan is Pakistan's only real trump card" in its dealings with the US.
Pakistan has always denied it was the architect of the Taliban. It was one of only three countries to recognise them after they took power in Afghanistan in 1996 and the last to break diplomatic ties when US-led forces ousted the movement after the 9/11 attacks in 2001.
Few observers doubt that Pakistan has been instrumental in getting the Taliban to the table for direct talks with members of the Afghan government this month, a negotiation praised by US lead negotiator Zalmay Khalilzad as a "big success".
The Trump administration is keen to end a war which, according to US officials, costs about $45bn annually, and to withdraw most or all of the 14,000 American soldiers deployed there.
In the opinion of Ms Rehman, Pakistan has already "received some muted recognition of its unprecedented efforts to facilitate these delicate negotiations" in two respects this month:
"Pakistan has been facilitating the US-Taliban talks in good faith, underscoring that it remains a shared responsibility," Foreign Minister Shah Mehmood Qureshi said recently.
"It will therefore be appropriate to work for broader engagement from Afghanistan to bilateral issues, economic and trade co-operation, to peace and stability in South Asia."
What are Khan's economic aims?
The US, a major source of foreign investment in Pakistan, remains its largest export market, so trade is very much on the agenda in Washington.
However, financial pressures have led Pakistan to go further afield in search of aid and it attracted Saudi pledges of investment deals worth $20bn this year.
Given that Pakistan is so strapped for cash, Mr Khan has been keen to portray an image of austerity. He used to be known as a celebrity playboy but now styles himself as a pious, anti-poverty reformer.
Reports say he plans to stay at the Pakistan ambassador's residence in Washington, rather than waste money in an expensive hotel.
Pakistan has also been seeking new assistance from China, its biggest foreign investor and also a major aid donor.
So Imran Khan must tread a delicate path between Mr Trump's America and its economic arch-rival, Beijing.
In the investing space, no-one can hear you scream
Investing is a risk, so it's worth asking why it isn't possible to come up with a set of rules that eliminates risk and uncertainty completely. And do we want to?
In Ridley Scott's classic movie Alien, the hero is a solitary space traveller who encounters an alien. This is terrifying on two levels – the protagonist is completely alone and its adversary, the alien, does not follow what we would regard as "normal" rules of engagement.
All of life's engagements are governed by sets of rules. These rules define what counterparts can and can't do. Laws, rules and regulations reduce uncertainty, so that role players know what is expected of them. We find comfort in a system where we understand the rules.
In the movie, however, the alien is not only incubated by – but also eventually hatches from – the hero's stomach. And this is just the start of the confrontation! The uncertainty created by an environment which exists far outside of our set of accepted rules of behaviour makes for truly terrifying viewing.
Compounding this horror is the fact that our hero has to face this terrible situation entirely on her own. Human beings are herd animals, hard-wired to feel safer in groups.
The tagline of the movie: "In space no one can hear you scream" – clearly speaks to our inherent fear of isolation.
Often, that's exactly how we feel about being invested in the stock market.  The stock market is a hive of risk and uncertainty. Our investment decisions are made in an environment which does not adhere to a fixed set of rules, where surprising things happen all the time. Companies issue profit warnings and their share prices go up. Highly respected CEOs turn out to be frauds. Businesses with otherwise good reputations waste shareholders' funds on expensive acquisitions in foreign jurisdictions. At precisely the moment when investors agree that nothing can go wrong and all invest accordingly – it can, and it does. And so we learn that in the market, there isn't any safety in numbers. Instead, we are vulnerable, fearful and alone. In the market, no one can hear us scream.
Most investors' first call, when faced with these circumstances, is for increased regulation. Did the CEO sell his stock before the profit warning? Make a rule prohibiting such transactions. Was the CEO a fraud? Increase corporate governance regulations. Was the IPO a dud? Call for better disclosure rules. And so on.
Following this train of thought, one can't be blamed for asking why it isn't possible to come up with a set of rules that eliminates risk and uncertainty completely.  But standard economic theory states that in a world of perfect competition, in which all economic agents have complete knowledge, people will make purchase and production decisions that will lead to zero profits. Profit pools exist where there is imperfect knowledge, where uncertainty reigns. Uncertainty is a cost of doing business, and creates profit pools to act as incentives for economic agents (read: entrepreneurs) to act on. Taking advantage of this uncertainty can create a lot of value – for instance, retailers reduce search costs and banks reduce credit costs.
If increased regulation causes less uncertainty, it follows that this also leads to a stifling of incentives to innovate, leading to worse outcomes for the economy, and ultimately, the consumer and the investor. It should be no surprise then that economies with relatively high levels of government intervention (i.e. high regulation), also have poor GDP growth, higher poverty and less choice for consumers. This directly impacts the earnings power of corporations – in a negative way.
The harsh truth is that increased regulation is not the answer – like the protagonist in "Alien", you are on your own when it comes to protecting yourself. But instead of calling for more rules and regulations, we would propose that investors apply two far more useful tools to protect themselves against adversity: diversification and a margin of safety.
Diversification helps us deal with the inherent uncertainty embedded in the market by allowing us to make that simple statement that is so difficult for us to admit: "I don't know". The result of being able to admit to "not knowing" is the ability to build a portfolio consisting of as many uncorrelated outcomes as possible. If the individual outcomes are appropriately sized, such a portfolio will be relatively stable, and generate satisfactory returns – whatever the future holds. Of course, the corollary is that we have to accept that some of these positions will turn out to be wrong, but this is when position sizing is important. If one works off the premise that you "don't know", it is hard to justify a huge position in anything. Importantly, when one or more of these diversified positions underperforms,  it does not destroy the overall portfolio.
Tool number two is a "margin of safety": the difference between the share price paid, and the underlying fundamental value of the business bought. If, at the outset, we have paid a lot less than what the asset is fundamentally worth, even in a bad outcome we are unlikely to lose a lot of money. But in a good outcome, we can make a lot of money. Again, this tool helps us deal with "not knowing" what the future holds by providing us with some downside protection if we turn out to be wrong, while stacking the odds in favour of substantial upside if we turn out to be correct.   
So, while it is true that in space no-one can hear you scream, in the market things need not be so scary. All we need to do is use these two simple tools effectively enough such that screaming is no longer inevitable.  BM
In other news…
July 18 marks Nelson Mandela day. All over the country, South African citizens devote 67 minutes to charitable causes in memory of Madiba. It's a great initiative and one of those few occasions in South Africa where we come together as a nation in pursuit of a common cause. An annual 67 minutes isn't going to cut it though.
In the words of Madiba:
"A critical, independent and investigative free press is the lifeblood of any democracy."
Every day Daily Maverick investigates and exposes the deep rot of state capture and corruption but we need your help. Without our readers' support we simply won't survive. We created Maverick Insider as a membership platform where our readers can become part of our community while ensuring that we can keep doing the investigations that we do and, crucially, that our articles remain free to everyone that reads them. Sign up to Maverick Insider this Mandela Month and make that meaningful contribution last longer than 67 minutes.For whatever amount you choose, you can support Daily Maverick and it only takes a minute.
Support Daily Maverick→
---
Comments – share your knowledge and experience
Please note you must be a Maverick Insider to comment. Sign up here or if you are already an Insider.