Networking specialists, are one of the highly sought-after jobs due to advancements in network technology. Prerequisites to this kind of job are not that hard to attain. Although, you have to upgrade your skills in order to stay relevant with the ever-changing technology landscape.
Every new product, released on the market now, is somewhat capable of connecting to the internet. All those connected devices must have a secure and reliable network connectivity.
Network specialists an in-demand job
This is where the Computing Technology Industry Association (CompTIA) comes in. It is recognised globally as one of the industry's top non-profit trade associations, established in 1982, that issues a wide variety of vendor-neutral certifications. Among the most popular ones are ITF+, A+, Network+ and Security+, since they equip you with the fundamental knowledge and core skills.
In this article, we'll dwell our attention on the Network+ certification and the exam you need to pass in order to become Network+ certified. This entry-level certification validates the skills of a network technician and to gain it, you need to take N10-007 exam. Having this credential means that you are experienced in configuring and troubleshooting basic network protocols and hardware.
Now let's focus on the CompTIA Network+ credential.
Overview of the CompTIA Network+ (N10-007) certification exam
Launched on March of 2018, N10-007 exam covers the following topics:
Networking Concepts

Network Security

Infrastructure

Network Troubleshooting & Tools

Network Operations
The exam has multiple choice questions (single and multiple response), drag and drops and performance-based, with a maximum of 90 items. You have 90 minutes to finish the exam and scoring 720 points (on a scale of 100-900) earns you a passing mark. It is highly recommended for you to obtain first a CompTIA A+ certification and have at least 9-12 months of networking experience.
In order to address the current networking technologies, several topics and an increased coverage were added to the current CompTIA Network+ (N10-007) exam as compared with its previous version N10-006. The official updates are listed below:
Security essentials for network professionals who work side by side with security personnel;

Service models and best practices in cloud computing;

Techniques in the latest hardware and virtualisation &;

Topics in maintaining a resilient network
The www.prepaway.com focuses mostly on practical skills; which are required in designing, operating, or fixing any network related device. Having this certificate means that you know how to check for vulnerabilities, network limitations and how to secure networks from cyberattacks. This is great for network administrators, network technicians and even cable installers.
The CompTIA Network+ certificate expires in 3 years so you have to renew your certification again when the time comes.
Why you need to be CompTIA Network+ certified
The CompTIA organisation always tracks industry trends and developments. Every year, they release over 50 industry studies to make sure that their certifications are relevant to what the industry needs. The current technological advancement is fast-paced, so there has to be a certain standard that has to be set.
Employers are now looking if you have a certification so they can assess whether you have the skills they need for a networking role. Globalisation has levelled the playing field and employers are more demanding than ever.  They scrutinise you because they want to get the best worker who is qualified to do the job. Network issues, no matter how small, can really cost a company a whole lot of money. Getting certified certainly puts you ahead of the competition.
If you are certified, you also increase your potential to earn a big salary. Online statistics show that the average annual salary in 2019 for a network administrator is at $67,327. The amount is already high, considering that you don't need to have a college degree to get this certification.
The best part is getting to build your reputation in the professional field. People trust you for your skills and knowledge in designing, troubleshooting and implementing functional networks.
How to prepare for the CompTIA N10-007 certification exam
For anyone who wants to take N10-007 test, you really need to study more on networking technology concepts. In order to successfully pass this certification exam, you have to be fully prepared. The CompTIA official website has study tools that will help you with your journey towards the certification process. Below is the useful info which you should take into consideration while preparing for the exam.
CertMaster eLearning – This is CompTIA CertMaster's online training tool. Whether you are reviewing for your first exam or getting to renew your certification, this tool has your back.
CompTIA eBooks – The official ebooks have trusted content published by industry-leading experts. These give you important insights for you to pass the exam. 
Classroom Training – A relaxed teaching environment with an instructor who knows the whole certification process will certainly put one's mind at ease. They have customised training setup to meet different needs.
If you are looking for something other than what CompTIA is offering, then you might want to read a little further down. We are going to talk about exam dumps; what it means and where to get them.
Where to get exam dumps for N10-007
Exam dumps are a compilation of actual questions taken from N10-007 certification exam previously answered by examinees. These files are one of the best resources used in passing the certification exam and Network+ test is not an exception.
If you want to increase your chances of acing the exam, visit Prepaway website. It offers the most updated N10-007 exam dumps for your preparation process. The files are checked by the real IT experts, that means that they are completely reliable. In addition, they are presented in .vce file format and can be opened on the VCE Player only. This is an educational tool that simulates the real exam environment and can make your preparation both interactive and effective.
All the information about this VCE Software is available at Prepaway website. Thus, you gauge your readiness for the actual exam by using their practice test software. And with the VCE Player from Prepaway you can ace N10-007 certification exam. 
Tips to use at the Exam
Below is a list of tips to help you pass the exam:
1. Manage your Time
There are 90 questions and 90 minutes to answer them, so you only have a minute to solve each item. There are three different types of questions and performance-based type of questions can take up much of your time, as they are based on problem-solving abilities. They leave you less time for other questions, which you can answer easily. You can try to skip them and go back later.
2. Answer Everything
A wrong answer will not be deducted from your right answers. So go ahead and don't hesitate if you don't know the answer. You might get lucky.   
3. Hints
Some questions have hints in them to let you identify the answers easily. Keywords or phrases are very helpful.
4. Be confident in your skills and knowledge. Thus, being calm will help you concentrate on the questions.
5. Feel relaxed
Have enough sleep before the exam date. It will help you be fresh and escape anxiety. And of course, you'll crack the exam questions easier with the rested mind.
Conclusion
To sum up, you have all the necessary information about getting the Network+ certification and taking N10-007 exam. If you've decided to gain this credential, you may start preparing for N10-007 test. First visit, the CompTIA website that has all the materials you need for your review. And don't forget about Prepaway too. They have the most valid and exam dumps to use.
Get Network+ certification you always aspire to have and enjoy the benefits of climbing up the career ladder.
[Image – CC 0 Pixabay]
NTT forms London-based subsidiary | ITWeb
NTT's announcement was one of the main stories of the international ICT market last week.
At home, various announcements by EOH and Naspers were the local highlights.
PayU, Naspers' payments and fintech business, acquired a majority stake in Red Dot Payment, a Southeast Asia-focused online payment solutions provider.
RIB, a wholly owned subsidiary of German-listed RIB Software, bought 70% of Construction Computer Software together with its subsidiaries, which is currently held by EOH Mthombo. The deal was worth R444.39 million.
EQT and Naspers led a EUR30 million investment, via the Naspers Ventures division, in European micro-mobility firm Dott.
Leratadima Marketing Solutions, one of the chosen three companies to manufacture the first batch of government-subsidised set-top boxes, has been placed into liquidation.
The MTN Group's GlobalConnect, its wholesale infrastructure firm, is now an operating company of the group and will be headquartered in Dubai.
A renewed JSE cautionary by EOH.
The appointment of Phuthi Mahanyele-Dabengwa as CEO of Naspers SA.
Mixed year-end figures from Econet Wireless Zimbabwe, with revenue up 32.2% but profit down 19.7%.
A full-year loss from TelOne (Zimbabwe), although revenue up 5%.
Workz Group, an Ireland-based IOT and mobile solutions provider, has opened an office in Dakar, Senegal, to engage the West African telecommunications market. The Dakar office is the company's second location in Africa, after establishing an office in Johannesburg, South Africa, in June 2018.
ENGO Holdings, a Chinese electronics firm, has joined Uganda's industrial sector to domestically manufacture and assemble mobile phones and laptop computers.
The appointment of Michael Joseph as interim CEO of Safaricom.
The death of Bob Collymore, CEO of Safaricom.
Applied Materials acquired Kokusai Electric from KKR, a private equity company, for $2.2 billion.
Contentsquare, which provides insights into customers' digital experiences, bought Israeli rival Clicktale.
EPAM Systems purchased an educational content services company, Competentum, and its learning platform, ShareKnowledge.
Exabeam, a cyber security firm, acquired SkyFormation, an Israeli cloud application security company.
Britain's competition regulator has launched an investigation into the power wielded by Facebook and Google in digital advertising markets.
KKR bought Corel from another private equity firm, Vector Capital, for more than $1 billion.
NCR purchased D3 Technology, a provider of online and mobile banking for the large financial institution market.
Ricoh acquired DocuWare, a cloud and on-premises document management and workflow automation software business.
ScanSource bought intY, a UK-based distributor of cloud services.
StorCentric purchased Retrospect, which develops data protection and recovery tools for consumers, prosumers and SMEs. It also bought Vexata, an all-flash array vendor.
Apple's main regulator in the European Union, Ireland's Data Protection Commissioner, opened a third privacy investigation into the iPhone maker over the past few weeks.
Britain's competition regulator has launched an investigation into the power wielded by Facebook and Google in digital advertising markets, including the ownership of data.
Equinix has formed a joint venture with GIC, Singapore's sovereign wealth fund, to develop and operate xScale data centres in Europe. The JV is worth more than $1 billion and is 20% owned by the former and 80% by the latter.
German authorities have issued Facebook with a EUR2 million fine under a law designed to combat hate speech.
Nippon Telegraph and Telephone Corporation has launched NTT, a global technology services provider that brings together the capabilities of 28 companies, including NTT Communications, Dimension Data and NTT Security, into one $11 billion business. It will be headquartered in London.
A full-year loss from IMImobile.
The appointments of Wendy Becker as chairman of Logitech; Randall S Dearth as CEO of GCP Applied Technologies; and Gregory E Poling as executive chairman of GCP Applied Technologies (was CEO).
The resignations of Vinod Kumar, CEO of Tata Communications; Krishnakumar Natarajan, executive chairman of Mindtree; NS Parthasarathy, vice-chairman of Mindtree; and Rostow Ravanan, CEO of Mindtree.
The retirement of Ronald Cambre, chairman of GCP Applied Technologies.
The departure of Guerrino De Luca, chairman of Logitech.
A very good IPO in Mumbai by IndiaMart InterMesh, India's largest online platform for selling products directly to businesses, which is backed by foreign investors such as Intel Capital and UK-based Amadeus Capital.
Research results and predictions
Worldwide spending on public cloud services and infrastructure will more than double over the 2019-2023 forecast period, according to IDC. With a five-year CAGR of 22.3%, public cloud spending will grow from $229 billion in 2019 to nearly $500 billion in 2023.
Spending on customer experience was reported at $97 billion in 2018 and is expected to increase to $128 billion by 2022, growing at a healthy 7% five-year CAGR, according to IDC.
Inkjet-printed OLED display technology is set to enter mass production next year, with capacity set to rise as much as 12-fold from 2020 to 2024, according to IHS Markit.
JSE All share index: Down 1.1%
FTSE100: Up 1.7% (highest weekend close since August 2018)
DAX: Up 1.4% (highest weekend close since August 2018)
NYSE (Dow): Up 1.2% (highest weekend close)
S&P 500: Up 1.7% (highest weekend close)
Nasdaq: Up 1.9% (all-time high reached during the week)
Broadcom acquiring Symantec.
Further developments regarding the EOH investigations.
Each year, Forbes magazine publishes its Global 2000 list of the world's largest public companies. The list, using data from FactSet Research Systems, is an aggregate ranking across the metrics of sales, profit, assets and market value.
Some further analysis of these rankings:
426: Xiaomi (highest new entry)
446: Salesforce.com (was 856)
1 100: Twitter (was 1 729)
1 464: Red Hat (was 1 651)
1 508: Maroc Telecom (was 1 509)
1 587: Symantec (was 1 104)
1 680: Safaricom (was 1 817)
1 726: Seiko Epson (was 1 887)
Andy Murray's Olympic gold post box hit by car in Dunblane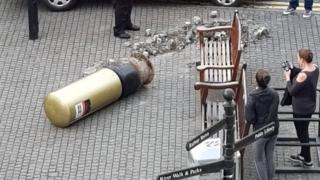 The gold post box that commemorates Andy Murray's Olympic medal win has been knocked down by a car.
It appeared a silver Mercedes rolled down the hill into the post box, according to local resident Graham Fleming, who saw the aftermath.
He added the car appeared to have just missed a group of teenagers sitting on a bench less than a metre away.
The post box, in Dunblane, was painted after the Olympic tennis champion's singles win over Roger Federer in 2012.
Police Scotland confirmed they attended the "low speed collision" and that the female driver of the car had sustained a minor injury but did not require medical treatment.
It was unclear whether the woman was in the car at the time or not.
Graham Fleming, the owner of Dunblane's Bennet's Butchers, lives next to the post box. He heard the crash from his lounge, and went to look from his window.
He told the BBC Scotland news website: "I heard a massive thud… I looked out the window and there was a load of kids there who had been sitting on the chair beside the post box.
"Literally the park bench they were sitting on was less than one metre away from post box."
He added that he thought they would have seen the car coming and that none of the people on the pavement appeared to have been hurt.
Mr Fleming added: "A woman came down and drove the car away about a minute later… I think she was a bit embarrassed.
"She parked the car a few metres away and waited for the police."
The tennis star's mother Judy Murray tweeted her reaction in two words: "Oh no"
A spokeswoman for Police Scotland confirmed they had been called to the scene on Dunblane's High Street at about 19:50 and that they were making inquiries into the circumstances of the collision.
Mr Fleming added that Royal Mail had been to the scene and that they had emptied the letters from the post box.
Trial opens for Philippine journalist critical of Duterte | News | World
High-profile Philippine journalist Maria Ressa's libel trial opened on Tuesday in a case that she and press freedom advocates see as government retaliation for her news site's critical reporting on President Rodrigo Duterte.
Ressa, who leads online outlet Rappler and was named a Time Magazine "Person of the Year" in 2018 for her journalism, is out on bail and faces years in prison if convicted under the criminal cyber-libel law.
The news portal has written extensively and often critically on Duterte's policies, including his deadly drugs war that rights groups say may be a crime against humanity.
Besides the libel case, Ressa and Rappler have been hit with 10 other criminal charges over the past year, prompting allegations that authorities are targeting her and her team for their work.
"The government hopes to intimidate us by syphoning both my personal time, our resources," Ressa, who was not in court, told AFP.
"I won't be intimidated. We continue to do our jobs.
The mission of journalism has never been as important as it is today in the Philippines," she added.
Tuesday's brief hearing ended after testimony from one minor witness, with the case set to resume on July 30. 
The case centres on a Rappler report from 2012 about a businessman's alleged ties to a then-judge of the nation's top court.
Government investigators initially dismissed the businessman's 2017 complaint about the article, but state prosecutors later decided to file charges.
The legal foundation of the case is a controversial "cybercrime law" aimed at online offences ranging from hacking and internet fraud to child pornography.
'Not exempted from assassination'
Ressa, 55, argues the law did not take effect until months after the story was published.
Government lawyers say it is effectively a new article since Rappler had updated it in 2014 to fix a typographical error.
Because the law allows the filing of charges up to 12 years after libel is committed, Ressa said it will have far-ranging implications on constitutionally protected freedom of expression as well as the way Filipinos use social media.
Ressa, who has been arrested twice this year, also faces tax and corporate fraud cases, as does Rappler.
The libel case has drawn international attention, with Canadian Foreign Minister Chrystia Freeland and former US secretary of state Madeleine Albright expressing concern over democratic rights.
Prominent rights lawyer Amal Clooney, who joined Ressa's legal team this month, said the case echoed a recurring theme in her work, where "journalists who expose abuses face arrest while those who commit the abuses do so with impunity".
Duterte, who denies being behind the case, has singled out Rappler for criticism, also banning it from covering his public events and forbidding government officials from talking to Rappler reporters.
Shortly before being sworn into office in 2016, then president-elect Duterte declared: "Just because you're a journalist, you are not exempted from assassination, if you're a son of a bitch."
Rights monitor Reporters Without Borders ranked the Philippines at 134 out of 178 countries on its annual "World Press Freedom" index this year, when at least three journalists were killed "most likely by agents working for local politicians".
© Agence France-Presse
.