Drake and Popcaan are currently in Turks and Caicos living their best lives.
The OVO rapper touched down in the Caribbean on Tuesday (May 14), for his first flight on his $200 million private jet. Urban Islandz reported last week that Drake now owns his own private plane dubbed Air Drake, which is a Boeing 767 customized with two bedrooms and loads of other amenities. Sources inside OVO told us exclusively that Popcaan, who is also in Turks, got a tour of the massive aircraft.
Popcaan also posted a photo of himself and Drake in the back of an SUV on the island. Turks and Caicos is one of Drake's favorite places to vacation in between his tours. After wrapping up his Assassination Vacation Tour of Europe, Drizzy is well in need of a vacation.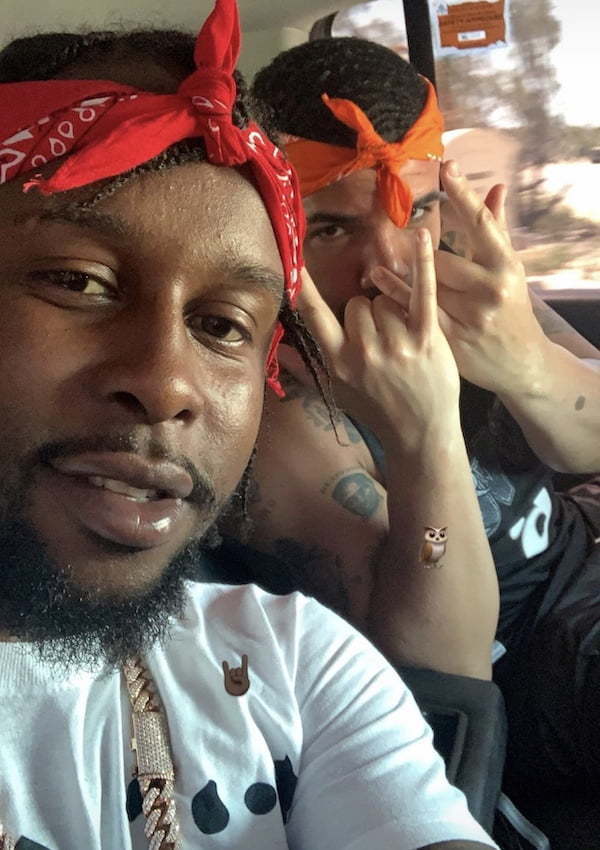 At his final show in London at the O2 Arena, the Toronto rapper told the crowd that he has started recording his next album. He didn't give us a release date or title for the project, but that usually comes closer towards the release date.
While he is enjoying some downtime between his tours, Drake is busy recording new music. Yesterday he asked fans if he should drop a freestyle after the Raptors won game 7 against the 76ers to advance to the NBA Eastern Conference finals.
As for Popcaan, the Unruly Boss is currently dominating dancehall with a ton of new music released over the past couple of months.
Rapper Young Dro Arrested For Assaulting Girlfriend With Banana Pudding
Who knew banana pudding could be used as a weapon?
Young Dro knew apparently. And now he's facing the consequences for such a not-so-sweet idea. According to TMZ, the Atlanta rapper was arrested on July 5 for allegedly launching a plate of banana pudding at his girlfriend during the heat of an argument.
TMZ reports that the argument began over money, and the "Shoulder Lean" rapper and his girlfriend ended up in a food fight. It was unclear who threw the first dish. Police was called to the scene of Dro's Georgia home, and although his girlfriend refused to press charges, police put Young Dro in custody anyway.
Dro, 40, whose real name is D'Juan Hart, was charged with two misdemeanors of battery/family violence. Sources told TMZ that as of Monday, Young Dro remained behind bars on separate child support charges involving a baby mother from a previous relationship. Documents show Dro owes about $41,000 in back child support, TMZ said, but the rapper claims he's all paid up and is being held on an error.
This is far from Young Dro's first run-in with the law. Back in 2016, Young Dro was arrested on drug charges in Georgia. In 2015 he was accused of borrowing the car of an employee at the Pink Pony strip club in Atlanta and never returning it before he was stopped by police for reckless driving, TMZ reported. Police found a weapon and drugs in the car and ended up arresting the woman for it. The woman then filed grand theft auto charges against Young Dro.
It seems like women and the law are not Young Dro's strong suits.
Rapper Future's Bodyguard Gets Knocked Out The Airport In UK
Future's bodyguard got knocked out cold while walking outside the airport in the UK.
A video clip has since gone viral showing a man snuck up behind another man walking in the streets and punched him in his face knocking him to the ground. The man who was videoing the footage was yelling, "that's Future's bodyguard." Of course, the Atlanta rapper has not confirmed or denied the story that the knocked out man is his bodyguard. Nevertheless, this appears to be a brutal, unprovoked attack on someone who was just being about his business.
Law enforcement officials appear to be quick on the scene while some females helped him up on the pavement. Future was seen walking back towards the airport building after the attack took place.
There is no word yet on whether or not police made an arrest, but the incident caused an outraged online with fans making references to the A$AP Rocky situation where he was involved in a street brawl that has now landed him in jail in Sweden. The difference here is that Future did not retaliate and attacked the attackers.
"Then when they hit back they get ASAP rocky smh," one fan wrote while another added, "If Future had retaliated like ASAP then he would've gotten arrested and thrown in jail without any bail."
Bow Wow Disses Ciara During Performance: 'I Had This B*tch First'
Bow Wow drew some criticism for disrespecting Ciara on stage once again.
Bow Wow has been known more for antics than for his legendary music career as of late, and looks like he's back at the foolery again. A video surfaced on line of Bow Wow, whose real name is Shad Moss, performing on stage and what looks like a nightclub. In the middle of his 2005 hit song "Like You," featuring singer Ciara, Bow stops mid-verse and says "I had this b*tch first, you know that right?," befor continuing the duet.
The comment was made in reference to Bow Wow and Ciara's public relationship that happened over a decade ago when the song was made. Since then, Ciara has dated other celebs like 50 Cent, her baby's father Future, and of course is now married to Seattle Seahawks quarterback Russel Wilson. Ciara and Wilson have a 2-year-old daughter. The moral of the story is – Ciara has moved on from Shad a long time ago.
So it was pretty distasteful for him to mention her as a married woman, but also to call her out of her name. Once the video was posted to The Shaderoom, it got a negative reaction from most commenters including singer Tank and ATL rapper T.I.
"Why though?.. City Boyz down 82,000,000 but that #HotManSummer is still ablaze!," Tank said in the comment section on Instagram. T.I. also commented saying "Damn Cuzz… Just damn!!"
Meanwhile Ciara is unbothered.
Over the weekend the songstress shared a photo of her and her daughter Sienna posing in matching bathing suits. For some reason her ex's, Bow Wow and Future included. Back in January, Future, who shares a son with Ciara, blasted Russel Wilson in an interview promoting his new album "The WIZRD," claiming Wilson did everything Ciara told him to do.