Bob Marley widow Rita Marley was once again the center of attention at another public event.
Rita Marley, the matriarch of the Marley family, is rarely seen in public these days ever since she suffered a stroke in 2016. Last weekend she showed out at the annual International Reggae and World Music Awards (IRAWMAs), and she enjoyed the event. At one point she was seen grooving to Beenie Man music as the dancehall legend performed some of his classic hits. The Jamaican music icon smiled as she waved her left hand to the beat of the rhythm.
Rita Marley was instrumental in the formation of the IRAWMA awards in 1982, a year after Bob Marley died at the Cedars of Lebanon Hospital in Miami, Florida. The 37th staging of IRAWMA was held at The Jamaica Pegasus hotel in Kingston on Saturday, May 11. A wheelchair-bound Rita Marley was the center of attention as the show tribute her with two awards. IRAWMA founder Ephraim Martin told the audience that Rita was instrumental in the formation of the awards show that recognized reggae music.
Rita Marley enjoyed music from the likes of The Heptones, Top One Frisson from the Congo, and U-Roy. However, it was Beenie Man who got the best response from her. Several other local celebrities greeted her and posed for photo ops as she was warm and welcoming to all of them.
Earlier this year, Rita Marley made her first public appearance in Jamaica since her stroke in 2016 when she joined her musical sisters Marcia Griffiths and Judy Mowatt on stage at the 2019 Jamaica Reggae Industry Association awards.
Rita Marley was awarded the Reggae50 – Pioneer Award of Honour.
Future Gets Trolled On Twitter For Gifting Baby Future Rolex For Birthday
Future is getting trolled on Twitter for gifting his son Baby Future a Rolex watch for his birthday.
Ciara and Future's son, Baby Future, celebrated his 5th birthday this weekend and while he is being surrounded by love and celebration, his filthy rich parents are also showering him with gifts. The Atlanta rapper gifted his son a high priced Rolex watch and Twitter is somehow not in support of that gift. Some folks on social media think that the younger Future needed some toys or perhaps the watch from Ben10.
Nevertheless, judging from his reaction, it appears that he appreciated the gift. Perhaps some folks need to cut Future some slack because DJ Khaled gifted his son Asah Khaled a $100,000 Rolex watch with some icy diamonds in it. At the time Asahd was just a year old, which means he couldn't wear the watch and perhaps not able to for years. The We The Best Music Group chief did not get a fraction of the backlash the Future is getting.
Future ignored all the chatters and hit us with Meek Mill lyrics. "'It was somethin bout that rollie when it first touched my wrist' – Meek," he captioned a photo of Baby Future wearing the watch.
I think people should be mad that Future bought a 5 yr old a Rolex and I think that is what she meant. That watch will depreciate. What Russell gave him is something money can't buy.

— Aisha K. Staggers (@AishaStaggers) May 19, 2019
I hope his other kids got the Rolex watches too.. shame poor Future jnr he just wanted a simple toy https://t.co/DQhIBUSOOJ

— Tshepi (@TsitsiNotha) May 19, 2019
Someone said lil future wanted the watch from ben10 not a rollie?

— dirtybwai (@onemanboiband) May 19, 2019
Y'all really mad at Future for buying his son a Rolex? ????? But y'all ignoring all these other gifts he got! pic.twitter.com/mzcy2ARlml

— Bizness Boi (@BiznessBoi) May 19, 2019
"You bought that boy a Rolex when all he wanted was your TIME" pic.twitter.com/nHQT15gmUQ

— WashedGod ???? (@god_faced) May 19, 2019
People who can't afford a Rolex talking about what Future should or shouldn't buy for his family with the money he earned. pic.twitter.com/ffCWruSFWD

— Beezy. (@Lowkey_Beezy) May 19, 2019
Future got his son a Rolex for his 5th bday, his voice. "Thanks." Like he got a pair of some socks for Christmas.??? He just wanted some toys. -Kidpic.twitter.com/0tlZPAFWIO

— KidDr1ft (@KidDr1ft) May 19, 2019
Kanye West and Kim Kardashian Shares More Photo Of Baby Psalm West
Kanye West and Kim Kardashian are once again getting trolled for naming their new baby Psalm West.
Kanye and Kim didn't just revealed the name of their new baby bow, they also shared this adorable photo. "Beautiful Mother's Day. With the arrival of our fourth child. We are blessed beyond measure. We have everything we need," Kanye wrote to Kim in a text message. She then took a screenshot and posted it on her Twitter page.
Kanye West and Kim Kardashian welcomed the newest addition to their family via surrogate on May 9th. Psalm came into the world weighing 6 lbs. and 9 oz. "He's also Chicago's twin lol I'm sure he will change a lot but now he looks just like her," Kim wrote on Twitter.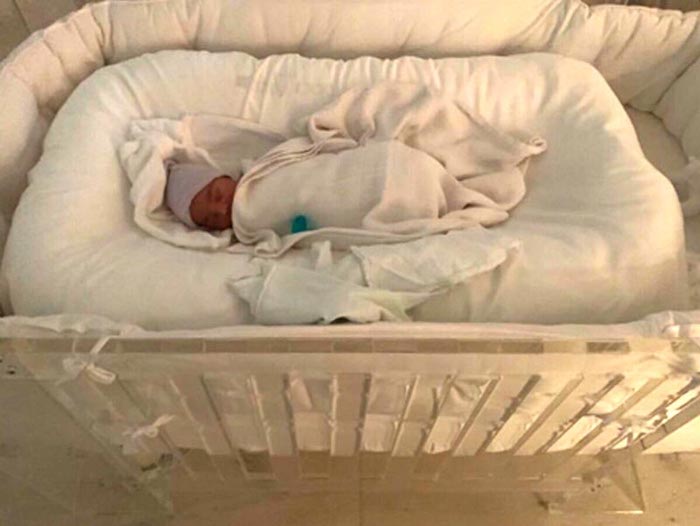 The baby's name, Psalm, appears to be taken from Kanye West's new spiritual journey. The Chicago rapper has been hosting his week Sunday Service which he also brought to Coachella on Easter Sunday.
He's here and he's perfect!

— Kim Kardashian West (@KimKardashian) May 10, 2019
He's also Chicago's twin lol I'm sure he will change a lot but now he looks just like her ?

— Kim Kardashian West (@KimKardashian) May 10, 2019
Foota Hype Diss Shenseea Over Viral Photos Konshens Clap Back
Foota Hype fired off some scathing remarks against Shenseea after she posted a photo of herself and another woman in bed.
Konshens is now firing back at Foota Hype over his blatant hypocrisy. "A this dancehall gone to a this she pick disappointed is not even the word," Foota wrote. In a lengthy post, Konshens blast the sound system selector.
"Dis jus ironic @footahypemusic from mi see dah picture deh post mi a wait fi see u attack," the Subkonshus deejay wrote. "But look how God and Bible work fi unnu now. Pan her post weh yuh no like u wrath an say "GOD AGGO FUCK UP DI WHOLE A UNNU",u hurt deep cah u God fearing and that is not Godly etc. but mi scroll to the very next ting pan mi timeline a woman a seh man fi have side chick (Your God and Your bible say that is ADULTERY). But look what your comment was. 'GOD IS TALKING THRU MONIQUE'"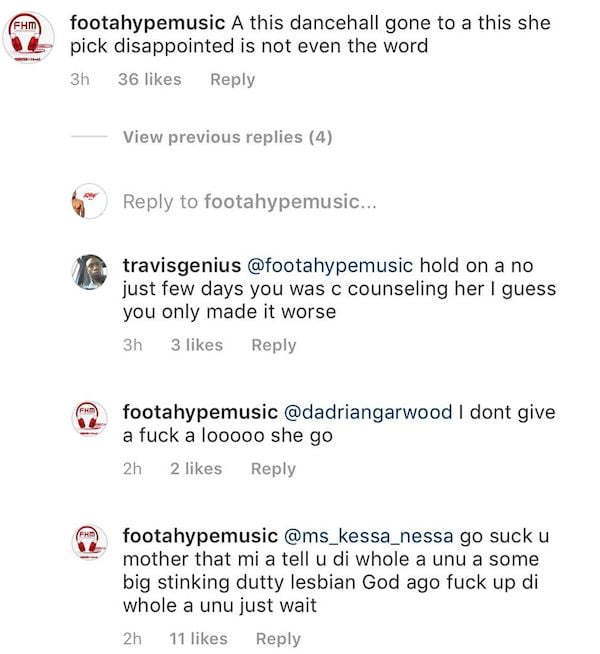 Foota Hype also responded to some of Shenseea fans who pushed back against his attack on the female dancehall star. "Go s**k u mother that me a tell u di whole a unu a some big stinking dutty lesbian God ago f*** up di whole a unu just wait," Foota commented.