Mavado seemingly diss Vybz Kartel in his new song "Fresh Paint."
The Gullyside singjay released a new track this week titled "Fresh Paint," and already it's creating waves in dancehall. Some fans are suggesting that Mavado may have dissed his arch nemesis Vybz Kartel in the track. Urban Islandz reached out to sources inside the Gully camp who told us that the song is not a diss track, but some of the lyrics may be saying otherwise.
"We no see them alien looking man deh the Gully/MVP a lead them and now them a try grasp for straws to get some relevancy," sources told us.
A piece of the lyrics that some fans are zooming in on is when Mavado suggest that some other artists are in his style and "what's a king to a God. "The pu**y them still a dream / From off a my style mek them a nyam like a duck / If the truth would be told / Them would a chat how me lick them meds like a truck / What's a King to a God / Yuh no see it say everything turn to gold when me touch," Vado sings.
Bounty Killer Goes To War With The Government To Protect Jamaican From China
The Warlord, Bounty Killer has marched onto the battlefield, this time to wage war for the protection of Jamaica's natural environment.
Bounty Killer has made it clear that he wants no bauxite mining in the Cockpit Country in Trelawny, Jamaica's largest watershed, and will be cross and angry if the Jamaican Government permits bauxite companies to encroach into that territory. On Saturday the five Star General posted an excerpt from his newest song titled "Born and Raise" on the Hard Knock Rhythm, with a written commentary in which he also had some choice words for some of the younger deejays who are failing to voice songs slamming injustice and other social ills taking place in the country.
The Poor People Governor (Bounty Killer) even issued what appears to be a word of caution to Jamaican Prime Minister Andrew Holness.
"IT SEEM IF I DON'T DO IT THEN IT WON'T BE DONE ANYMORE WHERE IS THE VOICES OF TODAYS GENERATION TO STAND FOR THE PPL I GUESS THE PPL FOLLOWING THESE FOOLS AND TURNING IDIOTS
Albert Town stay vigilant allout war with the government Andrew Hold This lazy sleeping Jamaicans wake up!" Bounty posted on Instagram.
His comments come following protests by Albert Town residents in Trelawny who are fighting to prevent mining in Maroon territory and the watershed. In his new advocacy song, the Grunggadzilla belted out lyrics, which speaks to social ills just like his mega-hit Poor People Fed Up.
"Mi a rep fi di ghetto weh mi born an raise in and di mountain a problem we facin; caw di politician dem still gazin; but wi still a hol a vibes, its amazin," Bounty Killer deejay.
The dancehall legend continues, "Dem no want see ghetto yutes inna di upper echelon, when Jah-Jah bless dem han. Dem come a talk wi come from di rough and end up wid diamond. Look deh, dem no set no opportunity fi yutes wid ambition; dem blame wi fi di condition; nuttn no lef fi di native a di lan; Wi a go wrath if dem sell Trelawy to Chinie man."
His post was met with support from one fan Grand Hussle, who blasted upcoming artistes for spending time showing off their clothes and cars instead of fighting for the rights of their fellow Jamaicans who put them where they are.
"The ppl who fi ah fight fi JA ppl caught up in who wearing the tightest pants and dem caught up with tearing down dem one another. Anytime an artist start out in the music industry you see and hear dem advocating fi the ghetto ppl. Den as dem get likkle shine dem stop sing fi the ppl dem. Dem go uptown go live and show off pon the ppl dem who help build dem career. Nowadays yuh see dem pon Instagram ah maggle. Even the rasta dem lose sight of d mission," he wrote.
"Ghetto heroes is a quick dying breed. These days it's really really hard to find a decent positive uplifting song with lyrics that isn't based on "big car/house and materialistic things that lasts more than a week. The government realize the weakness that plagues nuff ghetto yutes and dem exploiting it. That's just one of the reasons why the government dealing with poor the way it does. It's using our own ppl to keep us where they want us," he added.
"Wulla them want sing bad man tune general lazy brain like them don't know harf life," grizzlleward_music chimesd in while djcraigis_grimyboss urged Jamaicans to give full support to the sing.
"We as the people need to push song like this and stop jump up to f@kery teach them me General because the Only thing I see out there is a bunch of tomatis calling them self artist #1 General @grunggaadzilla," he said.
Meek Mill & Boosie Badazz Says "Lion King" Brought Them To Tears
Meek Mill and Boosie Badazz are just like the rest of us who cried like babies after watching The Lion King.
The live-action version of the iconic 1996 animated film is set to hit theaters this week. Lil Boosie is recalling how watching the move back in the day made him cry, and he is planning to cry again when he watched the new movie in theaters with his kids this weekend. Meek Mill also chimed in saying that he too gets emotional about the film.
Boosie Badazz shared a video on the Gram of himself telling his fans how he cried uncontrollably when Scar killed Mufasa. "N***as actin' like they all gangstas," he said. "N***a, if you watched Lion King as a child, you shed tears… 'cause that b**ch made me cry."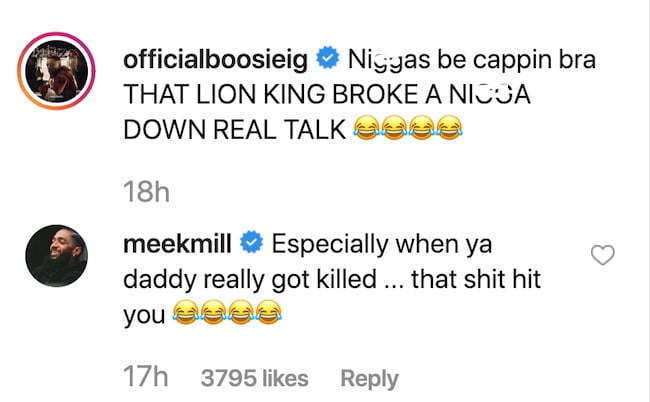 He also confirmed his statement in the caption. Surprisingly, Meek Mill left a comment on the post saying that scene with Scar and Mufasa also made him shed some tears. "Especially when ya daddy really got killed … that sh*t hit you," the Philly rapper wrote with some laughing crying emojis.
Perhaps Meek Mill and Boosie need to planned a link-up this weekend and watch The Lion King together with their kids and see who first cry. Then they can both hit the studio and record some new music.
Fans Say Spinderella Lawsuit Against Salt-N-Pepa Was A Long Time Coming
Spinderella gets support from fans over her lawsuit against Salt-N-Pepa.
Quite a large number of hip hop fans are in support of the recent lawsuit filed by DJ Spinderella against her former bandmates Sandra "Pepa" Denton and Cheryl "Salt" James of the group Salt-N-Pepa. Fans say the legal action taken by Spinderella, was a long time coming.
"That's exactly what they get, trying to act like she wasn't a real part of the group…she damn near made the group successful with her style of musicianship and DJ personality; they know they needed her," said one fan, Chenita, who commented on the breaking story by Essence Magazine, surrounding the actions of Spinderella.
"It's a shame; I don't know SNP without Spin. They can't deny what she was to them. It's a shame that they tried to move forward that she was some type of piano player. Al these years. I hope she gets what she deserves," said another reader, Candace.
The Grammy Award-winning female rap group has sold 15 million records worldwide, making them one of the best-selling female rap acts of all time. They are often referred to as "The First Ladies of Rap and Hip Hop."
Spinderella, whose real name is Deidra Roper, filed the lawsuit in a federal court in Texas, against her two colleagues for breach of contract, two months after she said she was booted from the group's reunion tour with New Kids on the Block and issued with a "received a termination email."
The 47-year-old who joined the duo in 1987 at age 16, is also suing for unpaid royalties, multiple breaches of contract, fraud and intentional misrepresentation.
In the lawsuit, DJ Spinderella argues that she became synonymous with, and inseparable from, Salt-N-Pepa's public identity as she helped boost the all-female SNP trio and brand to what she described as "legendary iconic status and worldwide fame." She also makes allegations that she was axed from deals as years went by, despite generating "significant on-stage excitement" and entertaining "audiences with her captivating musical grooves and remarkable deejay tricks."
She also says she was unaware of the group's 1999 Best of Salt N Pepa album release in Europe which featured her image on the album cover allegedly without expressed consent from her.